Description
HISPA Workshop Series: The Time to Inspire Our Youth is Now, Hosted at Office Depot
We invite you to join a workshop hosted at Office Depot with HISPA (Hispanics Inspiring Students' Performance and Achievement) titled "The Time to Inspire Our Youth is Now." HISPA Professional Development Director Rod Colón will introduce the organization's history and mission, present the urgent need for HISPA's educational programs, and describe year-round networking and volunteer opportunities in the community. Attendees will then have the opportunity to reflect their own pathways to success and prepare to share these inspirational stories as active Role Models to Latino youth.

Click "Register" above to attend this session.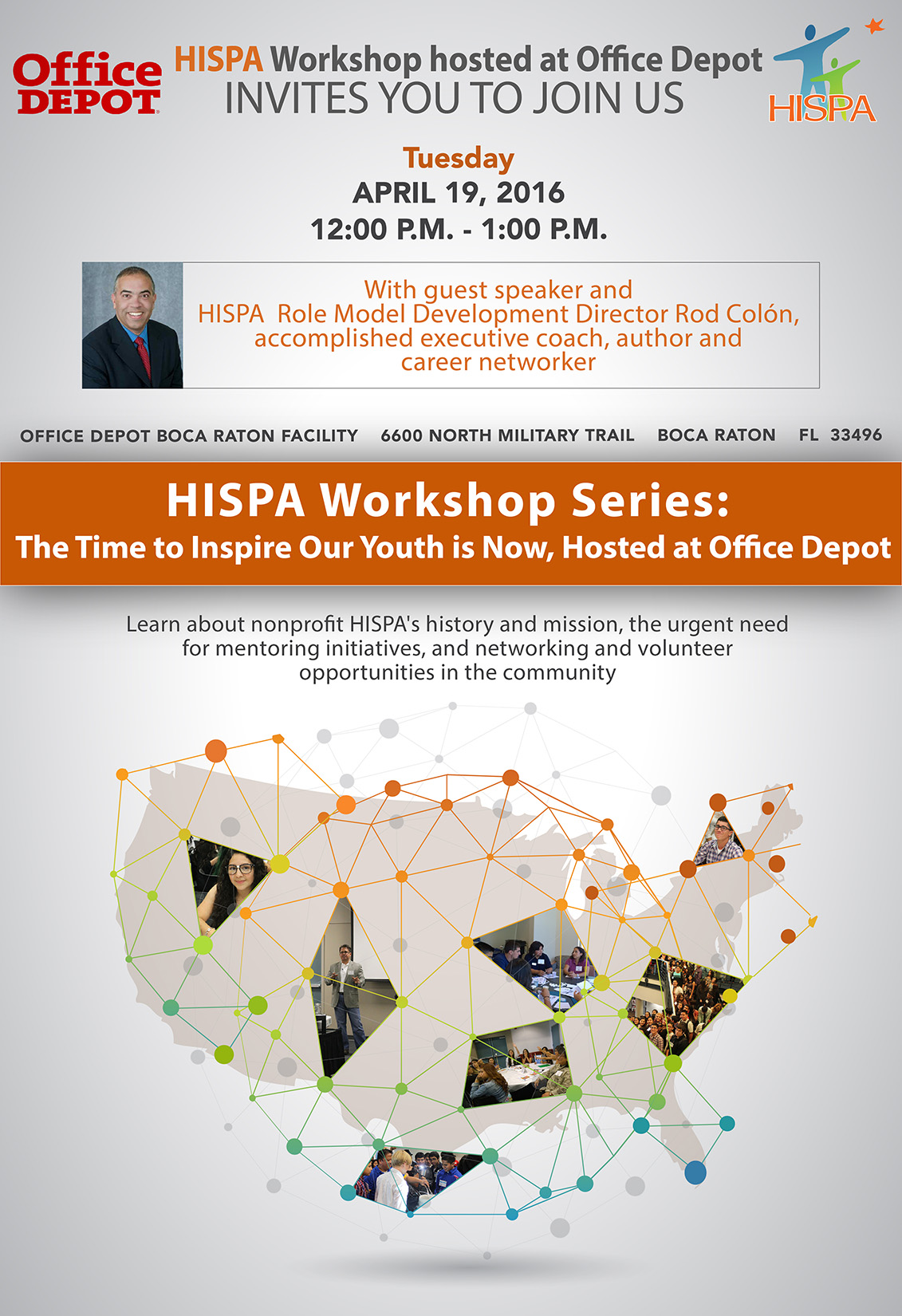 ---
About HISPA
HISPA is a nonprofit 501(c)(3) organization that encourages student success by recruiting, supporting and coordinating Latino professionals' participation in educational programs in the communities where they live and work. In addition to Florida, HISPA's mentoring initiatives are active throughout New Jersey, New York City and San Antonio. Since 2007, the organization has mobilized over 2,000 volunteers to make over 500 classrooms visits and encourage nearly 7,000 Latino students to fulfill their potential by staying in school and pursuing higher education. HISPA's support for Latino youth has recieved numerous prestigeous recognitions, including being named a "Bright Spot in Hispanic Education" by the White House Initiative on Educational Excellence for Hispanics in 2015. Read HISPA's latest news here: http://us2.campaign-archive1.com/?u=0dce0c9f2a165755691f9dc74&id=235ea3a149&e=4916e82a2f
About Rod Colón
Rod Colón brings over 25 years of experience coaching and consulting today's professionals and executives to his role as Role Model Development Director with 501(c)(3) nonprofit HISPA (Hispanics Inspiring Students' Performance and Achievement). In this position, Colón serves as a role model to role models, focusing on the recruitment, retention, and professional development of HISPA volunteers; consulting with partner organizations; and advising on ERG best practices.
A long-time HISPA supporter, Colón exemplifies what it means to lead by example: he has volunteered as active HISPA Role Model for over eight years and has served as the New Jersey Governor's Hispanic Fellows HISPA Leadership Series Co-Lead for the past four.
An in-demand executive coach and professional speaker, he reveals the depth of his experience as a corporate HR management insider, outside agency recruiter, professional networker and career coach. He aggressively challenges professionals to be relentless in building their networking skills while viewing managing their careers as a business. Colón is also a an accomplished author, blogger, and radio talk show host, where he discusses career strategy, professional development, and the need for networking and human relationships as a major part of any job search.
Colón's unfailing desire to mentor, coach, train and advise in all matters related to career management and personal growth has earned many awards and honors, including being inducted into the Georgian Court University Alumni Court of Honor in 2011. He has been featured on ABC-TV "Tiempo" with Joe Torres, FOX 29, NEWS12 New Jersey "It's Your Money" with Eric Landskroner, BRONXNET "Open" with Dr. Bob Lee, LatinTRENDS, Newark Examiner, Princeton Review and has received numerous recognitions and citations in both print and online media.
His professional background includes over a decade serving in executive positions with JP Morgan and Bankers Trust. He also consults professional groups, colleges and corporate leaders in what it means to run a career in the same way a CEO runs a business.