HISPA San Antonio Role Model Program Kick-Off and Recruiting Events

Wednesday, February 24, 2016 from 12:00 PM to 7:00 PM (CST)
Event Details
HISPA San Antonio Role Model Program
Kick-Off & Recruiting Events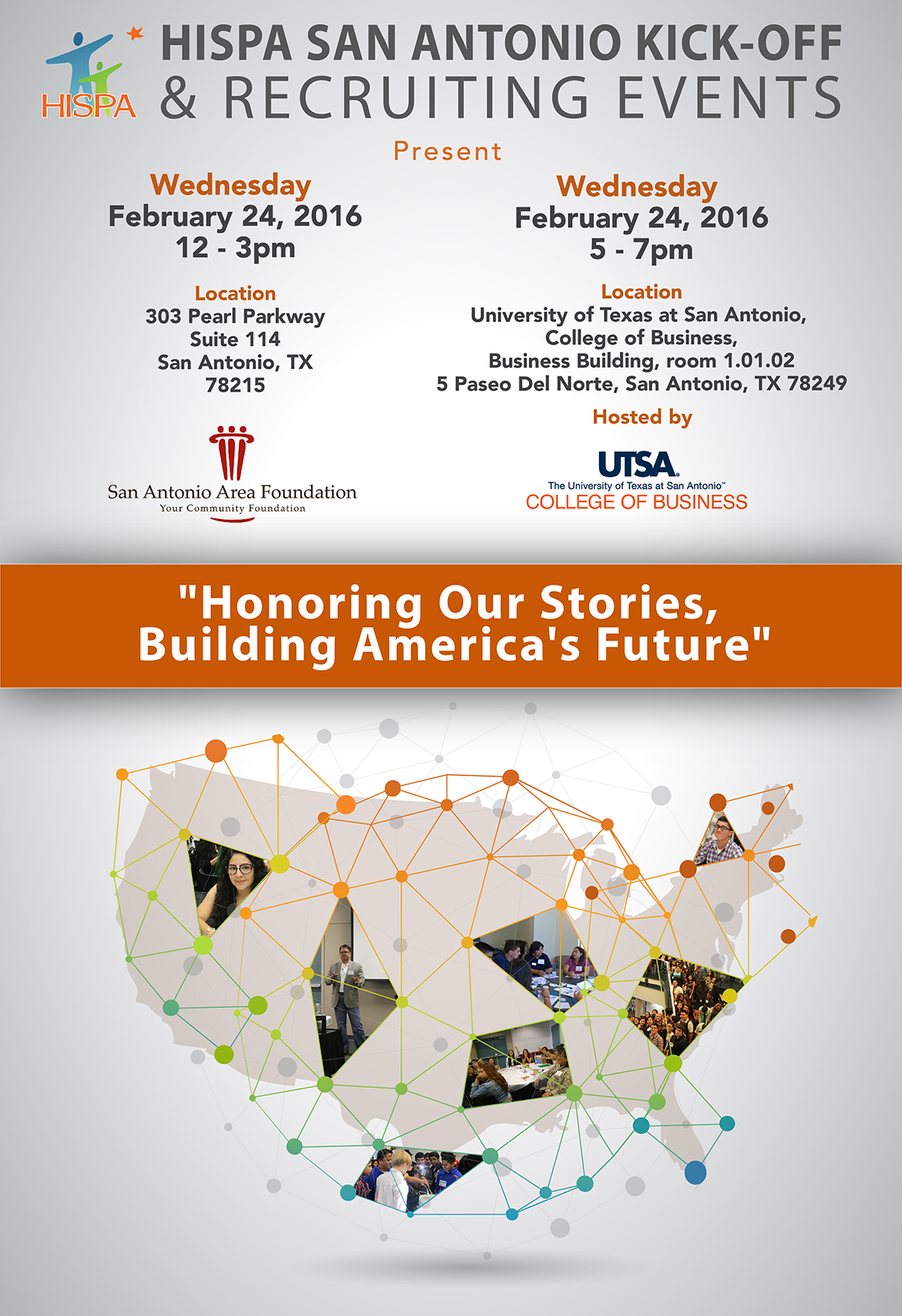 You are invited to attend one or both events:

Wednesday
February 24, 2016
12:00 - 3:00 pm

Location:
San Antonio Area Foundation
303 Pearl Parkway, Suite 114
San Antonio, TX 78215
Directions: http://www.saafdn.org/About/ContactUs.aspx
Parking: Guest parking is available under US-281 at Pearl Parkway and Avenue B


::::::::::::::::::::::::::::::::::::::::::::::::::::::::::::::::::::::::
Wednesday 
February 24, 2016
5:00 - 7:00 pm

Location: 
University of Texas at San Antonio, College of Business
Business Building, Room 1.01.02
5 Paseo Del Norte
San Antonio, TX 78249
Directions: http://business.utsa.edu/visitors/index.aspx

Parking: Pay at Buaerle Garage Parking


Hosted by: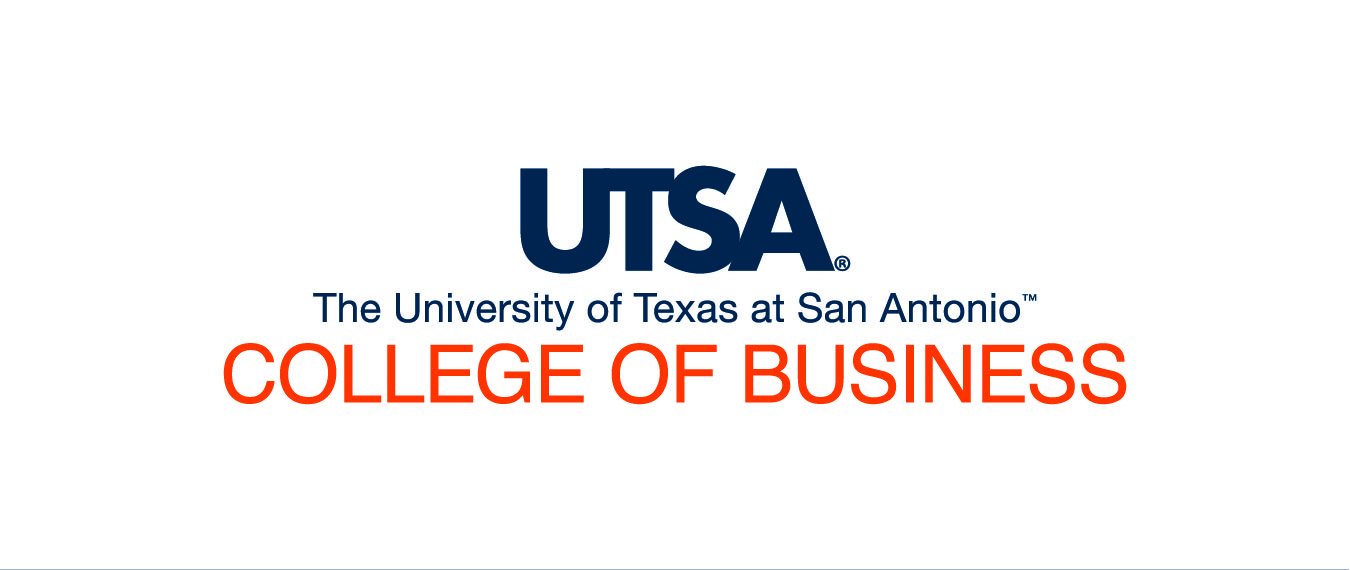 Join us for two same-day events of networking and professional development with HISPA leadership, Role Models and professionals interested in volunteering with our Latino youth.
Attendees will be welcomed by Rod Colon, HISPA Professional Development Director.  Rod is a career strategist, corporate trainer, motivational speaker, radio show host, author and master networker. He will share the HISPA story and why being role models to our youth is essential to the future of America. Rod will also lead a training workshop at each event, engaging the audience with techniques to help you SHARE your story with confidence to INSPIRE students and TRANSFORM America's future! The workshop will also show how employee resource groups, alumni networks and professional organizations can work with HISPA to inspire students to pursue higher education.
HISPA is active throughout New Jersey, New York City and San Antonio. To date, we have mobilized over 2,000 volunteers to encourage over 6,000 students to fulfill their potential through academic achievement. Join us and learn more about becoming a HISPA Role Model, sharing your story, and inspiring young Latino students to stay in school and pursue higher education to achieve their dreams. Current HISPA Role Models will share their experiences and the impact of their volunteerism with attendees. Refreshments will be provided.
For more information, please see HISPA's Annual Review: http://hispa.org/files/HISPA_2014-15_Annual_Review_V4_web.pdf
Please register by 6:00 pm on Tuesday, February 23, 2016. RSVP today as capacity is limited.
About Rod Colon
A Fresh Approach to Personal
Rod has a unique perspective on what it takes to succeed in today's global economy. Rod shares his 25 years of experience as a corporate HR management insider, outside agency recruiter, professional networker and career coach through a unique, commonsense approach to networking and career management. His in-depth knowledge of international staffing, recruiting and networking gives Rod a unique ability to both coach and consult today's professionals and executives around the world.
Applying the Power of Networking Technologies
As an in-demand executive coach and professional speaker, Rod reveals the depth of his career management experience and shares the wisdom he has acquired over the years. He demonstrates the power of networking as a giving and sharing activity and aggressively challenges professionals to be relentless in building their networking skills while managing their careers as a business: the CEO of ME, Inc.
Author, Blogger & Radio Talk Show Host
Rod is a published author. His first book, Win the Race for 21st Century Jobs, discusses the need for networking and human relationships as a major part of any job search and career management strategy. You can find career tips and techniques on his blog, RodColon.com. Rod also hosts an weekly, interactive call-in radio show, Own Your Career, online at RodColon.com.
Rod is a graduate of Georgian Court University. He has been featured on ABC-TV "Tiempo" with Joe Torres, NEWS12 New Jersey "It's Your Money" with Eric Landskroner, BRONXNET "Open" with Dr. Bob Lee, LatinTRENDS, Newark Examiner, Princeton Review and has received numerous awards and citations in both print and online media. His innovations have attracted a growing audience of business professionals who recognize and appreciate his gift for leadership, his command of both traditional and emerging business trends, and his unfailing desire to mentor, coach, train and advise in all matters related to career management and personal growth.
Have questions about HISPA San Antonio Role Model Program Kick-Off and Recruiting Events?
Contact HISPA
When & Where

Two locations: Please read invitation details

San Antonio, Texas


Wednesday, February 24, 2016 from 12:00 PM to 7:00 PM (CST)
Add to my calendar
HISPA San Antonio Role Model Program Kick-Off and Recruiting Events