Description


---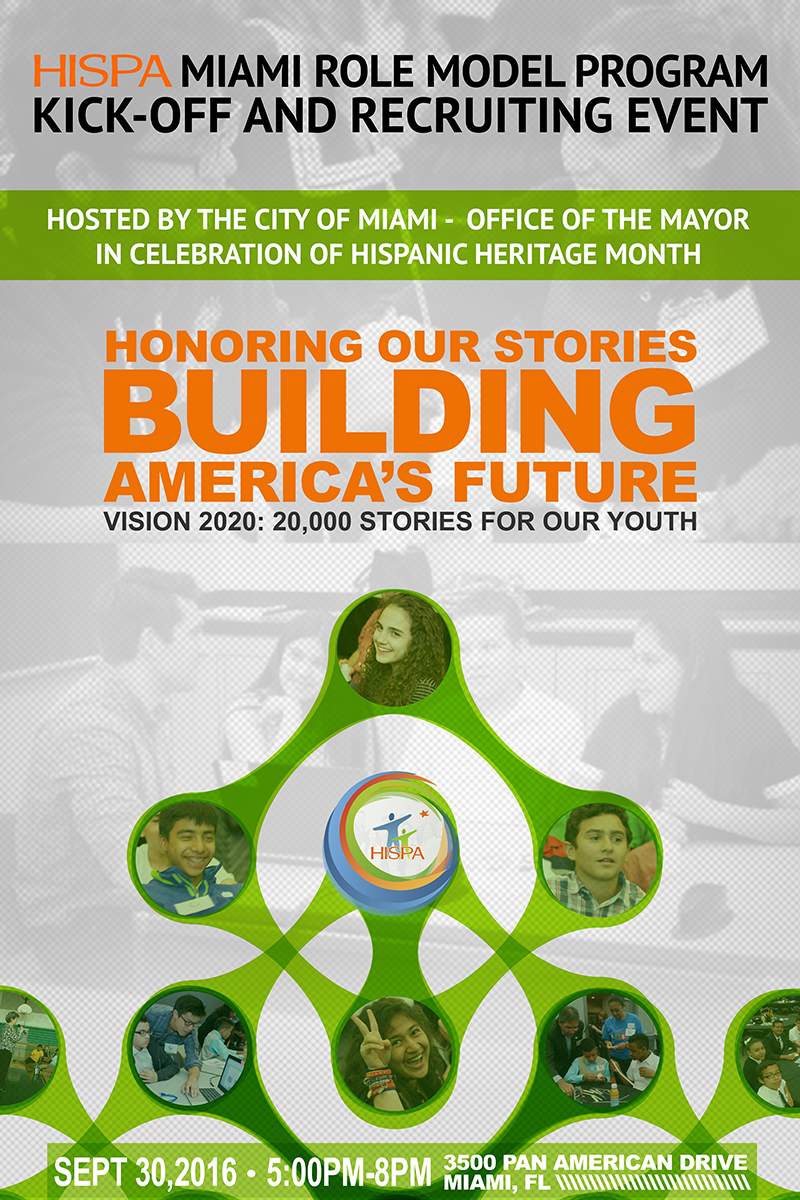 HISPA and the City of Miami - Office of the Mayor are pleased to invite you to join the
HISPA Miami 2016 Role Model Program Kick-Off and Recruiting Event: Honoring Our Stories, Building America's Future
The City of Miami - Office of the Mayor and HISPA invite you to join our Miami 2016 Kick-Off and Recruiting Event, "Honoring Our Stories, Building America's Future," to commit to SHARE, INSPIRE, and TRANSFORM the lives of Florida's students!
HISPA is proud to announce Visa as an Annual Partner and extends its most heartfelt thanks to our "Inspire" Sponsor, ESPN! Event Collaborators include UPS and First Bank.
HISPA is active throughout New Jersey, New York City and San Antonio--and is proud to be celebrating our official expansion to Miami, Florida! Join us for music, food, and Hispanic Heritage Month with our hosts of the City of Miami - Office of the Mayor, Mayor Tomás Regalado and Mrs. Ana Cristina Regalado. In addition to hearing from the Mayor, Wifredo A. Ferrer, United States Attorney for the Southern District of Florida, and HISPA leaders (agenda and biographies below), guests will also enjoy networking opportunities with representatives from organizations including Visa, ESPN, Disney, UPS, First Bank, Office Depot, Microsoft, HISPA, and others. Two round-trip tickets--courtesy of Southwest Airlines, HISPA's official airline partner--will be given away as door prizes among those who register to be HISPA Role Models.
Tentative Agenda:
5:00 PM
Requested Arrival*
*The event will begin promptly at 5:30. We recommend that guests arrive early.
5:30 PM - 6:30 PM
Emcee
Sebastián Martínez Christensen
ESPN Deportes

Special Welcome
Mayor Tomás Regalado
Mayor of the City of Miami

The HISPA Story and Vision 2020
Rene Herrera, HISPA Board of Directors
Global Senior IT Audit Manager, Office Depot

Keynote Address
Wifredo Ferrer
United States Attorney for the Southern District of Florida

The Power of Our Stories
Rod Colón
HISPA Role Model Development Director

Call to Action
John Moreno, HISPA Board of Directors
HISPA Florida Operations Director

6:30 PM - 8:00 PM

Door prizes courtesy of Southwest Airlines, HISPA's official airline partner

Refreshments & Networking Reception
Mayor's Office Terrace - Second Floor
To date, we have mobilized over 2,000 volunteers to encourage over 7,000 students to fulfill their potential through academic achievement. Join us and learn more about becoming a HISPA Role Model, sharing your story and inspiring young Latinos to excel in school and pursue higher education to achieve their dreams. Inspirational speakers and HISPA Role Models will share their experiences and the impact of their volunteerism with attendees.
WHY A ROLE MODEL PROGRAM?
The majority of children never have to ask themselves the question, "Can I really be a teacher, doctor, astronaut, or politician?" Unfortunately, many Latino youth do not see role models that look like them in such professions. Research has shown a strong correlation between students having a mentor or role model and their pursuit of higher education:
"The findings identified four family background characteristics that contributed to their scholarly achievement. The four themes were (a) a strong parental commitment to the importance of education, (b) parental facilitation of their child's autonomy, (c) an array of nonverbal, parental expressions of support for educational goals and tasks, and (d) the presence of supportive faculty mentors and role models in the students' lives."
Latino students need role models to help them see their educational opportunities and to show them how to navigate the college system. For many of these students, this knowledge may not be available from other sources. For this reason, it is important to provide credible Latino role models to students. We invite you to join our efforts to eradicate the lack of role models as a reason why our students don't pursue higher education.
Learn more about HISPA programs.
REGISTER AND LEARN ABOUT HOW TO BECOME A HISPA ROLE MODEL FOR OUR YOUTH!
If you would like an on-site presentation to your company, please reach out to Rod Colón, HISPA Role Model Development Director, at rod@hispa.org. Event sponsorship opportunities are availble; please contact Kelly Grossman at kelly@hispa.org. For opportunities to become an Annual Partner or Founding Partner of HISPA Miami, please contact Dr. Ivonne Díaz-Claisse, HISPA President & CEO, ivonne@hispa.org.
www.hispa.org