Description
HISPA invites Our New York City and New Jersey Role Models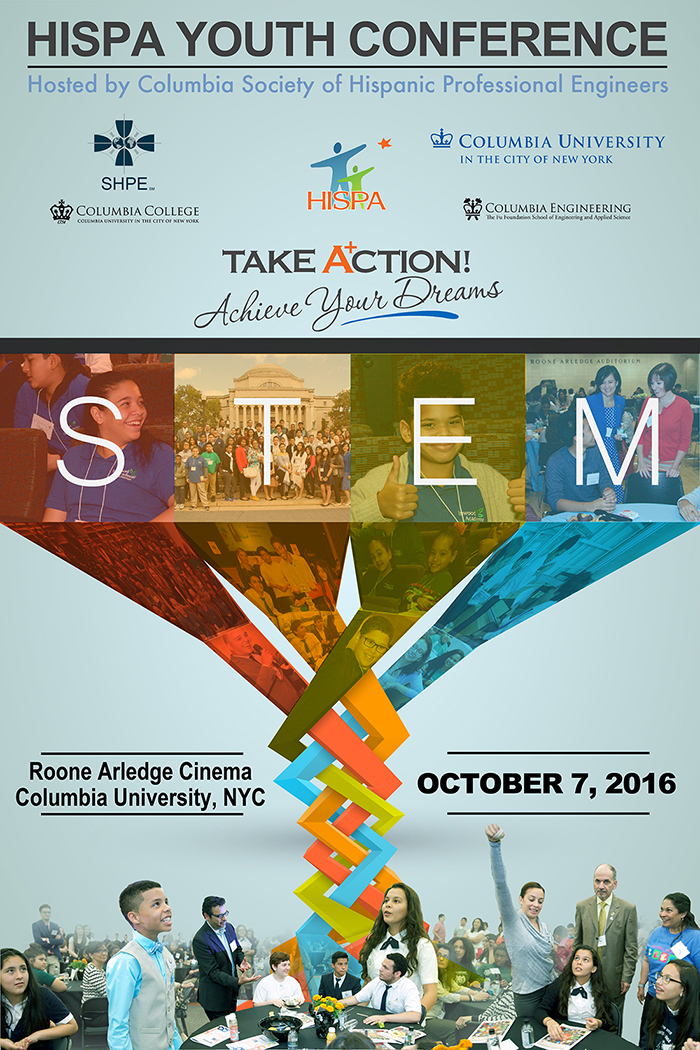 HISPA NYC Fall 2016 Youth Conference
Hosted by Columbia Society of Hispanic Professional Engineers

Wednesday October 7, 2016
8:00 AM - 2:30 PM

ABOUT THE HISPA 2016 YOUTH CONFERENCE
This is our second annual Youth Conference, themed "Take Action! Achieve your Dreams" at Columbia University which provides a 150 7th, 8th, 9th and 10th grade students a unique experience to visit a college campus and attend hands-on workshops lead by professional organizations, college staff and corporations. Throughout the day-long conference, HISPA highlights professionals and careers in STEM fields. The conference will also feature a panel of university students, including special guests from Columbia University and CUNY.
You are invited to join us in support of the day's activities. All volunteers will have the opportunity to share their unique educational and professional journeys and serve as role models for students, joining a group of 8 per table. Other volunteer tasks include welcoming students as they enter the building, setting up, distributing materials to the students, and supporting technology and any special needs that students might have throughout the day. Breakfast and lunch is provided to all volunteers.
Sponsorship opportunities are still available. Please contact Dr. Ivonne Diaz-Claisse at ivonne@hispa.org or 908-907-5290.
Please RSVP by September 25, 2016 to be included as a volunteer for the day! Please note that Columbia University requires all external visitors and volunteers to participate in a brief, web-based training video one week prior to the event.
DIRECTIONS & PARKING: http://www.columbia.edu/content/directions-parking.html
---
HISPA FALL 2016 NYC YOUTH CONFERENCE: AGENDA
(Agenda is subject to change)
MORNING
8:00 AM - HISPA Role Models Arrival, Conference Set-Up & Light Breakfast

9:00 AM - HISPA Role Model & Student Interactive Activity
10:00 AM - Opening Remarks: Dr. Ivonne Diaz-Claisse, President/CEO - HISPA
Keynote Speaker Remarks
WORKSHOPS
11:00 AM - STEM Career Workshops
AFTERNOON & LUNCH

12:45 PM - Luncheon with HISPA Role Models

12:30 PM - College Students' Panel: "Life after High School" (Moderator: to be confirmed)
1:30 PM - Inspirational Speaker:

2:15 PM - Special Performance

2:30 PM - Students Dismissed