HISPA 2015 NYC Youth Conference "Take Action! Achieve Your Dreams"

Thursday, April 2, 2015 from 8:00 AM to 4:00 PM (EDT)
Event Details
HISPA invites New York City and New Jersey HISPA Role Models 
HISPA NYC 2015 Youth Conference 
Hosted by Latina Researchers Network and the Program for Researchers Initiatives in 
Science and Math at John Jay College of Criminal Justice 
Thursday April 2, 2015 
Lead Funder: ESPN 
In Partnership with CUNY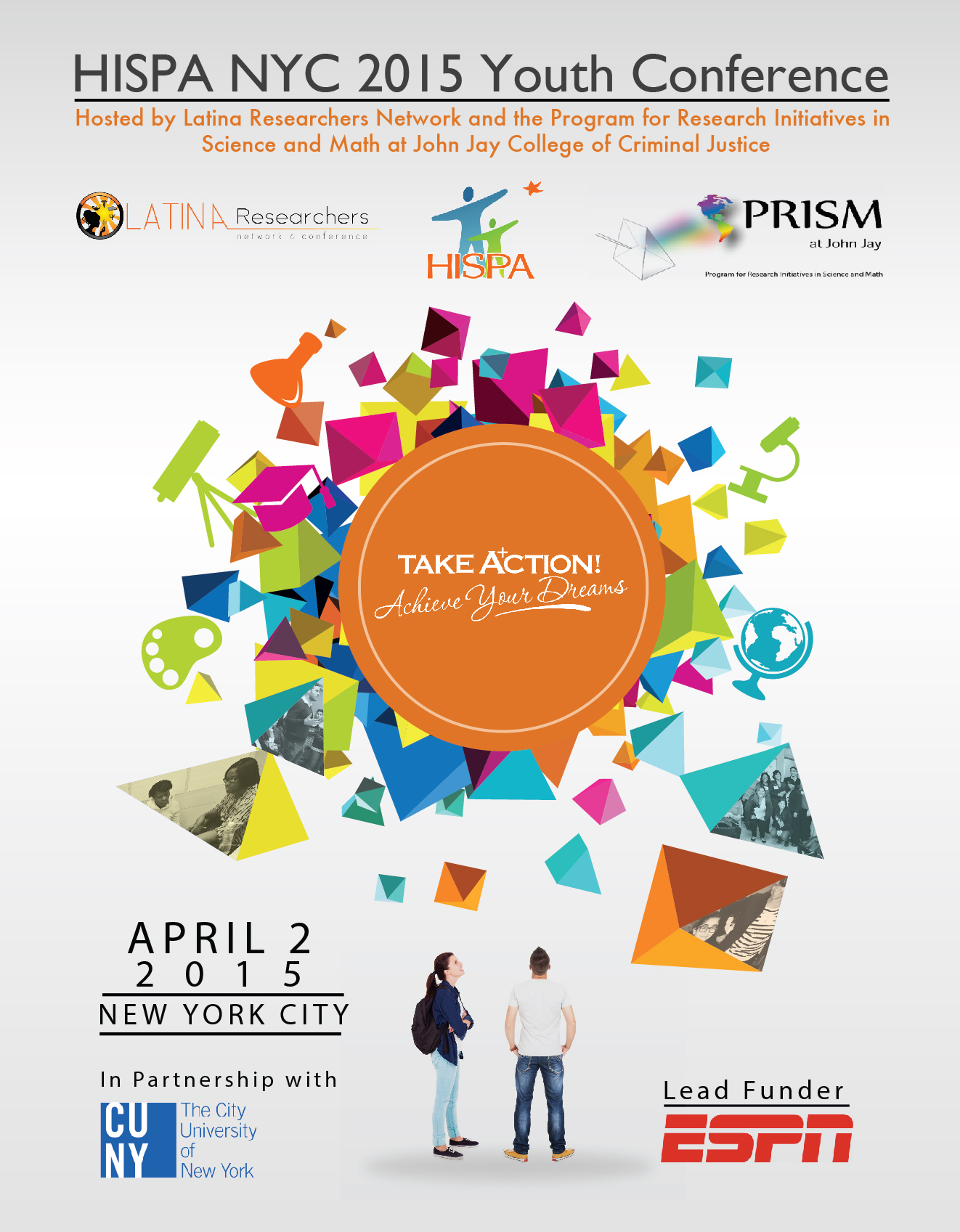 ABOUT THE HISPA 2015 YOUTH CONFERENCE
(8:00 am - 4:00 pm) 
The annual Youth Conference, themed "Take Action! Achieve your Dreams", provides a 150 8th and 9th grade students with a unique experience to visit a college campus and attend hands-on workshops designed by participating professional organizations, college staff and corporations.  Throughout the one-day conference, HISPA highlights professionals and careers in the STEM fields.  The conference will also feature a panel of university students including special guests from PRISM, Columbia University and CUNY.
You are invited to join us and support all activities throughout the one-day conference. Each volunteer will have the opportunity to share your unique educational and professional journey and serving as a role model for the students joining a group of 8 students per table.  In addition, other volunteer tasks include welcoming the students at the entrance of the building, supporting set-up and distributing materials to the students, supporting technology, and supporting any special needs that students might have throughout the day. Breakfast and lunch will be provided for all volunteers, and volunteers are invited to a special networking reception from 2:45 pm - 4:00 pm. The reception is a unique professional and networking event open to all professionals who supported this initiative throughout the day and have joined our efforts to SHARE, INSPIRE and TRANSFORM! 
Sponsorship opportunities are still available.  Please contact Dr. Ivonne Diaz-Claisse at ivonne@hispa.org or 908-907-5290.
Please RSVP by March 25, 2015 to be included as a volunteer for the day!
AGENDA HISPA 2015 YOUTH CONFERENCE
(Agenda is subject to change) 
7:30 am - HISPA Role Models Arrival, Conference Set-Up & Cafecito
ENGINEERING
9:00 am - HISPA Role Models and Students: Interactive Activity 
MATHEMATICS
10:00 am - Opening Remarks (Presented by Ivonne Diaz-Claisse, PhD/HISPA)
SCIENCE
10:30 am - So, You Want to be a Scientist? (Presented by Edgardo Sanabria-Valentín, Ph.D./PRISM)
11:00 am - College Students Panel: "Life after High School" (Presented by John Moreno Escobar/CUNY Urban Initiatives)
TECHNOLOGY
11:30 am - Have an Idea for an App?  (Presented by Orlando Rivera/Digital Summit.tv - Funded by Verizon)
12:45 pm - Luncheon with HISPA Role Models (Presented by Silvia Mazzula, Ph.D/Latina Researcher Network)
1:30 pm - Inspirational Speaker (Presented by Joey Negron/Coolspeak)
ARTS
2:15 pm - Special Performance by Veronica Kole, International Bilingual Pop Performing Artist
2:30 pm - Students Dismissal  
AGENDA ROLE MODELS RECEPTION
2:45 pm - Networking Reception
3:45 pm - Closing Remarks
Have questions about HISPA 2015 NYC Youth Conference "Take Action! Achieve Your Dreams"?
Contact HISPA