HISPA 2015 NJ Role Model Program Kick-Off and Recruiting Event

Tuesday, October 20, 2015 from 6:00 PM to 9:00 PM (EDT)
Event Details
Arrival Logistics for Today
Please note that only registered attendees will have access to the event. Registrations are closed by 10am on October 20th.

Dear Role Models and supporters,
Today October 20 we will reunite to celebrate the 2015 HISPA Role Model Program Kick-Off and Recruiting event "Honoring Our Stories, Building America's Future" at PSEG Headquarters.
HISPA, the PSEG Foundation and PSEG Adelante are looking forward to seeing you all.
Arrival time should be around 6pm. Please note that public transportation to Newark is highly recommended. Due to the Devils' Game at Prudential Center tomorrow evening high concentration of traffic is expected in the Newark area that might delay your arrival to the premises on time. 
If you may, park your car at your nearby train station and arrive by train or Path to Newark Penn Station or just save yourself plenty of time for arrival and parking.
Parking is free at PSEG building starting at 6pm.
Arriving Directions:
Guests attending the event will enter from the Mulberry Street Entrance closest to the garage.  Guests will enter into the ground floor lobby area where you will see a security desk ahead and to the right.  Guests will also see an entrance to the James Ferland Conference rooms and conference room 101 is where we are holding our event.
‪https://www.pseg.com/info/media/directions.jsp

From Newark Penn Station (Walking Directions) 
Penn Station Newark is two blocks from PSEG and a stop on the PATH, AMTRAK and New Jersey Transit trains. After disembarking, walk through the terminal and up the staircase with the "To Gateway Center" awning. Proceed to the revolving doors and continue walking through to Gateway Center complex (make a left turn at the Hilton Gateway entrance, and a right at Everything Yogurt). Walk the full length of the Gateway Complex and exit the building onto Mulberry Street (make a right turn onto Mulberry Street). Walk 3 blocks up to Raymond Boulevard. PSEG Corporate Headquarters is on the corner of Raymond Boulevard and Mulberry Street (across from the Commerce Food Court/PNC Bank/ Edible Arrangements).
Please note: Corporate Headquarters is located in the Tower building.

From New Jersey Turnpike
Exit at Interchange 15E to signs for Newark (Raymond Blvd.). Proceed west on Raymond Blvd. for 2.2 miles, passing under railroad at Pennsylvania Station. Go 2 blocks to PSEG. 
From Garden State Parkway 
Take Exit 145 in East Orange (sign reads "The Oranges-Harrison") onto Interstate 280 eastbound. Go approximately 2 miles to Exit 14A (King Blvd.), turn right to first light (Orange St.), make left on Orange St., go to 3rd light (Broad St.), turn right, go 5 lights on Broad St., follow sign that reads PARK PLACE. Proceed for 3 lights, PSEG building on right. 
From Interstate 280 East 
Follow directions under Garden State Parkway. 

From Rts. 1-9, 22-24-78 
(at Newark Airport) Take Rt. 21 North (also becomes McCarter Highway in Newark). Go approximately 2 miles on McCarter Highway to Raymond Blvd. Turn left and go I block to PSEG. 
From Rt. 3

Take exit marked Rt. 21 South. Proceed approximately 6 miles and Rt. 21 becomes McCarter Highway. Go approximately another mile to Raymond Blvd. Turn right. Go 1 block to PSEG.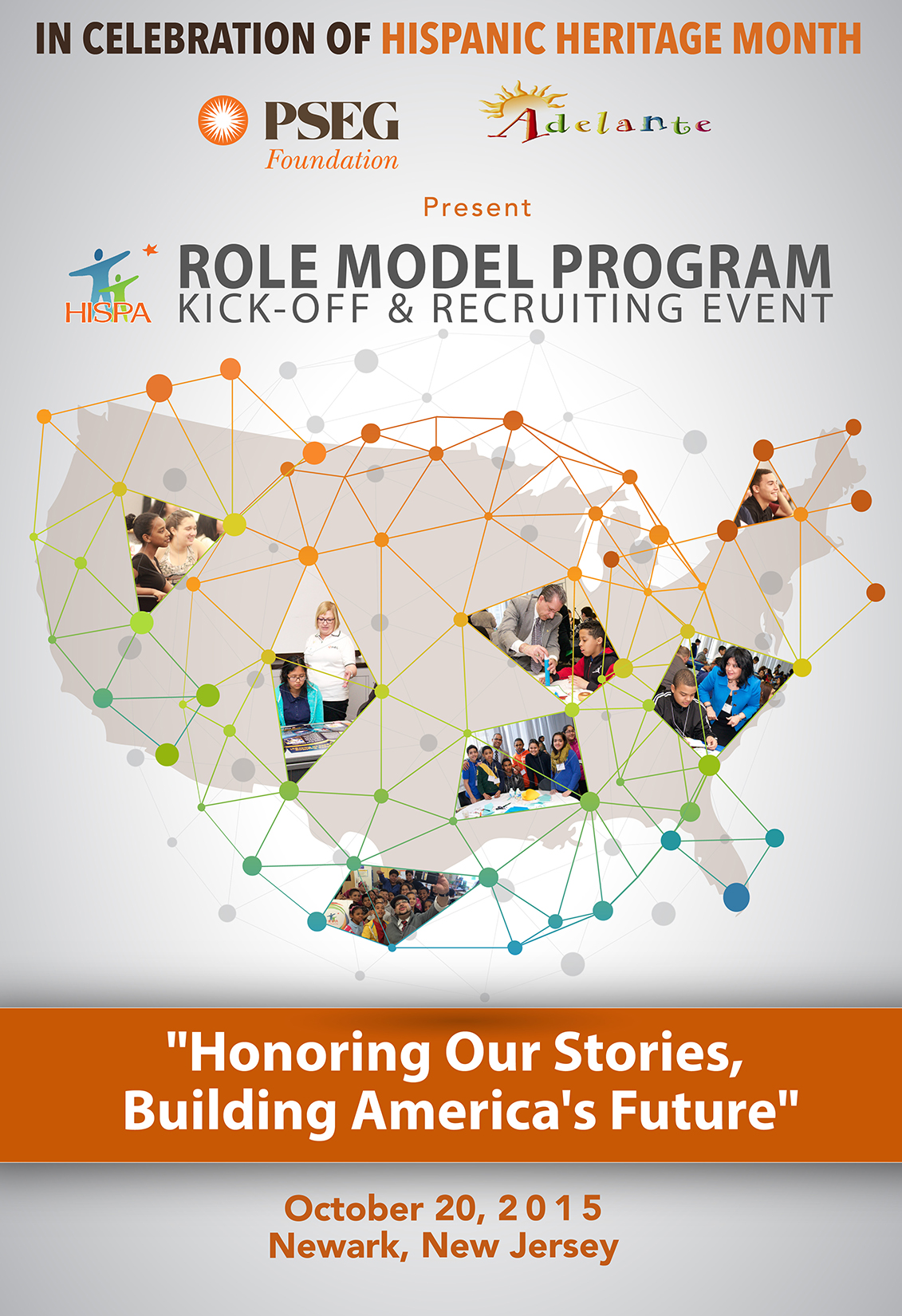 HISPA, the PSEG Foundation and PSEG Adelante

are pleased to invite you to join the
HISPA 2015 Role Model Program
Kick-Off & Recruiting Event
"Honoring Our Stories, Building America's Future"

HISPA is proud to join forces with you to bring the HISPA Role Model Program to New Jersey middle school students during the 2015-16 school year. We want to take this opportunity to thank you for your commitment to our youth, share our accomplishments to date, and celebrate Hispanic Heritage Month!
The HISPA Role Model Program is active throughout New Jersey, New York City and San Antonio. Over 500 professionals have visited classrooms as HISPA Role Models, inspiring approximately 6,000 students to pursue higher education. 
We invite you to join us and recommit to SHARE, INSPIRE and TRANSFORM in 2015-16.  Please RSVP by 12:00 noon on October 1, 2015.
Directions:  https://www.pseg.com/info/media/directions.jsp
Parking: License plate number & car make/model must be provided on the registration form.
AGENDA 

6:00 PM - 7:00 PM

Reception and Networking
7:00 PM - 8:00 PM
Welcoming Remarks
Jorge L. Cardenas, Vice President – Asset Management & Centralized Services – PSEG Adelante and the PSEG Foundation
Dr. Ivonne Diaz-Claisse, President & CEO – HISPA
Olga Hugelmeyer, Superintendent of Schools – Elizabeth Public Schools

Guest Speaker 
Closing Remarks
8:00 PM - 8:30 PM
Networking

SPECIAL DOOR PRIZES... Two round trip airline tickets courtesy of Southwest, HISPA's Official Airline Partner


Have questions about HISPA 2015 NJ Role Model Program Kick-Off and Recruiting Event?
Contact HISPA
When & Where

PSEG Corporate Headquarters
80 Park Plaza
Ferland Conference Room 101
Newark, NJ 07102


Tuesday, October 20, 2015 from 6:00 PM to 9:00 PM (EDT)
Add to my calendar
HISPA 2015 NJ Role Model Program Kick-Off and Recruiting Event