Location
2 Tower Center Blvd.
PNC Atrium
East Brunswick, NJ 08816
Description
IMPORTANT INFORMATION FOR YOUR ARRIVAL TO THE HISPA NJ KICK-OFF AND RECRUITING EVENT AT PNC BANK ATRIUM LOCATED AT 2 Tower Center Blvd, East Brunswick, NJ 08816
We will be looking forward to hearing from you.
There is major construction surrounding the PNC building. There might be some delays coming off of the New Jersey Turnpike due to the construction. Please plan ahead accordingly.
Take Exit 9 on the New Jersey Turnpike from either direction (north or south).
Everyone should stay on the right lane after paying the tolls. There is ample signs on Route 18N to turn right at the light onto Tower Center Blvd. It's important, that everyone stays to the extreme right on Route 18.
The exit to our building has been closed off and everyone has to pass the exit, stay on the extreme right and at the light make a right, then another right. From there, there will see signs to park in the parking lot
Rt. 18N is where you get off of to get to Tower Center Blvd. This is where they'll see the signs for detour to get to Tower Center Blvd.
Everyday the construction changes, so maybe our exit will be opened. If not, folks will need do drive to the light on the right exit side of route 18 to Tower Center Blvd.
Landmarks:
There is a Hilton Hotel on the same Tower Center Blvd. The address for the Hilton Hotel is 3 Tower Center Blvd, East Brunswick, NJ 08816, United States.
Please use it in case you need to find an alternative address.
Note: Do not park at the Hilton Hotel as you will be charged for parking. Make sure you follow the signs for PNC parking.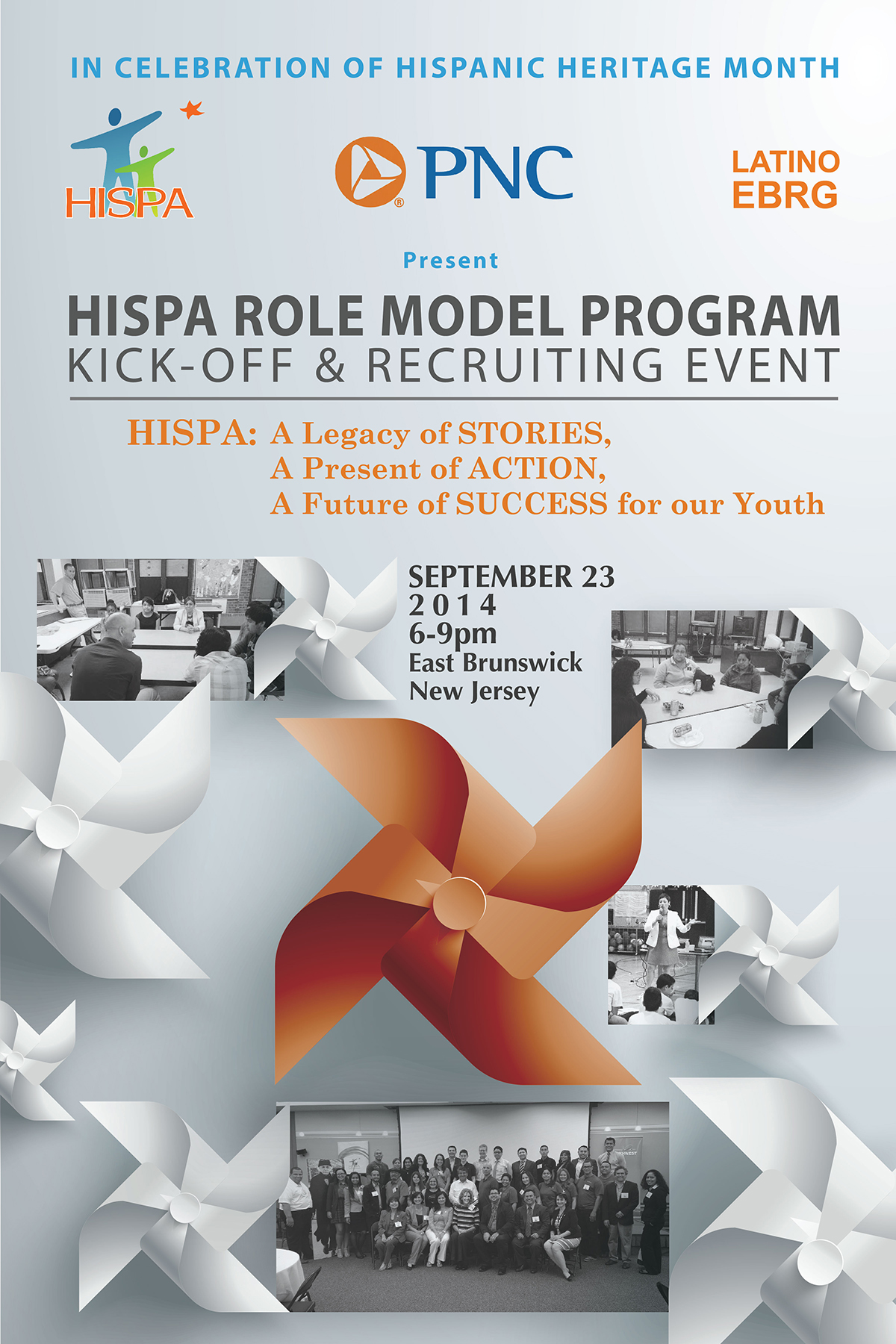 HISPA, PNC Bank and PNC Bank Latino EBRG
are pleased to invite you to join the
HISPA 2014 Role Model Program
Kick-Off & Recruiting Event
"HISPA: A Legacy of Stories,
A Present of Action,
A Future of Success for our Youth"
During the 2014-15 school year, HISPA is proud to join forces with you to bring the HISPA Role Model Program to New Jersey middle school students in Camden, New Brunswick, Elizabeth, Hackensack, Perth Amboy, Princeton, Red Bank and Trenton. We want to thank you for your commitment to our youth, share our accomplishments to date, and celebrate Hispanic Heritage Month!
The HISPA Role Model Program is active in several cities throughout New Jersey, New York City and San Antonio. With the support of over 500 professionals who have visited classrooms as HISPA Role Models we have inspired approximately 6,000 students to pursue higher education.
We invite you to join us and recommit to SHARE, INSPIRE and TRANSFORM during the 2014-15 school year. Please RSVP by 12:00 noon on September 21, 2014 by clicking the "Attend Button" below.
Parking: Free parking is available inside the PNC building at the indoor garage. When you arrive at Center Boulevard, please drive to the PNC building (2 Tower Center) and look for the gate for parking indoors garage signs. At the gate, press the button and follow the signs for the HISPA event at the PNC Atrium. Please be aware that if you park at the HILTON Hotel garage you will be charged for parking.
AGENDA 

6:00 PM - 7:00 PM

Reception and Networking
Entertainment by Harpist Enki Bello
7:00 PM - 8:00 PM
Welcoming Remarks by PNC Bank
Opening Remarks by Dr. Ivonne Diaz-Claisse, President & CEO, HISPA
Leadership Panel:
Ray de la Cruz, JD/MBA, New Jersey Turnpike Authority | Executive Vice President, NSHMBA - New Jersey Chapter
Assemblyman Angel Fuentes | Founder & Chairman, Hispanic Leadership Summit of New Jersey
Jose Piazza, Verizon | HISPA Board of Directors
Denise Rivera, BMS | Co-Chair BMS Organization for Latino Achievement
A panel of successful leaders in the private and public sectors will share their stories showcasing how their volunteerism has impacted them on a personal and professional level.
Closing Remarks by Vanessa Nazario, PNC Bank, Vice President Community Development Banking
SPECIAL DOOR PRIZES... Sponsored by Southwest Airlines, HISPA's Official Airline Partner, and, by Hilton East Brunswick, supporter of the HISPA 2014-15 Role Model Program.