About this Event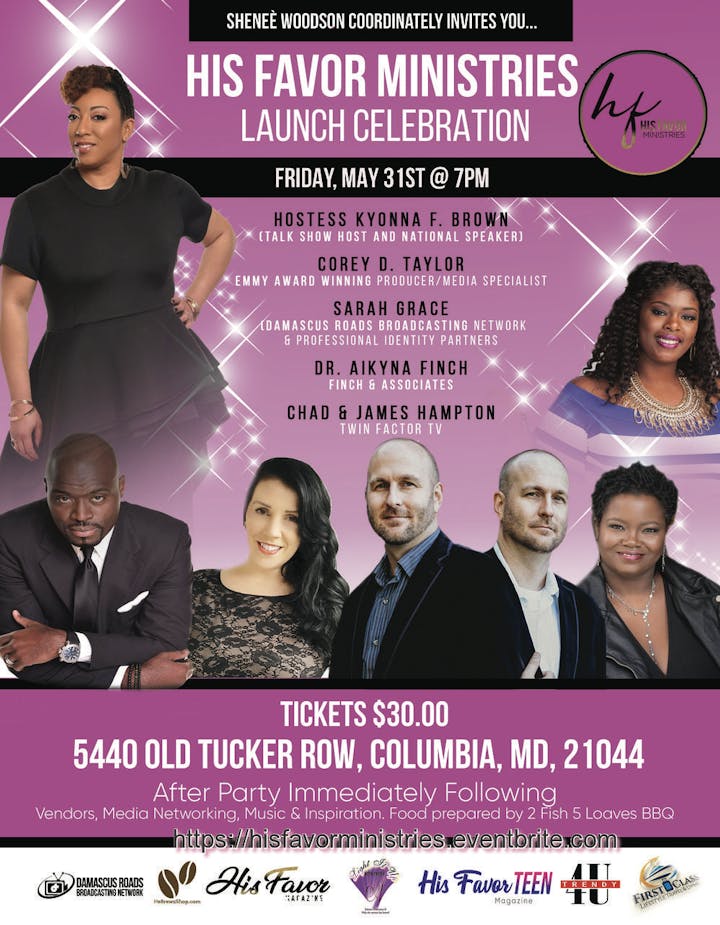 Sheneè Woodson Coordinately Invites You...
His Favor Ministries LLC Launch Celebration
Friday, May 31st @ 7 PM
5440 Old Tucker Row, Columbia, MD, 21044
$30
Hostess
Kyonna F. Brown, (WBGR Health & Wellness Broadcast Network)
With Special Guests
Corey D. Taylor (Emmy Award Winning Producer/ Media Specialist)
Sarah Grace (Damascus Roads TV Network/Professional Identity Partners)
Dr. Aikyna Finch (Finch & Associates)
Chad & James Hampton (Twin Factor TV)
***After Party Immediately Following***
(Vendors, Media Networking, Music & Inspiration)
(Food prepared by 2 Fish 5 Loaves BBQ)
2 raffles will be drawn during the ceremony for the following...
1. One Day At The Spa
2. 3 days/ 2 nights mini-vacation  
His Favor Ministries LLC is the official ministry of Sheneé Woodson.  Under this umbrella, His Favor Magazine, His Favor TEEN Magazine and Revista Cristana Su Favor are housed. Aside from magazines,  His Favor Ministries LLC will serve individuals in the body of Christ with social media services, management (speakers), coaching and event planning (Favor Events). It's founder, Sheneé Woodson is a minister that truly believes in advancing the body of Christ. She does not take her role lightly.