About this Event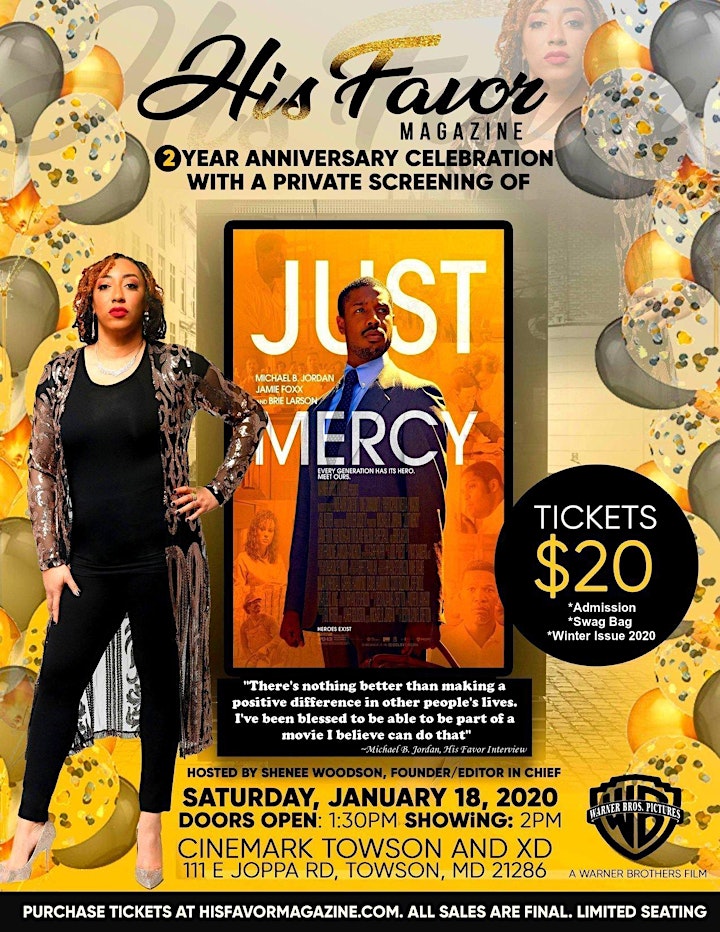 His Favor Magazine celebrates 2 years as a publication! Founder/Editor In Chief, Shenee Woodson is a true testament of God's grace and favor. Due to diligence and hard work, she has accomplished so much in media in such a short time. However, you will always find her directing each moment to her Lord and Savior, Jesus Christ!
"No one will get the glory, not even me, when it comes to His Favor Magazine" ~Shenee Woodson
In the last issue of 2019, she had the pleasure of interviewing actor, Michael B Jordan for his role in the powerful movie, JUST MERCY (also starring Jamie Foxx and Brie Larson). What better way to celebrate another year than at the movies with family, friends and even meet new people!
Watch Warner Bros. Pictures "Just Mercy" Trailer | Film Stars Michael B. Jordan, Jamie Foxx and Brie Larson with the His Favor Magazine Team
A powerful and thought-provoking true story, "Just Mercy" follows young lawyer Bryan Stevenson (Jordan) and his history-making battle for justice. After graduating from Harvard, Bryan heads to Alabama to defend those wrongly condemned or who were not afforded proper representation, with the support of local advocate Eva Ansley (Larson). One of his first, and most incendiary, cases is that of Walter McMillian (Foxx). In 1987, Walter was sentenced to die for the notorious murder of an 18-year-old girl, despite a preponderance of evidence proving his innocence and the fact that the only testimony against him came from a criminal with a motive to lie. In the years that follow, Bryan becomes embroiled in legal and political maneuverings and overt and unabashed racism as he fights for Walter, and others like him, with the odds—and the system—stacked against them.