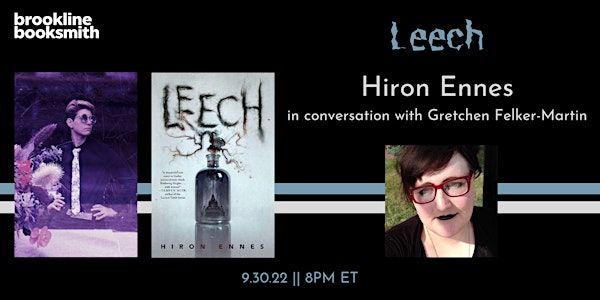 Hiron Ennes with Gretchen Felker-Martin: Leech
Read on for important registration and book order details for this Brookline Booksmith virtual author event!
Refund Policy
Contact the organizer to request a refund.
Eventbrite's fee is nonrefundable.
About this event
Celebrate the release of Leech with author Hiron Ennes, in conversation with Gretchen Felker-Martin!
How to Register
Register on this page to receive a Zoom link
Register free, support the store, or buy the book to enter the event
If you don't receive a confirmation email after registering, contact us
Get Your Books
Books are held for pickup or shipped after ticket sales have closed.
STORE PICKUP- Pick up your book in person at Brookline Booksmith (Click here for directions). You will receive an email alert when your book is ready.
SHIPPING - Have your book shipped via USPS priority mail. Shipping is only available in the United States.
If you have trouble checking out, check the Eventbrite FAQ located here.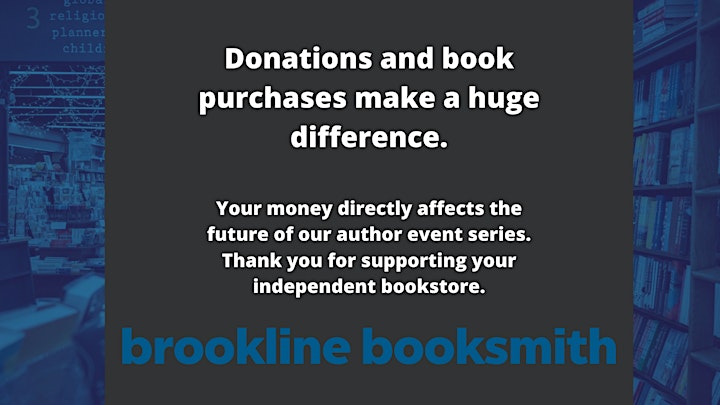 Leech
"A wonderful new entry to Gothic science fiction, impeccably clever and atmospheric. Think Wuthering Heights... with worms!"—Tamsyn Muir
MEET THE CURE FOR THE HUMAN DISEASE
In an isolated chateau, as far north as north goes, the baron's doctor has died. The doctor's replacement has a mystery to solve: discovering how the Institute lost track of one of its many bodies.
For hundreds of years the Interprovincial Medical Institute has grown by taking root in young minds and shaping them into doctors, replacing every human practitioner of medicine. The Institute is here to help humanity, to cure and to cut, to cradle and protect the species from the apocalyptic horrors their ancestors unleashed.
In the frozen north, the Institute's body will discover a competitor for its rung at the top of the evolutionary ladder. A parasite is spreading through the baron's castle, already a dark pit of secrets, lies, violence, and fear. The two will make war on the battlefield of the body. Whichever wins, humanity will lose again.
Hiron Ennes is a writer, musician, and student of medicine based in the Pacific Northwest. Their areas of interest include infectious disease, pathology, and anticapitalist healthcare reform. When they're not hunched over a microscope or Word document they can be found playing in the snow or playing the harp (though usually not at the same time). They're queer in every sense of the word, and they really want to pet your dog.
Moderator Gretchen Felker-Martin is a Massachusetts-based horror author and film critic. You can follow her work on Twitter @scumbelievable and read her fiction and film criticism on Patreon and at Nylon, The Outline, Fanbyte, and more.
About Brookline Booksmith
We are one of New England's premier independent bookstores, family-owned and locally run since 1961. We offer an extensive selection of new, used, and bargain books; unique, beautiful gifts; award-winning events series; and specialty foods. Every day, we strive to foster community through the written word, represent a diverse range of voices and histories, and inspire conversations that enrich our lives. Find more at brooklinebooksmith.com!
EVENT ACCESSIBILITY
Barring technical difficulty, auto-transcription is enabled on all Brookline Booksmith Zoom Webinar events.