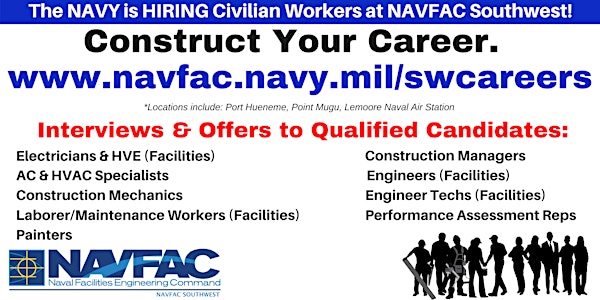 Hiring Fair OPEN TO THE PUBLIC with NAVFAC Southwest/NAVY (Civilians)
By NAVY/Naval Facilities Engineering Command Southwest
When and where
Date and time
Saturday, January 26, 2019 · 9:30am - 3:30pm PST
Location
America's Job Center 2901 N. Ventura Rd, 3rd Floor, Oxnard, CA 93036
Description
OPEN TO THE PUBLIC:
YOU MUST BE A U.S. CITIZEN AGED 18+ TO BE ELIGIBLE FOR CONSIDERATION
---
Naval Facilities Engineering Command (NAVFAC) Southwest & Engineering & Expeditionary Warfare Center

NAVFAC Southwest is accepting resumes for 100+ career fields but are focused on the following for this event (Ventura and Lemoore Locations):
Electricians (Facilities)
High Voltage Electricians
HVAC Mechanics
Construction Mechanics (2+ Skilled Construction Trades Mastery - e.g. carpentry, masonry, roofing, climate control systems, HVAC, Electrician)
Laborer/Maintenance Workers (Facilities Experience) - Entry Level
Fire Protection System Mechanic
Painters
Construction Managers
Production Controller
Electrical Engineers (Facilities Experience)
Engineer Techs (Facilities Experience)
Performance Assessment Rep (Contract Performance Mgmt, Quality Assurance, & Cost/Expenditure Analysis)
General Engineer - Facilities Engineering

EXWC POSITIONS (Ventura Location):
Electrical Engineer - The work includes the design, testing and installation of undersea testing and training equipment, maritime networks, undersea suspended sensor arrays, power transmission cables, and data collection systems.
General Engineer - Facilities Engineering
Engineer/Scientist - Ph.D.

level engineer/scientist with expertise in fiber optic communications (undersea)
Detailed Resumes should be submitted to https://form.jotform.com/NAVFACSouthwest1/Ventura in ADVANCE.

Walk-in candidates are welcome, but cannot be guaranteed an immediate or on-site interview.


Job Listings for Resume Tailoring can be found HERE.
Federal Resumes are MORE IN-DEPTH than civilian resumes. Resume Writing Tips can be found here.
Qualified candidates will be scheduled for an interview time slot. If you are NOT contacted, your resume has not demonstrated the minimum qualifications.
---
Equal Opportunity Employer: The U.S. Navy is an Equal Opportunity Employer and all candidates for positions and career development are considered without discrimination. Leaders, managers and supervisors ensure that individuals are judged solely on the basis of merit and ability and with respect for the differences that make us stronger as a team.

---

FAQs
1) What MUST I bring with me?

Candidates must bring (as applicable):
Industry Standard Resume (cover letter optional) (make sure your contact info - phone and email - are listed),
References
Other documentation required in the position listing to support qualifications.

Positions that require a degree or certification will require you to bring your transcripts or proof of certification with you to the event.
Veterans should bring their DD-214 or *Statement of Service.
Veterans with 30% or more service connected disability should bring the documentation from the VA.
Individuals with medical conditions (Schedule A) listed at https://www.opm.gov/forms/pdf_fill/sf256.pdf who are willing to self-disclose, should bring form sf256 from that website and letter from a medical provider or one provided through the State of California Department of Rehabilitation.
Resumes should be tailored to the job(s) you wish to apply for. They should have quantifiable data and demonstrate your ACCOMPLISHMENTS in the skills listed in the job listing. The resume is the main way we have of evaluating your experience as it relates to the position(s) we have open.
Listings can be found at our JOB BOARD
*Statement of Service should be printed on command letterhead and signed by the command and must provide the branch and dates of service, rate/rank, the expected date and type of discharge (Honorable, General, etc).


---

2) What are my transportation/parking options for getting to and from the event?
There is ample parking in the Center's lot.
The Center is serviced by the Gold Coast Bus Route 17
http://www.nextbus.com/googleMap/googleMap.jsp?a=south-coast&r=8#


---

3) Do you have any tips on preparation for the Career Fair?
There are many videos on LinkedIn and articles online on how to prepare for Career Fairs, Interviews, and Resume Creation. Some resources are:
Virtual Workshop: Interviewing: https://hru.gov/Studio_Recruitment/Virtual_Session.aspx?vs=2
Federal Resume Writing Video: https://www.youtube.com/watch?v=8YX7o1PBoFk
Federal Resume Writing Tip Sheet: https://hru.gov/Studio_Recruitment/tools/Resume_Writing_Handout.pdf
10 keys to Success at Job and Career Fairs: https://www.livecareer.com/career/advice/jobs/job-career-fairs
Civilian Resume Template, Cover Letter Template, Reference Sheet Template and more resources: https://www.hireheroesusa.org/tools-resources/
*No command or federal endorsement is implied by referencing the resources above.


---

4) What should I wear?
The rule of thumb is that you dress one level above the corporate culture or type of position you are looking for. Is the position normally where they wear jeans and a t-shirt? Then you should go business casual with khakis and polos. Do they wear business casual? Then you may want slacks and a button down (or skirt and polo for women). This takes a bit of research on your part, but the bottom line is that you can NEVER be too dressy when it comes to making your first impression.


---

5) How can I contact the organizer with any questions?
You can send your questions to: navfac_sw_jobs@navy.mil


About the organizer
Naval Facilities Engineering Command Southwest is the premier facilities engineering organization of the United States Navy. We are looking for civilians who want a rewarding career in the federal service that includes full health benefits with a choice of 200+ plans, federal retirement program, flexible schedules with telework options (position specific), professional development, paid holidays/vacation/sick time, and much more. www.navfac.navy.mil/swcareers