About this Event
Meet 50+ experienced software engineers in one night. Vetted candidates, great speeches, and networking with your next hire at HiredEvents.
Experienced Developers Only - Meet 50+ in one evening! www.hiredevents.com
Your job at this event is to meet and mingle, chat up your company, find out their skills, and build a relationship so your recruiting team can follow up easily after the event.
This event is relaxed and fun, encourages conversations, and gives you the opportunity you've been looking for-- get into a room with ONLY talented developers, build relationships with them and get them in your recruitment pipeline.
Are you a software developer or a potential speaker? Apply to attend by clicking here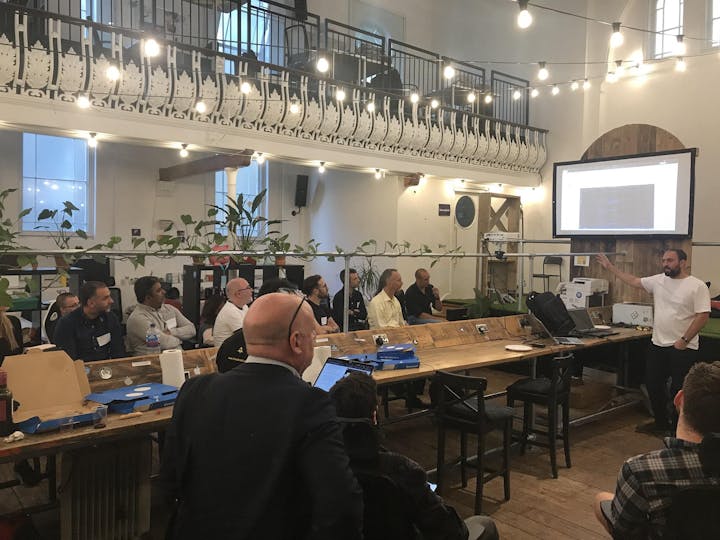 Agenda
We design our event to offer value to engineers... We're not like every other boring "recruitment fair". That's why high quality, experienced developers attend our events.
We have snacks, drinks, interesting talks, small-group discussions and of course plenty of time for you to network and meet skilled developers.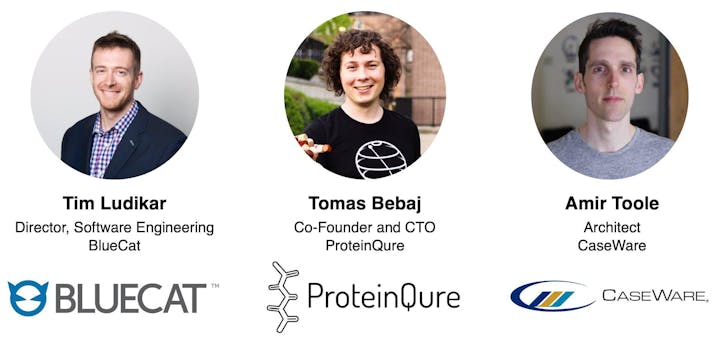 6pm - 6:30pm Networking, snacks and drinks
*Opportunity to meet and recruit!
6:30pm - 6:45pm Sponsor talks
6:45pm - 7pm Talk 1: "Troubleshooting Software Delivery for a Mission-Critical Infrastructure Solution" by Tim Ludikar, Director of Software Engineering at BlueCat.
Tim has over 10 years experience as a Director and Architect at companies like Rangle.io, Razorfish, Soft Gravity and ViXS Systems.
7pm - 7:15pm Small Group Discussion. Groups chat about topics, companies join groups and mingle
*Opportunity to meet and recruit!
7:15pm - 7:30pm Talk 2: "Leveraging Scalable Software Technologies in Biotech" by Tomas Babej, Co-Founder and CTO at ProteinQure.
Tomas has a double MSc degree in computer science, with focus on machine learning, cybersecurity and quantum computing. Before cofounding ProteinQure, he mastered the art of software engineering at Red Hat.
7:30pm - 7:45pm Small Group Discussion
*Opportunity to meet and recruit!
7:45 - 8pm Talk 3: "Full Stack Development at CWI" by Amir Toole, Architect at CaseWare.
Amir is one of CaseWare's senior architects who has been with the company for over 10 years. During his tenure, he has worked closely with the CEO and alongside several engineering teams to deliver business-critical innovation for CWI.
(See ROYAL SPONSOR ticket for details on how your company can be a future sponsored speaker)
8pm - 8:15pm Small Group Discussion
*Opportunity to meet and recruit!
8:15pm - 9:30pm "Meet a Startup" networking and recruiting, Food and drinks
*Startups and established companies have table discussions, developers rotate around the room meeting them. Company representatives can also mingle in room, get snacks and drinks, and recruit anywhere in the venue.
9:30pm Event Ends
Experienced Team
Andrew Bott, Founder of HiredEvents, has led hundreds of technology events over the last 4 years in over 15 countries, working with established companies like Amazon, Microsoft, IBM, TD Bank and GE Digital. Our team has put on successful events for fast-growing startups like Credit Karma, Moz, Boku and over 1000 other companies around the world! We know events and would love to help your team meet your goals.
Check out the link to our Entrepreneur podcast here!
Email for questions: andrew@hiredevents.com