About this Event
Meet 50+ experienced software engineers in one night. Vetted candidates, great speeches, and networking with your next hire at HiredEvents.
Experienced Developers Only - Meet 50+ in one evening! www.hiredevents.com
Your job at this event is to meet and mingle, chat up your company, find out their skills, and build a relationship so your recruiting team can follow up easily after the event.
This event is relaxed and fun, encourages conversations, and gives you the opportunity you've been looking for-- get into a room with ONLY talented developers, build relationships with them and get them in your recruitment pipeline.
Are you a software developer or a potential speaker? Apply to attend by clicking here
Agenda
We design our event to offer value to engineers... We're not like every other boring "recruitment fair". That's why high quality, experienced developers attend our events.
We have snacks, drinks, interesting talks, small-group discussions and of course plenty of time for you to network and meet skilled developers.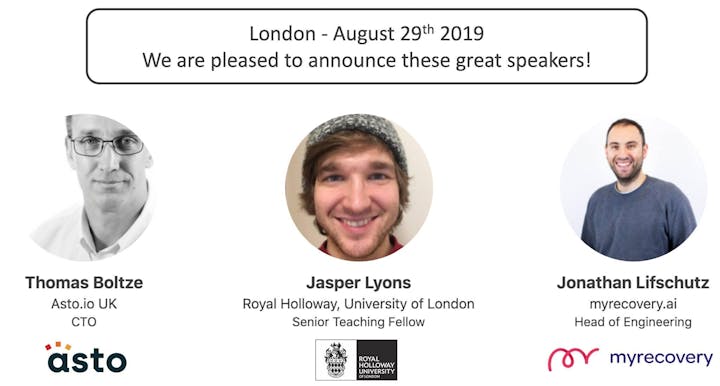 6pm - 6:30pm Networking, snacks and drinks
*Opportunity to meet and recruit!
6:30pm - 6:45pm Sponsor talks
6:45pm - 7pm Talk 1: "Engineering a Global Infrastructure as a Healthcare Startup" by Jonathan Lifschutz, Head of Engineering at myrecovery.ai
Jonathan Lifschutz is Head of Engineering at myrecovery, a venture backed healthcare startup. He holds an MSc in Advanced Computing Technology from Birkbeck. A specialist in architecting data platforms, he recently helped myrecovery get accepted into Digital Catapult's Machine Intelligence Garage programme.
7pm - 7:15pm Small Group Discussion. Groups chat about topics, companies join groups and mingle
*Opportunity to meet and recruit!
7:15pm - 7:30pm Talk 2: "Testing you Riskiest Assumptions without Code" by Jasper Lyons, mentor at Ignite Accelerator and Senior Teaching Fellow at Royal Holloway, University of London.
Jasper Lyons started 3 companies in 3 years as a technical founder (LASU, KickAdvisor and Release) and has recently helped grow the Royal Holloway, University of London development program from 100 to 300 students as a Senior Teaching Fellow. Jasper is also a mentor at Ignite Accelerator in London.
7:30pm - 7:45pm Small Group Discussion
*Opportunity to meet and recruit!
7:45 - 8pm Talk 3: "Startup Insights on Technical Depth" by Thomas Boltze, CTO at Asto.io UK.
Thomas Boltze is an experienced CTO, building start-ups from idea to success, scale-up and change management in FinTech, eCommerce, SaaS and adjacent areas. He was formerly CTO at Funding Circle UK, CTO at Sky & Sand GmbH, and CTO at many other startups.
8pm - 8:15pm Small Group Discussion
*Opportunity to meet and recruit!
8:15pm - 9:30pm "Meet a Startup" networking and recruiting, Food and drinks
*Startups and established companies have table discussions, developers rotate around the room meeting them. Company representatives can also mingle in room, get snacks and drinks, and recruit anywhere in the venue.
9:30pm Event Ends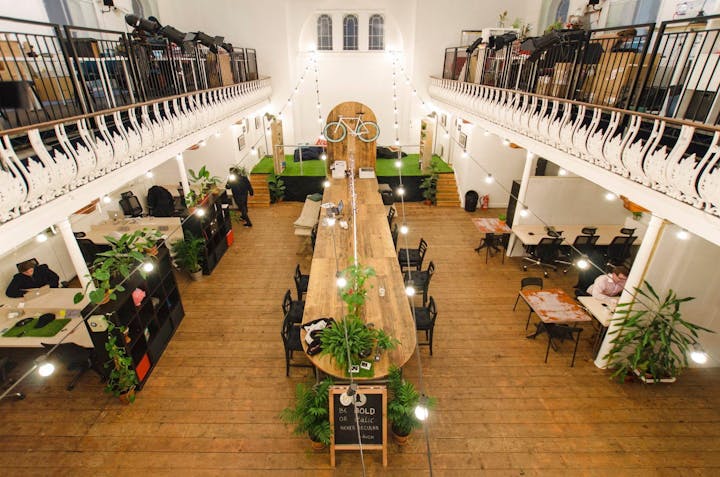 Experienced Team
Andrew Bott, Founder of HiredEvents, has led hundreds of technology events over the last 4 years, working with established companies like Amazon, Microsoft, IBM, TD Bank and GE Digital. Our team has put on successful events for fast-growing startups like Credit Karma, Moz, Boku and over 1000 other companies around the world! We know events and would love to help your team meet your goals.
Check out the link to our Entrepreneur podcast here!
Email for questions: andrew@hiredevents.com