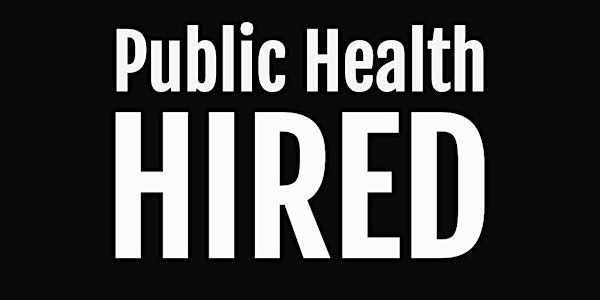 HIRED Mentorship: Public Health Career Development and Guidance
Event Information
Refund policy
Contact the organizer to request a refund.
Eventbrite's fee is nonrefundable.
Get HIRED with a tailored One-on-One Mentorship for Public Health Career Professionals: Unlimited Job Leads, Resume Edits, & Interview Prep
About this event
Wish you had a partner in crime for the job hunt? Want to land your dream job in public health? Scared of rejection and missing out of unique job offers? Wish you had a coach or mentor helping you unlock all the possibilities of public health careers and land a unique high paying job?! You don't have to job search alone this year, especially if you're graduating this year in 2022! Consider activating a tailored mentorship with Public Health Hired of unlimited zoom, talk, text until you get hired!
Check out the dowloadable self-paced Masterclass on www.publichealthhired.com . Use Code MENTORSESSIONFREE upon purchase of Masterclass if you'd like a 30 minute check-in with Zoila about whether the Mentorship is right for you.
HIRED MENTORSHIP SPRING ENROLLMENT: $1649
HIRED MENTORSHIP SUMMER ENROLLMENT: $2249
BENEFITS OF THE MENTORSHIP:
Weekly Zoom one-on-one coaching from Zoila
View Zoila's LinkedIn Job Feed directly over Zoom, which is used for the job alerts on Instagram stories
Job leads sent directly to your phone
A mentor in your pocket to answer your burning questions
Proofreading and editing your resumes and cover letters
Access to the online Masterclass and winning resumes/cover letters
Interview Prep Support for unlimited interviews
Assignment support for final rounds of interviews
Mastery and practice of the H.I.R.E.D. method with Zoila's guidance
AN ACTUAL JOB OFFER!!!!!!!!!!*
FREQUENTLY ASKED QUESTIONS:
1. How long will the HIRED Mentorship last? There is no end date UNTIL YOU GET A JOB OFFER! From personal experience and client successes, it's taking 4-8 months to get hired and up to 50 or more applications. Maybe you'll get hired sooner or a bit later than that, but either way - you have me as your guide and mentor! Again - this mentorship ends WHEN YOU GET A JOB OFFER!
2. What's the experience of the mentorship like and when do we start? There's nothing like this offered anywhere else for public health professionals - so it's unlike anything you've ever experienced! It's refreshing and enlightening to connect with a mentor who knows EXACTLY what you're going through and who can SHOW YOU how to correct yourself so you get more call backs and a job offer!
We start when you want to start! No pressure! Once you decide you are ready, we meet every week for 60 mins on your current situation to help you stay motivated, search for quality jobs together, and help you apply appropriately. When you see a job you like and suits your skillset, I will give you feedback on how to update your resume and cover letter, then I'll do final edits to make sure you hit on the main points per submission so that you're competitive and gives you a good chance of getting interviewed. I recognize the job hunt is an emotional and mental struggle, so we can slow down or speed up whenever you desire. No pressure! I try to motivate but I don't force and will never make you feel bad about your process. This is your journey and I respect your choices and emotions... Also be warned - I like to have fun! So be ready to laugh alot :)
3. How do you send me job leads? I prioritize all my clients for job leads, meaning if I see something that suits you, I will send it straight to your phone and not disclose it to others or on the instagram job alerts. I give you an edge by showing you the best jobs, especially when they are a good fit for you! We can decide to work on job leads on a weekly basis, and we can also do job search sessions over zoom during your 60 minute weekly touchbase with me. I will also help you find them on your own by helping you improve on your job search technique - this takes time but that's okay!
4. Do you review all my resumes and cover letters for each job application? Depending on your goals that week, we can discuss which documents you need review/edits/feedback. We'll work within a google shared drive to save all your job applications, job announcements you apply to, plus interview prep recordings. I can review your applications also during the zoom 60 minute touchbase on a weekly basis. The goal is also for you to IMPROVE on your application submissions, so over time you should be able to see where and how to edit your documents, but I'll be here to review as needed and when you get stuck. You will be learning a new approach on all this, and we'll work together to make sure you're learnig and catching onto what's important.
5. When are you available during the mentorship? We're in this job hunt together once you sign up! You'll have me on retainer as your mentor UNTIL YOU GET HIRED! So yes, i'm available to you throughout this mentorship. We will meet over zoom on a weekly basis that suits both of us plus you'll have me available on my cellphone via text and phone calls if you ever need to talk! I'm here to help you make this transition and that sometimes involves talking about a tough day at work, considering to quit your job, reviewing job leads, deciding how to ask for references from current or past employers, and so much more! My phone line is dedicated to Public Health Hired, so you can text or call anytime and I'll respond as soon as possible.
6. When is the Mentorship NOT suitable? The Mentorship is not ideal for those without a public health degree or related field. I can't assist you at this time if you need a visa or employer sponsorship. I do not offer referrals or make personal recommendations because you don't need me or anyone to help you land a job - that's the whole point of this process to show you how to get a job on your own with pure talent, proper applications, and polished interview skills.
7. Can the Mentorship help me with moving to another city? Yes the HIRED Mentorship can be used towards relocating or finding remote work. While this sometimes takes more effort to find work in a different location, it is not impossible. The Mentorship will show you how to maximize your opportunities whether you want to move or not for work.
8. Where can I find the terms of agreement? UPON PURCHASE, YOU AGREE TO THE FOLLOWING TERMS (click to open or copy and paste into a new browser window) https://drive.google.com/file/d/1YHiKaUdEBeSyzg1D5pTqkr-FLjzWT7RX/view?usp=sharing
*Results vary, no guarantee of getting a job offer.
TESTIMONIALS
"They offered me the Director role!"
"I have good news to tell you! They offered me the Infection Control job!"
"Your methods really work!"
"They Loved my resume!"
"Zoila speaks the language of Public Health!"
"The cover letter looks great Zoila, you really have a way with words!"
"I felt more prepared to work on my resume and more confident about my experience!"
"I'm still tripping off the Zoila effect! Can't believe you managed to coach me out of my self-doubt!"
"Great service to utilize especially if you are in the public health space! Zoila knows exactly what she is talking about!"
COMPANY BACKGROUND
Public Health Hired LLC is the fiercest career coaching firm for public health professionals, students, and recent graduates. Founded January 2021 at the height of the COVID-19 pandemic, the mission of the organization is to demystify the employment process and help public health professionals get hired in this in-demand field. Hundreds are gaining the proper etiquette and professionalism needed to be competitive in the workforce by simply studying the methods and framework for job applications in public health. Whether you're a student or a seasoned professional, we're here to help you meet your career goals to secure employment - with zero networking involved. The expert advice stems from the founder's 15 years of public health experience and a proven track record of helping dozens get hired in public health.
Refund policy
Contact the organizer to request a refund.
Eventbrite's fee is nonrefundable.