About this Event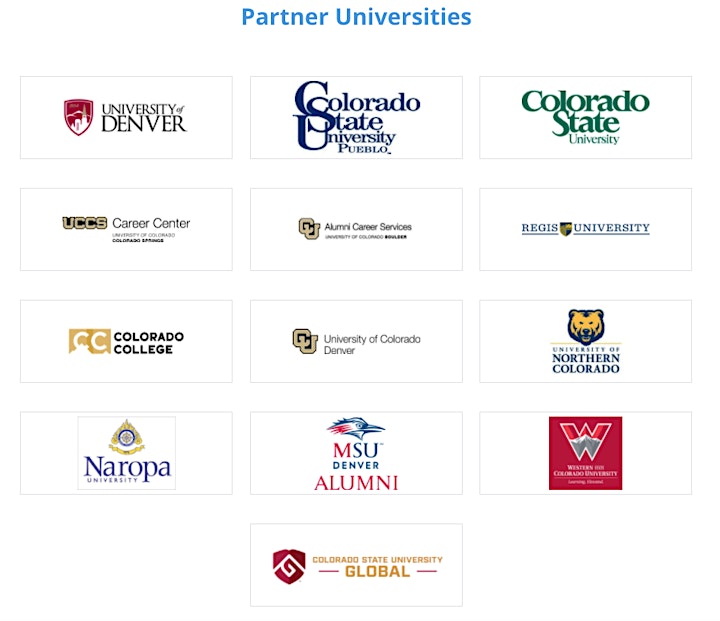 EMPLOYER ROSTER
List Updated Daily
GOLD SPONSORS
First Western Trust Bank
Open Roles: Loan Processing Analyst
Mortgage Loan Post Closer
Project Manager
Trust Analyst I
Credit Analyst III
About Us: First Western's mission is to be the best private bank for the Western wealth management client. We believe that each of our clients shares our entrepreneurial spirit and values our sophisticated, high-touch wealth management services that are tailored to meet their specific needs. We provide a trusted advisor platform with an established approach to investment management through a branded network of boutique private trust bank offices located across Colorado, Arizona, Wyoming, and California.
Headquartered in Denver, Colorado, we provide a fully integrated suite of wealth management services on a private trust bank platform, which includes a comprehensive selection of deposit, loan, trust, wealth planning and investment management products and services.
You can find us trading on the NASDAQ Global Select Market under the symbol "MYFW."
Company Video:
Company Website: https://myfw.com/
Tek Experts USA
Open Roles: Technical Customer Service Representative: https://www.tek-experts.com/en-us/technical-customer-service-representative-in-usa
Team Manager: https://www.tek-experts.com/en-us/team-manager-in-usa
Technical Support Engineer: https://www.tek-experts.com/en-us/technical-support-engineer-in-usa
Operations Manager: https://www.tek-experts.com/en-us/operations-manager-in-usa
About Us: Tek Experts provide the perfect blend of people and technology. We develop software solutions that enable our people to deliver exceptional services on behalf of our clients. We believe technology should be an enabler; provide timely data and insight that equips our front-line teams to better serve customers anywhere in the world. Take a moment to look around; consider the exceptional services we offer, understand the values we hold dear and the long-term career opportunities available on offer across five continents; from technical support and professional services, to sales support and customer account management. You can also find out about what's going on in each of our regions and why our people are so important to us.
Company Video: https://www.youtube.com/channel/UCUdD7mg89s5ptbWBPhyVUcA
Company Website: http://www.tek-experts.com
2U
Open Roles: Admissions Counselors, Student Success Advisors, Marketing
About Us: At 2U, we power world-class online education and in-person boot camps. Going beyond traditional learning management systems, we use tech, people, and data to help top universities transform in the digital era—and eliminate the back row in higher ed. We support lifelong learning which means thinking beyond a single degree. It means finding ways for students to gain the skills they need to change careers, evolve their expertise, and meet the challenges of the changing world head-on.
Company Video: https://youtu.be/ZGdHvh_QSe8
Company Website: http://2u.com
Colorado Housing and Finance Authority
Open Roles: Manager of Housing Tax Credit Program
Community Relationship Manager (Grand Junction)
Community Relationship Manager (Durango)
About Us: CHFA strengthens Colorado by investing in affordable housing and community development. We offer financial resources to strengthen homeownership, affordable rental housing, and businesses.
Our participating lenders and community partners help us deploy our resources statewide. Together with our partners, CHFA has invested more than $22 billion in Colorado's economy. These resources have helped:
121,559 Colorado homebuyers achieve homeownership;
162,351 households attend homebuyer education classes held statewide;
70,994 affordable rental housing units be developed or preserved; and
6,505 businesses access capital to support 72,699 jobs.
CHFA's work revitalizes neighborhoods and creates jobs. We believe everyone in Colorado should have the opportunity for housing stability and economic prosperity.
Company Video:
Company Website:
FirstBank
Open Roles: Headquarters departments and branch positions at a variety of levels.
About Us: As a Denver Post Top Workplaces award winner nine years in a row (2012-2020), FirstBank provides many great benefits for being a part of our family. From competitive salaries, an employer contributed 401k and Employee Stock Ownership Plan, to annual holiday parties and more, you will be appreciated and feel at home at FirstBank.
Company Video:
Company Website: http://www.efirstbank.com
Medpace
Open Roles: Clinical Research Associate, Clinical Trial Manager, Patient Recruitment Associate, and Project Coordinator
About Us: Medpace is a full-service Contract Research Organization (CRO) with the mission to accelerate the global development of safe and effective medical therapeutics.
Company Video:
Company Website: https://www.medpace.com/
National Renewable Energy Laboratory
Open Roles: Financial Analyst
Chemical Engineer
Mechanical Engineer
Technician
Cyber Security
About Us: At the National Renewable Energy Laboratory (NREL), we focus on creative answers to today's energy challenges. From breakthroughs in fundamental science to new clean technologies to integrated energy systems that power our lives, NREL researchers are transforming the way the nation and the world use energy.
Company Video: https://www.youtube.com/watch?v=G8L3jfLm8G0&feature=youtu.be
Company Website: http://NREL.gov
North Range Behavioral Health
Open Roles: Program Coordinator
Mental Health Clinician
Case Manager
Nurse
Behavioral Health Worker
About Us: North Range Behavioral Health is among the largest employers in Weld County, and provides compassionate, comprehensive care for people who face mental health and addiction challenges.
Our team members are hard workers, and we strongly believe in the importance of a healthy work/life balance. We provide cutting-edge tools, training and thoughtful supervision to our employees to assist them in their professional development. Our open environment encourages employees to share ideas.
Our values are:
- Customer First. We help our customers achieve recovery, every day.
- Compassion. We treat everyone with kindness, empathy, and dignity.
- Collaboration. We build strong relationships, internally and externally, to ensure effective care for our customers.
North Range Behavioral Health promotes a philosophy of giving… to the community, to our customers, and to each other. If you're driven to help others, have high standards and a desire to work in a collaborative environment, we hope you'll consider a career at North Range Behavioral Health.
Visit us at http://www.northrange.org/employment/careers/ to learn more.
Company Video:
Company Website: http://www.northrange.org
Performance Food Group
Open Roles: Accountants
Accounts Payable Analysts
About Us: Built on the many proud histories of our family of companies, Performance Food Group is a customer-centric foodservice distribution leader. Grounded by roots that date back to a grocery peddler in 1885, PFG today has a nationwide network of approximately 75 distribution centers, 25,000-plus talented associates and more than 5,000 valued suppliers across the country. With the goal of helping our customers thrive, we market and deliver quality food and related products to over 200,000 locations including independent and chain restaurants, schools, business and industry locations, healthcare facilities, vending distributors, office coffee service distributors, big box retailers and theaters. Building strong relationships is core to PFG's success – from connecting associates with great career opportunities to connecting valued suppliers and quality products with PFG's broad and diverse customer base. To learn more about PFG and our divisions, Performance Foodservice, PFG Customized and Vistar, visit 晰捧挮浯ጮ瑨灴⼺
Company Video:
Company Website: http://www.pfgc.com
Planned Parenthood of the Rocky Mountains
Open Roles: Health Center Assistant
About Us: Planned Parenthood of the Rocky Mountains, which includes health centers in Colorado, Southern Nevada, New Mexico, and Wyoming has been helping individuals make responsible choices for over 100 years.
Since 1916, we have been committed to delivering the highest quality reproductive health care, teaching responsible and age-appropriate sexuality education and have been working diligently to protect a person's right to reproductive choice.
Each year more than 100,000 people visit our health centers throughout our four state region.
Company Video:
Company Website: http://www.pprm.org
Premier Roofing Company
Open Roles: Sales Representative In Denver, Sales Representative In Colorado Springs, Sales Representative In Fort Collins,
About Us: Premier is a rapidly growing, award winning organization, with locations throughout the US. We're recruiting sales teammates for these branches! We offer an exceptional training program, uncapped commission and an active mentorship. Come help families in your community recover from storm damage while earning a substantial income.
Company Video: https://www.youtube.com/watch?time_continue=1&v=pHfbECV4HzA&feature=emb_logo
Company Website: http://team.premier-roofing.com
RingCentral
Open Roles: BDR, SDR, ASE, Regional PSM Manager
About Us: RingCentral is the worldwide leader in cloud-based communications. Our software communications platform delivers phone, group chat, mobile communications, video calls, videoconference, contact center and AI-driven digital engagement. It's a powerful, global presence that allows businesses to communicate anywhere, anytime with anyone.
RingCentral is headquartered in Belmont, California and has offices around the world.
RingCentral is an equal opportunity employer that truly values diversity. We do not discriminate on the basis of race, religion, color, national origin, gender, sexual orientation, age, marital status, veteran status, or disability status.
Company Video: https://www.youtube.com/watch?v=nxdz9SWQA38&feature=youtu.be
Company Website: https://www.ringcentral.com/
Sonnenalp Hotel
Open Roles: Food & Beverage
Golf
Front Desk/Concierge
Spa
Temporary Holiday Help
About Us: Through four generations, the Sonnenalp has grown into a world-class luxury hotel and a unique experience among Vail lodging options. As one of the best hotels in Vail, and a member of the Leading Hotels of the World, the Sonnenalp offer the finest in luxuries and comforts, as well as renowned personal service. Exceptional dining, outstanding shopping and the pristine ski slopes of Vail are only steps away in the heart of Vail Village. With a pampering spa facility, private 18-hole golf course and superb concierge service, visits to Vail and the Sonnenalp are as relaxing and effortless as possible.
Company Video:
Company Website: http://Sonnenalp.com
UPS
Open Roles: Part-time Warehouse Supervisor
Package Delivery Driver Flexible Schedule
Part-Time Package Dispatcher
Part-Time Administrative Assistant
Flexible Part-Time Package Center Supervisor
About Us: At UPS, we love logistics.
But what's it really all about?
Every day, we choreograph the infinite movements of goods, funds, and information in more than 200 countries and territories.
From our early roots as a Seattle, Washington bike-messenger company to our present day, multi-billion-dollar global corporation, our team has held a singular focus – empowering commerce around the world. We have become the world's largest package delivery company and a leading global provider of specialized transportation and logistics services.
From global giants to local mom and pop businesses, we improve distribution networks and manage supply chains to help our customers to do what they do best. That's how we make the world work better. And that's how we build better careers and reward people like you for doing what they love to do most.
Company Video: https://www.youtube.com/channel/UCBd9QUw5m3u14pkLL3P_Fmg
Company Website:
Date and Time
Location
Refund Policy