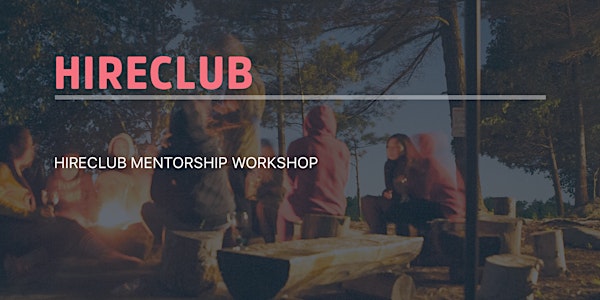 When and where
Location
General Assembly San Francisco 225 Bush Street San Francisco, CA 94104
Refund Policy
Contact the organizer to request a refund.
Description
HireClub members thoroughly enjoy giving back to the community! Please join us for a night of mentorship, knowledge sharing, and helping each other out. Our mentors have graciously volunteered their time to share their experiences, offer guidance, and answer questions you may have.
Networking 6:00 - 6:30 PM
Our generous host General Assembly has offered their space to us. Meet HireClub members and mentors while enjoying the snacks and drinks that were so graciously provided by our amazing sponsor -- General Assembly! Once you arrive, don't forget to sign up for a mentor session. Spots will fill up quickly, so don't wait.
Mentor Sessions 6:30 - 8:30 PM
Our 25-minute mentor sessions will begin promptly at 6:30. Once again, you'll have a chance to sign up once you arrive. You are able to sign up with 4 different mentors. Our topics range from design, development, marketing, PR, operations, recruiting, event planning, resumes and more.
Please be prepared with a list of 2-3 questions to ask your mentors. Bring a laptop if you want to show off your portfolio, work, or resume.
Closing 8:30 - 9:00 PM
Feel free to hang out and network some more.

Mentors:
Ketan Anjaria

Ketan Anjaria is a designer and developer and the founder of HireClub. You can ask him about a variety of topics including portfolio reviews, resume reviews and general startup design/development questions.
Aaron Endre

Aaron develops marketing communications strategies for growth-stage B2B and enterprise-focused startups. Want to get media to cover your startup? He'll explain how to approach press releases, media relations, social media and more — and how to fit them into your marketing strategy to get to the next level. Learn more at linkedin.com/in/aaronendre.
Brooks Hassig

Brooks is a Senior Experience Designer at OpenTable where he helps mobile users book great meals. With 10 years in the fields of graphic design, UX, and startups, Brooks endeavors to create digital products that lead to enriching, offline experiences. Ask him about switching from graphic to experience design, nailing the UX interview, perfecting your portfolio, and hustling your way to the top.
Jeff Goldsmith

Jeff Goldsmith would be happy to come up with some marketing ideas for you. He has launched great marketing programs for over 25 years. Past startups include consumer and B2B, successes and flameouts, like Greenplum, Catalog Spree, Sauce Labs, Big Vine, Keas, Revolve Robotics and many others. Ad and branding clients include Blue Shield, Hilton, Etrade, Quicken, Visa, Sun Microsystems, Wells Fargo, and Starbucks. His writing has appeared in Wired, Details, Conde Nast Traveler, Heavy Metal Magazine and others, including the Wired classic from 1993, This Is Your Brain On Tetris. More at JeffreyGoldsmith.com
Rich Smith

Rich is a Lead Front End Engineer at Omni, where he is building their first JavaScript SPA. He's done a fair amount of mentoring, having spent years teaching programming to high school students in cities all over the US. His career started in corporate IT before transitioning to the world of software engineering (and startups), and has worked for companies in a variety of spaces with as little as 4 employees, to more than 15,000. Feel free to ask Rich about anything design, front end (CSS, JavaScript, UX, frameworks and more), navigating tough situations at work, resumes, portfolios, freelancing, and changing careers—among many other things.
Samihah Azim

Samihah is an end-to-end product designer with over 7 years of experience. She has designed cross-platform for iOS, Android, and web. She's worked on a diverse array of challenges from new user experience to designing for scale and internationalization. Ask her anything about design, mentoring for the State Department, crafting a compelling story for portfolio reviews, and more!
Robert Nealan

Robert Nealan is a nomadic designer + frontend developer, the founder of Atomi Design & Designers Who Code. Currently based in South Lake Tahoe, when he's not busy snowboarding on powder days he consults as a hybrid designer/developer on client projects ranging from building a electronic music javascript SPA to redesigning a 15 year old legacy Rails app for an internationally distributed company. Ask for help on your resumé, working freelance, UI Design, frontend development, and more (oh my!)
Jordan Alperin

Jordan is currently founding a company called Rende to help users manage their in person social experiences. He has 20 years of JavaScript development experience and spent 2 years helping to develop facebooks internship and internal mentorship programs. Ask for help on resumes/interviewing and frontend development.
Bilques Smith

Bilques Smith is a business development strategist with 15+ years of experience across media, biotech, and medical sectors. She currently works at CBS San Francisco. You can ask her about sales, organizational growth, start-ups, marketing, fundraising, and networking.
Meg M. Escobar
Meg is Head of People Operations with Pillow Homes, Founder of Nesting Ninja, Founding Member of TechLadies, and an Office Ninja Ambassador. With a passion for cultivating culture and driving unique employee experiences, Meg is an office guru with over a decade of experience in executive operations, office management, and event planning. You can ask her about a variety of topics including start-up office operations, event planning, Women in Tech, and general recruiting questions. linkedin.com/in/megescobar
Naomi Assaraf

Naomi Assaraf is the Chief Marketing Officer of cloudHQ in the USA. Naomi is a serial entrepreneur, and is highly sought out for her knowledge in growth hacking marketing tactics. She obsesses over the process of growing companies to their profitability stage, and has since done so for each of her 3 companies, which resulted in one very successful exit. You can ask her about growth, profitability, and marketing.