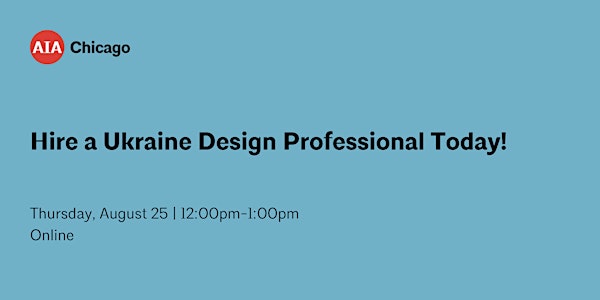 Hire a Ukraine Design Professional Today!
Hear from the Co-Founders of Hire Ukrainian Designers in this information session!
About this event
Want to know how your office can help our peers in the Ukrainian design community? A team of volunteer architects has created a pathway for US-based firms to offer remote, freelance work to Ukrainian design professionals, through their organization, Hire Ukrainian Designers. In this information session, you will learn step-by-step how the process works and hear from principals and a Ukrainian designer who have created successful working relationships through this initiative.
Speakers:
• John Wagner and Angelina Stelmakh, co-founders of Hire Ukrainian Designers (Boston)
• Alina Plyusnina, SWA Group (Houston)
• Brad McCauley, ASLA, principal, site (Chicago)
• Ann Beha, FAIA, former principal and CEO, Ann Beha Architects (now Annum Architects; Boston)
• Rita Terjeki, AIA, Annum Architects (Boston)