Refund policy
Contact the organizer to request a refund.
Eventbrite's fee is nonrefundable.
Celebrate the launch of Hirana's War by Britta Jensen. Eloia Born recently won the Writer's League of Texas 2019 YA Discovery Prize!
About this event
Join us in celebrating the release of Hirana's War by Britta Jensen. The book continues the award-winning Eloia Born series and has received the following praise:
"Hirana's War is a wondrously beautiful conclusion to the Eloia Born duology. The sweeping world building and adventure will leave you breathless. Britta Jensen captures the fragility of coming of age and Leanora's strength and resilience in choosing to stand against the odds."--Amanda Bennett, Midday Moonrise Blog
"A love story set in space, a healer who can sing her way into battle, trying to survive a war... YES! Hirana's War has all of that and more. The story is well written and enjoyable. The excitement kicks off right away in the first chapter and continues throughout."--Emily (Goodreads)
All ticket holders who have selected to purchase a paperback or hardback of the book will receive their book after the event. If you need your book shipped to you, we offer $9.00 priority shipping for up to two books. Those who have already purchased a copy of the book directly from Murasaki Press or Britta Jensen receive a free ticket to this event.
If you already purchased a copy of the book from another retailer we're asking for donations to help with the cost of running this event. We're sure you can understand the hard economic situation local artists have experienced because of Covid-19. A small donation can go a long way. Also, Britta has her first book, Eloia Born, as a free download that you can access here. Thanks for supporting her hard work and we look forward to seeing you at the launch! (This is a family-friendly event perfect for ages 10 and up!)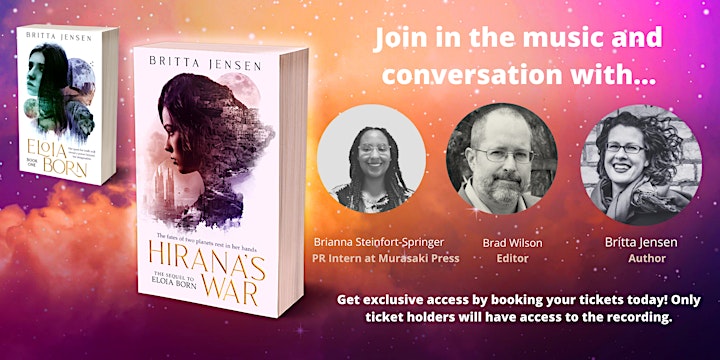 Biographies
Brianna Steinfort-Springer is a recent Texas State University graduate, majoring Public Relations with a Business Administrations minor. She currently lives in Austin, Texas but has aspirations to move to New York, in 2021, to attend New York Fashion Institute of Technology, to study cosmetics. In Brianna's spare time, she loves to read YA and Adult fiction books. Some of her favorites are The Girl Who Stole My World by Rachelle Mills, A Face Like Glass by Frances Hardinge, and Keep Me Afloat by Jennifer Gold.
Bradley P. Wilson
After twenty years backstage in Austin's major theaters, Bradley P. Wilson returned to school in 2011 to pursue his passion for writing and editing fiction. He holds a Masters of Liberal Arts degree in Creative Writing from St. Edwards University and is a freelance editor and writer in Central Texas. Some of his clients include CBAY Books and Greenleaf Book Group. While he loves working on anything from picture books to historical novels, he's never outgrown his love of space ships and talking animals. Which is why he's happiest when he's creating and honing speculative fiction, especially YA and middle grade. Brad volunteers for Austin's SCBWI Chapter and the Writers' League of Texas.
Britta Jensen
Britta Jensen's debut novel Eloia Born was long-listed for the 2016 Exeter Novel Prize and reviewers are calling the book "both a dystopian narrative and a quest story; consider it a spiritual successor to Lois Lowry's The Giver and M. Night Shyamalan's The Village." The sequel, Hirana's War releases October 2020. Many of her stories center around themes of persevering through disability, parental separation and the intersection of various cultures on new worlds. Her stories have been shortlisted for the 2017 Henshaw Press and Fiction Factory prizes and she was published in the following anthologies: Stories for Homes, volume 2 and Sakura Dreams. Britta's plays have been performed in New York City, Japan and South Korea. For the past sixteen years she has taught creative writing and edited books for both traditional and indie authors. She has received numerous awards, including the General Sharp Award from the US Army, for her innovative teaching of creative writing overseas with the Department of Defense Education Activity. Previously, she taught middle and high school English, Theatre and History for thirteen years in New York City, South Korea and Germany. She earned her BA from Fordham University and MA at Columbia University. Friends often refer to her as a polyglot—which is a product of living twenty-two years overseas in Japan, South Korea, and Germany before settling in Austin, Texas. She mentors writers and edits stories and essays with The Writing Consultancy and Yellowbird Editors. She is adjunct faculty at St. Edwards University in the Writing & Rhetoric Department. In her spare time she dances Argentine Tango, sings and volunteers with the Relief Society, SCBWI and the Writer's League of Texas.