HIPS Fitness Zumba at Highlights!

Weekly Event - Every Monday
Event Details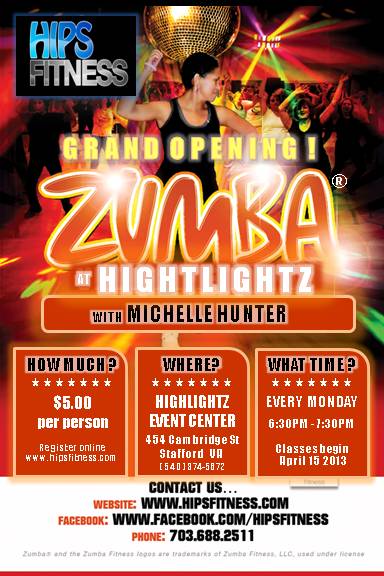 Where

Highlightz Event Center
454 Cambridge Street
Stafford, VA


Weekly Event - Every Monday
Add to my calendar
Organizer
About Us
HIPS Fitness is all about Helping to Inspire People's Self-confidence. We are a professional fitness company that knows the importance of providing a wonderfully inspiring fitness experience for everyone! Our workouts are fun, safe and effective. We offer a great service delivered by great people at a reasonable cost.
We have planned and/or donated our time and services to numerous charitable events, raising thousands of dollars for organizations to support a cure for cancer, as well as military and scholarship programs. HIPS Fitness also plans and promotes dynamic fitness parties, private and corporate events!
We are humble, we are thankful, we are blessed!
Michelle Hunter, Owner
Known as the woman with the "HIPS", Michelle Hunter is a business professional by day and a fitness instructor by night. Ms. Hunter began her journey in the fitness world approximately six years ago-- first becoming a student and then a certified and licensed instructor in many formats, Dance Fitness, Zumba and Cardio Kickboxing being her favorite formats to teach.
Fighting stereo-types of what an acceptable image should be for a fitness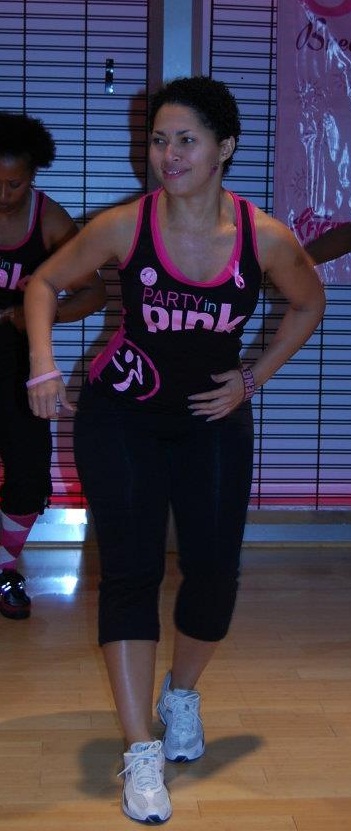 professional, Michelle celebrated her curves and made it into something meaningful and inspiring – then HIPS Fitness was born! The company name is less about her physical attributes, but more about Helping to Inspire People's Self-confidence (HIPS). As a breast cancer survivor in 2010, Ms. Hunter became even more passionate about the men and women that she has the opportunity to teach, to inspire and to befriend. Realizing how much of a positive impact she can have to those that she teaches and has contact with, Michelle dedicates endless hours preparing programs, donating time & services or just being a listening ear to someone in need.
Pretty much smiling through the entire 55 minute class, she has energy that is infectious, and movements that motivate participants to keep moving. Her style is unique, fun and energizing!