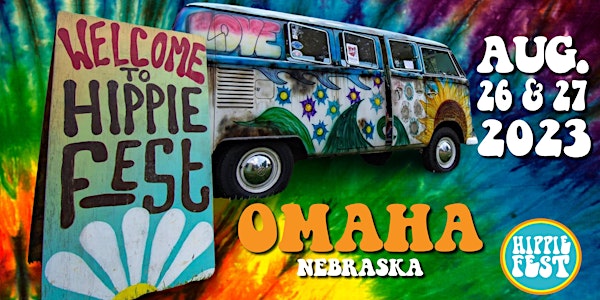 Hippie Fest - Omaha 2023
Hippie Fest is a family-friendly art and music festival featuring vibrant entertainment and shopping for all ages. It's groovy baby!
When and where
Location
Falconwood Park 905 Allied Road Bellevue, NE 68123
About this event
1 day 7 hours

Mobile eTicket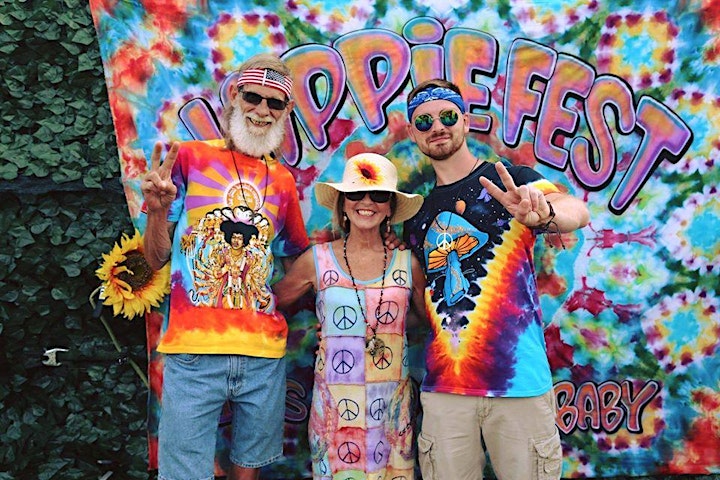 Hippie Fest is a family-friendly arts festival featuring vibrant entertainment for all ages. Everyone is invited! Coming to Falconwood Park in Bellevue, NE (Omaha Suberb) August 26 & 27, 2023. Featuring live music, bohemian shopping, vintage hippie car show, DIY tie-dye, giant bubble garden, cirque performers, kids activities, drum circles, delicious food, and more. All ages welcome. Kids 10 and under free. It's groovy baby!
Note: Due to crowd size and parking limitations, tickets must be reserved online in advance. Limited tickets available.
Event Date:
Saturday August 26 & Sunday August 27, 2023 (Rain or Shine)
Time:
Noon - 7pm (Both Days)
Location:
Falconwood Park
905 Allied Rd Bellevue, Nebraska 68123
Admission:
Single Day Pass: $20
Two-Day Pass: $30
Kids 10 & under free (no ticket necessary)
Except for vendors and hippie car show participants, on-site camping is not permitted at this event.
Vendor Registration:
Single Space (10' x 10') - $225
Double Space (10' x 20') - $350
Food Vendor Fee - $300
Fee includes both festival days.
Find vendor information and the online registration form at HippieFest.org/Vendor-Registration
Please note: Hippie Fest is a rain or shine event. Ticket and vendor registration fees are non-refundable. In attending, guests/participants assume all risk and liability associated with participating in the event and release Hippie Fest, its organizers, and the venue from all liability for injury and/or property damage that may result.
Hippie Car Show Registration:
Do you or someone you know own a vintage Volkswagen or hippie bus? We want you to be part of the hippie car show at Hippie Fest! Free to participate :D Fun prize categories and trophies for winners. More info at HippieFest.org/Car-Show. May the grooviest ride win!
FREQUENTLY ASKED QUESTIONS:
Details vary for each festival date and location. Please check details for each festival.
Can tickets be purchased at the gate?
No. Tickets must be reserved in advance for this event through Eventbrite.
How are tickets delivered?
Once purchased, tickets are delivered via email. Guests have the choice of printing tickets or displaying the electronic ticket on your phone at the festival gate. We recommend printing tickets ahead of time in case you are not able to access tickets on your phone the day of the festival.
I purchased tickets but have not received them. What should I do?
You may have made a typo when you entered your email address for the ticket purchase. Please email Info@HippieFest.org with the name you purchased tickets under and a valid email address and we will re-send the tickets for you.
Is on-site camping available?
On-site camping is only available to vendors, entertainers, and hippie car show participants. Guest camping is not available.
How much are kids tickets?
Kids ages 10 and under are free and do not need tickets. Anyone else needs their own admission ticket.
When can guests arrive?
Gates open at noon on Saturday August 26, 2023. Guests will be admitted after gates open.
What are the festival hours?
Festival hours are NOON - 7pm Saturday August 26 and NOON - 7pm Sunday August 27, 2023.
Will alcohol be served?
Beer and mixed drinks will be available for purchase at the festival. No outside alcohol permitted. An age verification wristband is required for anyone consuming alcohol on site. Age verification wristbands are available at the festival entrance for $5 with valid ID.
How do I sign up to become a vendor?
Vendor information and the online registration form can be found at HippieFest.org/Vendor-Registration
How do I sign up to participate in the hippie car show?
Find car show info and register online at HippieFest.org/Car-Show
Can I bring a lawn chair?
Yes, lawn chairs are encouraged :) Relax and enjoy the groovy entertainment!
Can I bring my pet?
Pets are not permitted.
Have other questions?
Please email Info@HippieFest.org. We look forward to hearing from you!