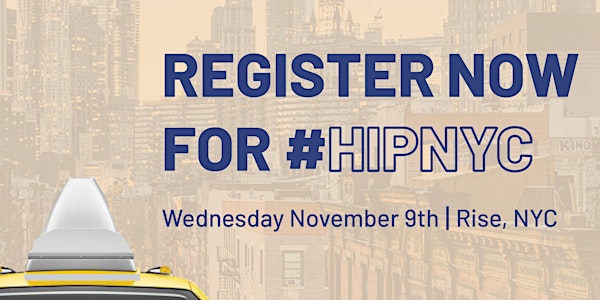 HipNYC
Contact the organizer to request a refund. Eventbrite's fee is nonrefundable.
When and where
Location
Rise New York 43 West 23rd Street New York, NY 10010
Refund Policy
Contact the organizer to request a refund.
Eventbrite's fee is nonrefundable.
About this event
Join us live in New York for a special edition of HIP (Hybrid Identity Protection) Conference. This year we're bringing HIP back to where it all started, back to New York, and back in person. Join the HIP team, local IAM experts and Microsoft MVPs to learn all about the latest from the Hybrid Identity world. The day will be filled with insightful workshops, a keynote session and plenty of time for face to face networking with your peers.
Agenda:
11am – 12pm - Michael Melore, CISSP, Senior CyberSecurity Advisor at IBM
Ransomware 1 Click Away: Threats and Social Engineering leading to Full Infrastructure CompromiseWhat are your best protections when only 1 user click can compromise your infrastructure?What are your best protections when only 1 user click can compromise your infrastructure?Well-orchestrated social engineering ploys using families and friends to get to your users are increasing. We'll review the new techniques used by bad actors to effectively mine information and gain access, how accessible, and low priced the tooling used to attack individuals and organizations are.Correlate how the attack vectors and security approaches map to the recent Ponemon Institute's "Cost of Data Breach 2022 Report. Highlight results articulating the costs specific to the latest security techniques in Machine Learning/Cognitive Security, Behavioral Anomaly Detection (User/Network), Adaptive Authentication, Data Protection, and Encryption and Key Management Strategies.
The industries and discoveries in successful attack vectors.
12 - 1pm - Lunch
1 – 2pm - Steve Turner, Senior PM, Identity & Network Access at Microsoft
Conditional Access: Expert Level
Organizations are often focused on the fundamentals of enabling and enforcing MFA, restricting locations that logins can come from, and blocking legacy authentication. With this session, we're going to go deep on advanced functionality and features that are available to level up your defenses. We'll cover what you need to be doing now, what you should avoid, and how we're thinking about different ways to better protect organizations.
2 - 3pm - Eric Woodruff, Product Technical Specialist at Semperis
Simplifying SSO Integration with Azure AD Enterprise Applications
Azure AD can integrate thousands of applications for SSO, which provides a better user experience and strengthens the organization's approach to identity security. But with a myriad of integration options, the path doesn't always seem straightforward. In this session, we'll dive into the common options available for application integration with Azure AD, discuss common misconceptions, and cover tips and tricks for application integration. We'll discuss all this while going through a live demonstration of an application integration with Azure AD.
3 - 3:15pm - Break
3 - 4pm - Ben Cauwel, Security Senior Manager at Accenture
Understanding the cyber kill chain - AD proactive countermeasures
During this session we will explain why Active Directory is still the cornerstone of your security posture for the next years, through an analysis of what we have seen since 2017, an analysis of the cyber kill chain, what needs to be done pro-actively secure your AD environment and why time is the KEY.
4 – 4:15pm - Special guest fireside chat: Ed Amoroso. Will Your Cyber Insurance Policy Cover You in the Event of an Attack?
Join Sean Deuby and Ed Amoroso, CEO and founder of analyst firm TAG Cyber, as they discuss the rapidly shifting cyber insurance landscape and how you can position your organization for the best coverage by demonstrating operational resiliency.
What they'll cover:
Current state of the cyber insurance industry—what it takes to get a policy and how effective cyber insurance policies are
What requirements cyber insurance companies currently have in place for demonstrating hybrid identity infrastructure protection
How organizations can best prepare to take advantage of current and future cyber insurance products and services
4:15 - 5pm – Special guest interview: Andy Greenberg
Andy Greenberg is stopping by HIP NYC! Now's your chance to hear directly from the award-winning author of Sandworm, "the true story of the most devastating act of cyberwarfare in history and the desperate hunt to identify and track the elite Russian agents behind it." (Financial Times)
Andy is a WIRED magazine senior writer covering security, privacy, information freedom, and hacker culture. His WIRED cover stories on Ukraine's cyberwar won awards that included a Gerald Loeb Award for international reporting.
We'll ask Andy questions about his unique perspectives on the ongoing Russia-Ukraine war and get early access to his new book, Tracers in the Dark: the propulsive story of a new breed of investigators who have cracked the Bitcoin blockchain, exposing once-anonymous realms of money, drugs, and violence.
HIP NYC attendees go home with a signed copy of Tracers in the Dark!
5 - 6pm - Networking drinks
I like HIP because it's super technical. If you're interested in the bits and bytes of how these things work, this is a great opportunity.
Pam Dingle | Director of Identity Standards at Microsoft