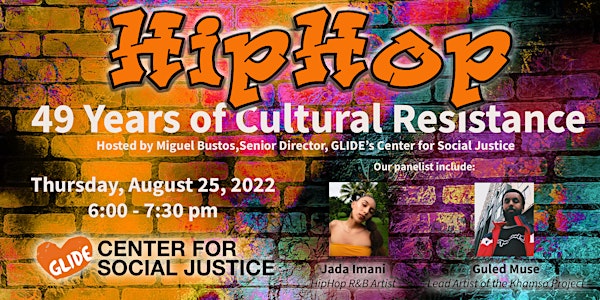 HipHop: 49 Years of Cultural Resistance
HipHop: 49 Years of Cultural Resistance
About this event
Join us as we celebrate HipHop's 49 years of being a global phenomenon in culture, one that has molded several generations of music, dance, and social awareness, from its New York urban roots to mainstream America. Hear from Artists, Activists, and Leaders from the HipHop community as they discuss the importance of this artform to Social Justice movements across the globe.
Hosted by Miguel Bustos, Senior Director, GLIDE's Center for Social Justice
Our panelists include:
Guled Muse- Lead Artist of the Khamsa Project
Guled Muse is a music producer and community organizer. His work includes community leadership in the Mission District of San Francisco and in Oakland, which includes movements around issues such as gentrification, promotion of the arts, and diversity. He has founded and coordinated events including 'Skate with Beats' and 'Not 4 Sale', which highlighted the essence of Bay Area energy by promoting female, Latina DJs. Originally from Somalia, Guled moved to the US at the age of ten, and has lived in the Bay Area for over 20 years.
Jada Imani- Hip-Hop R&B Artist
Nourishing the bodies and souls of all in need Jada Imani is an East St. Louis-born, Bay Area-raised Hip-Hop R&B artist and organizer. Jada is known for her dynamic MC presence as a performer, event host and workshop facilitator. At age 15, Jada began curating live performances at Oakland's First Friday Festival in the Alan Blueford Center for Justice, where she built a community while hosting hundreds of artists over the course of three and a half years. Imani since has collaborated on projects with Adidas, the Oakland Museum of California, and the GRAMMYs Recording Academy as a voting member and finds her ultimate passion is in grassroot projects. Jada Imani has a newly launched merchandise line around her latest singles and music videos in partnership with local women-of-color owned businesses including AVOCURL, The Well and most recently Oaklandish.
Join us,
Center for Social Justice