Hip-Hop & Rap's Importance to our Youth & Culture
Description
Do you know of youth who connect to the world through music?
Join us as we discuss:
- The history and importance of hip-hop/rap culture
- Positive benefits of some hip-hop/rap
- How to understand hip-hop/rap so you can talk to your kids about their music
ALL ARE WELCOME. Light dinner provided.
Talk will be given by:
Jaleel Abdul-Adil, Ph.D., Urban Youth Trauma Center, University of Illinois at Chicago; Co-Founder of Hip-Hop H.E.A.L.S., a media-based model for intervention and prevention that uses modern rap music and hip-hop culture to promote critical thinking, prosocial skills, and positive development in urban youth and families.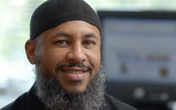 This event is funded by a Toledo Children's Hospital SAMHSA Grant #SM063115.