Hip Hop National Virtual Town Hall: Our Trayvon Martin Response

Wednesday, July 31, 2013 from 8:30 PM to 10:00 PM (EDT)
Event Details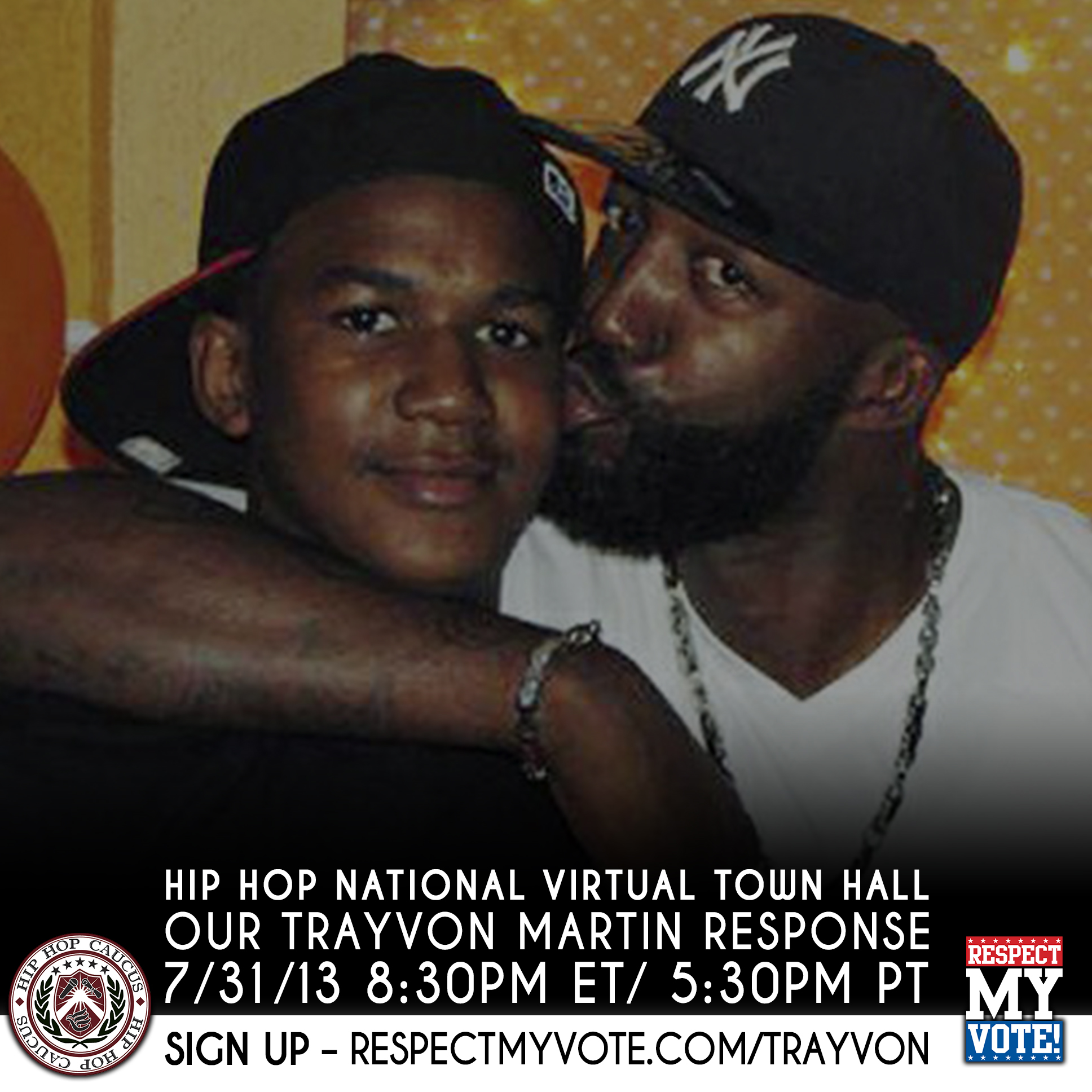 Town Hall Speakers
Sybrina Fulton, mother of Trayvon Martin, and co-founder of the Trayvon Martin Foundation
Cephus "Uncle Bobby" Johnson, uncle of Oscar Grant, the Oscar Grant Foundation
A representative of the Florida Dream Defenders
Davey D, Hip Hop Activist & Journalist
Brandi Williams, Hip Hop Caucus Charlotte

Moderated by: Rev. Lennox Yearwood Jr., Hip Hop Caucus President and CEO

Performances by
jesssica Care moore, Award-winning Poet, Author, and CEO of Moore Black Press
J. Ivy, Grammy Award Winning Hip Hop Poet

About the Town Hall
After the acquittal of George Zimmerman, we cried for the deep injustice we witnessed. In the days following the verdict, we are out in the streets, demonstrating, marching, chanting, sharing the experience publicly, and making sure the rest of the country and the world sees that we will not be silent.
Although the marching in the streets, by necessity of the demands of our daily lives, will die down, our resolve to fulfill the promises we have made to fight for justice for Trayvon Martin and all the young lives we have lost to gun violence, racial profiling, and police violence wont.
The Hip Hop Caucus' grassroots and national leadership has put forth a long-term organizing plan, honoring our collective promise to continue to the fight for justice, and for civil and human rights in the 21st century.
Join this Virtual Town Hall on July 31st, sign up today! We will be discussing our next steps and asking you to stay involved. For more information on our plan, check out: www.respectmyvote.com/trayvon.
Organizer
Formed in 2004, the Hip Hop Caucus is a non-profit, non-partisan organization that works through Hip Hop culture to engage young people in the civic process.