Description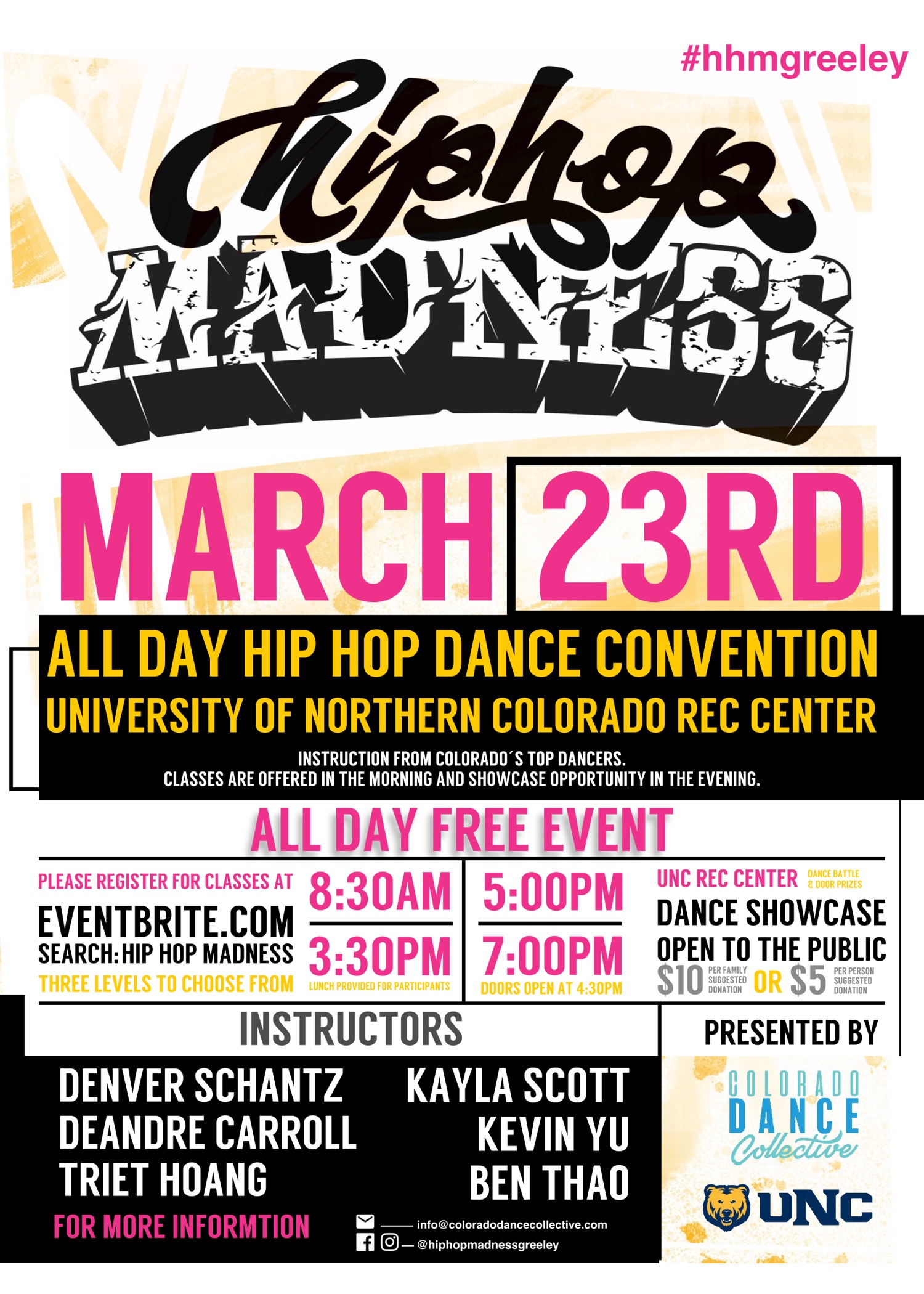 We are Northern Colorado's best all day hip hop dance convention. We are put on by The Colorado Dance Collective, non-profit adult dance repertoire.
OUR MISSION: We are committed to enhancing the performing arts through dance by heightening the awareness, promoting the benefits, and educating our community.
We work in partnership with The University of Northern Colorado to provide a quality dance experience. This event offers dance classes throughout the morning at no cost. We continue the community dance experience with a family friendly showcase of our local dance crews accompanied by a live DJ.
DETAILS FOLLOW.
PARENTS - IF YOUR CHILD IS UNDER THE AGE OF 18, YOU WILL NEED TO ACCOMPANY THEM AND SIGN THE LIABILITY WAIVER IN PERSON THE MORNING OF THE EVENT AT THE REGISTRATION TABLE. PLEASE PLAN ACCORDINGLY.
WE WILL NOT BE LETTING ANYONE WHO DOES NOT SIGN THE WAIVER, PARTICIPATE IN CLASSES.
* The classes are split up into three levels. How do you know which class to take?
Beginning Level - You have never ever ever ever taken a dance class and are looking to learn some basics for the first time. This class will be full of energy and help shake off some of those anti-dance bugs you may have. This is for you! (Ages 6 and up)
Intermediate Level - You love to dance, but need some guidance. You may have taken a class before but nothing too extensive. Maybe you are a good dancer in another genre but want to give hip hop a try. You should take this class! If you are an adult this is also a good place to start. (Ages 10 and up)
Advanced Level - You are ready for a challenge. The number one thing to keep in mind is that this will still be fun. Don't let the title make you feel like you couldn't do it. In this class things will go faster and body movement will go from the floor to jumping and a lot of sweating. If you have trained in hip hop before for over 2-3 years... well this may be your spot. (Ages 14 and up) We welcome adults to this class as well!
*Each level will offer THREE different classes. Each class will be lead by a different instructor. So make sure you stick around for all three!
-TIMES-
8:15 AM - 8:45 AM REGISTRATION
8:45 AM - 9:00 AM INTRODUCTION
9:00 AM - 10:00 AM 1st SESSION
10:15 AM - 11:15 AM 2nd SESSION
11:30 AM - 12:30 PM 3rd SESSION
12:30 AM - 1:00 PM *Lunch Provided BY THE COLORADO DANCE COLLECTIVE (in the big gym for class particpants only)
This year we have added two extra master classes for the int / adv. levels.
MASTER CLASSES (INT / ADVANCED)
BETWEEN 1:15 PM - 3:15 PM (1 HOUR EACH)
PLEASE ARRIVE EARLY (PRINT YOUR TICKET) BE WARMED UP AND SIGN THE LIABILITY WAIVER!
------------------------------------------------------------------------------------------
THE MADNESS SHOWCASE (Doors open at 4:30pm please don't arrive earlier than that.)
- This year we are asking for a suggested donation of $5 per person (18 years and older) or $10 per family (2 or more adults) for the evening Madness Showcase. This event is put up by a non profit and we would love to be able to continue to offer classes in the morning at no cost and expand our teacher roster in the future. The suggested donation will help cover a small portion of the costs and is not for profit. Again, this is a suggested donation. If you cannot make the donation you may still come to the event at no cost.
Thank you,
THIS IS OUR COMMUNITY DANCE SHOWCASE FEATURING DJ THE PRINCE KG. IT IS A GREAT FAMILY EVENT WITH PLENTY OF DANCE SURPRISES. WE WILL BE GIVING OUT DOOR PRIZES AND A DANCE BATTLE WITH CASH PRIZES.
Crews from all over Colorado will perform with our very own local crews. We will get started right at 5pm so please be in your seat ready to go.
----------------------------------------------------------------------------------------------------------
FAQs
Are there ID requirements or an age limit to enter the event?
There are no ID requirments but we will ask you to sign a waiver form at the point of entrance.
* PARENTS* IF YOUR CHILD IS 18 AND UNDER WE WILL NEED YOU TO WALK YOUR CHILD IN AND SIGN THE WAIVER.
What are my transport/parking options getting to the event?
Please park on the WEST side parking lof of BANK OF COLORADO ARENA AT BUTLER-HANCOCK ATHLETIC CENTER.
What can/can't I bring to the event?
Please come to class in comfortable clothes
* i.e. SWEATS (not shorts in case we do floor stuff) T-SHIRT, SNEAKERS SNEAKERS SNEAKERS!!!)
DO NOT BRING EXTRA SPECTATORS. WE WILL BE HAVING TONS OF FUN IN CLASS AND CAN'T BE LIABLE FOR PEOPLE OUTSIDE OF THE DANCE ROOMS.
we also encourage to bring a small snack and a COOL water bottle. We will have water there but you would just be way cooler if you bring your own water bottle ;)
Where can I contact the organizer with any questions?
If you have any questions regarding the event please contact us via email.
info@coloradodancecollective.com - attention: HIP HOP MADNESS
Can I update my registration information?
YES! If you feel like you entered anything wrong please come back and double check!!!
LAST BUT NOT LEAST.
If you start your first class and feel like it was too hard or too easy please speak to the instructor and ask if you may be moved. The instructor will be the only one to allow this to happen. This is a family friendly community event. Please be respectful, positive and friendly. SAY HI TO YOUR FELLOW DANCE PEERS!!!
-------------------------------------------------------------------------------------------------
Directions:
M-Lot (20th Street Entrance):
Enter West Campus by turning into M-Lot from 20th Street at 14th Avenue and head south. The Recreation Center is located on the east side of Butler-Hancock Athletic Center. The entrance to the Recreation Center is on the north end of the building.