Description
HIP HOP HEAVEN'S XMAS PARTY IS IN EAST LONDON!!!
@Kamio at Red Gallery, 1-3 Rivington Street, EC2A 3D
DJ's on the night include:
SHORTEE BLITZ (Kiss FM / Nike)
LRO (So Fresh So Clean / Itsoweezee)
TRIX (LoveDough / DMC)
LA (G-Unit / Kitchen Boyz)
Bobby Emmanuel & PJ (Reprezent / O2)
+ PIERS JAMES DJ SET
We're expecting this to be a sell out show, so get your tickets early, and make sure you arrive before 11PM.
We're landing in the East London for a one-off event to showcase the greatest music & talent, throwing the Christmas Hip Hop party to end all parties. Hip Hop Heaven was created to remember with love and respect fallen rappers, singers, and producers such as Guru, Big L, Biggie, Phife Dawg, Prodigy, Sean Price, Big Pun, Aaliyah, Tupac, J Dilla, ODB, Nate Dogg;
We'll be reppin' their music on the night along with other new & classic joints - Bringing & New Skool from New York to London, at Kamio, @Red Gallery, Shoreditch.
onfirmed lineup for the night includes:
SHORTEE BLITZ >>>>>>>>>>>>>>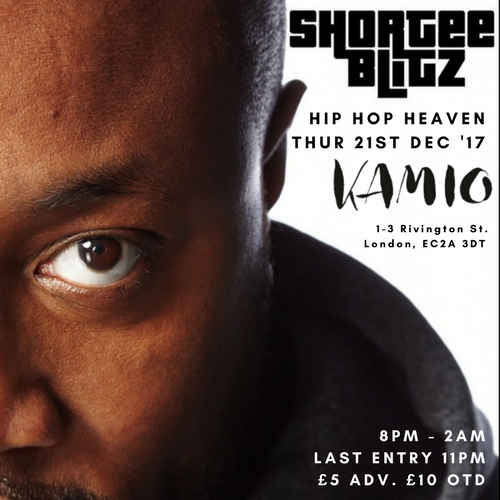 Mulit Award Winning DJ Shortee Blitz (Kiss FM / NIKE) is confirmed for Hip Hop Heaven!!
Shortee is the your favourite DJ's Favourite DJ - One of the true greats of the UK Music Scene and we're more than hyped to have him on board for the UK launch of Hip Hop Heaven.
DJ LRO >>>>>>>>>>>>>>>>>>>>>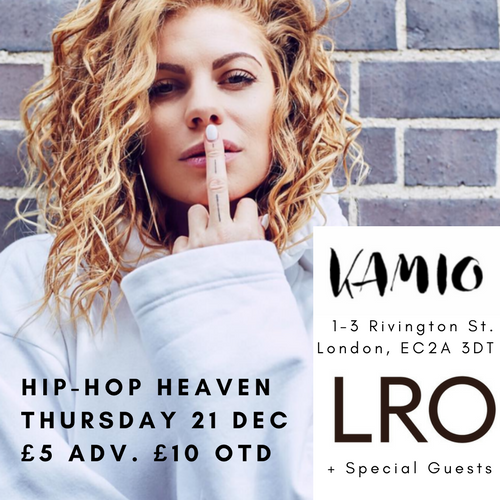 LRO Blends Old and New Skool Hip Hop with a selection of Trap, Alt-Rnb & Soul Rap.
She is a resident DJ at nights 'So Fresh So Clean' and 'Pour ot Up' As well as Brixton Based Soca Specialists 'Just Vibes'. LRO has warmed up for the likes of Ms Dynamite, Neneh Cherry, Shortee Blitz & Soul II Soul's Jazzie B among others and is a regular guest DJ for renowned Club Night 'Work it' as well as the Ace Hotel, Shoreditch.
This Year she joined the festival circuit with sets at Wireless and Secret Garden Party, made her debut at teh legendary Ministry of Sound, and played the After Party for Infamous Hip Hop Event the 'The Jump Off' at Scala. LRO is the first UK DJ to become part of Toronto born music collective ITZSOWEEZEE.
She is currently based in London.
PIERS JAMES >>>>>>>>>>>>>>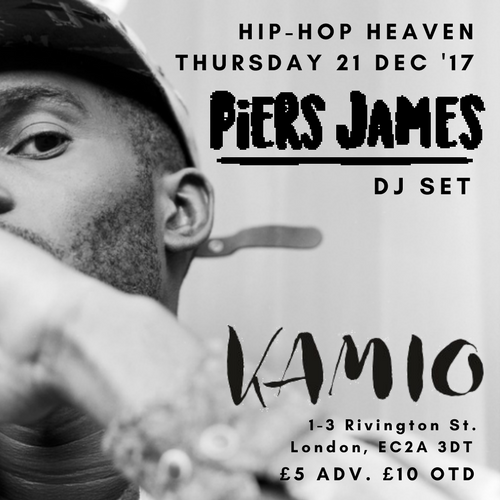 Piers James is a producer & songwriter, creating sounds inspired by his experiences and journey so far.
His way of life and music motive is based on upon his own motto 'Born. Artistic. To. Achieve' With music as a fundamental part of his background whilst learning to play the piano from a young age, Piers began experimenting with sounds through software's such as 'Fruity Loops, Cubasis & Reason' as well as linking up with local producers, which was the catalyst of Piers writing lyrics and working on his craft with different sounds.
As Piers continues to evolve and mature as an artist aims to make his music more personal but make it more relatable for everyone to enjoy Join him on his journey… Piers is next to blow in 2018 so be make sure you catch his last show of 2017 right here in London.
BOBBY EMMANUEL >>>>>>>>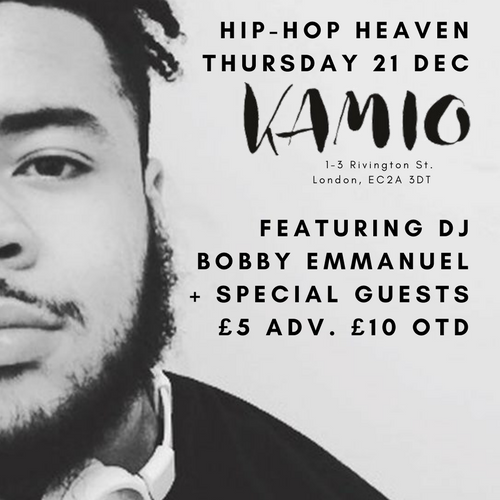 DJ TRIX(UK) >>>>>>>>>>>>>>>
Founder of Hip Hop Heaven, Selecta, & Viper DnB, International DJ TRIX has performed at some of London's hottest venues this year including The Jazz Cafe, Brixton Jamm, Camden Assembly and The Queen Of Hoxton, along with touring Europe doing shows in Sweden, France (Paris Fashion Week), and The Netherlands (Hip Hop Heaven Amsterdam), just in the last few months.
As the Original 'LoveDough' Resident DJ Trix held down some of the biggest venues in the UK & Europe, was a UK DMC Finalist in 2004, and invovled with the original 1XTRA live broadcasts & MTV Base Parties back in the early 2000's.
In recent years TRIX has been support DJ for some of Hip Hop's biggest stars including Rahzel from the Roots, Kano, Ghostface Killah, Masta Ace & Jurassic 5, as well as being on the DJ roster for Jehst's 44th Floor Tour in 2017.
TRIX will not be performing any sets in 2018, taking time away from the decks to focus on business venutres, so this is the last time you will get a chance to see him perform for at least 1 year.
DON'T MISS THIS!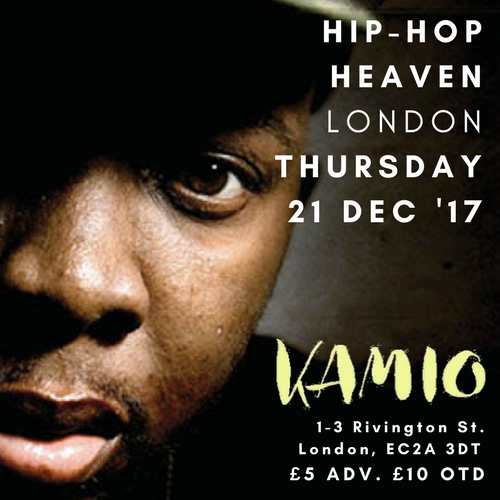 GET TICKETS EARLY BECUASE THIS EVENT WILL BE A ROADBLOCK