HIP-HOP HALLOWEEN THE BLOCK PARTY: featuring KID CAPRI

Sunday, October 29, 2017 from 3:00 PM to 9:00 PM (PDT)
Event Details
 AJ THE ARCHITECT    |    ALL THINGS CHRISTOPHER
Present 
HIP-HOP HALLOWEEN: THE BLOCK PARTY w/ KID CAPRI 
Oakland's largest Hip-Hop Block Party! 
LIVE PERFORMANCE BY THE WORLD FAMOUS KID CAPRI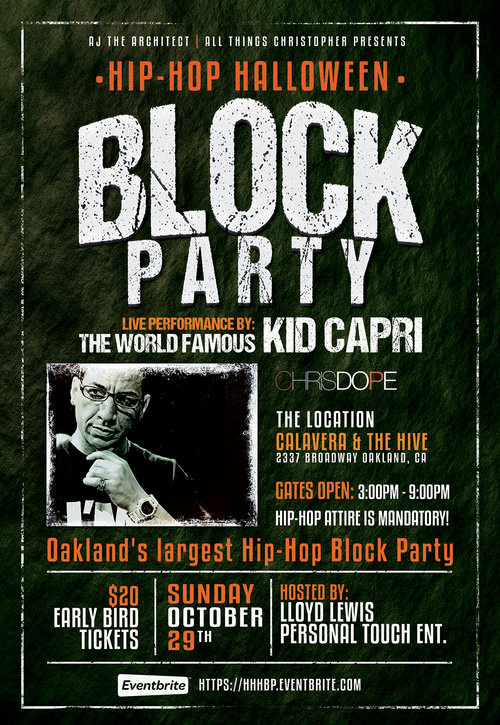 WHAT: HIP-HOP HALLOWEEN BLOCK PARTY w/ KID CAPRI 
WHEN: SUNDAY OCTOBER 29TH |  3:00PM – 9:00PM 
WHERE: CALAVERA & (Outside) | 2337 Broadway Av. Oakland, CA 94612 
It's that time of year again where we go back... yes, waaaaay back! To a time of classic HIP-HOP! Artist like LL COOL J, RUN-DMC, PUBLIC ENEMY, BEASTIE BOYS, KRS-1, ERIC B & RAKIM, DE LA SOUL, BIG DADDY KANE, EPMD, A TRIBE CALLED QUEST, SLICK RICK, THE FAT BOYS, and THE JUNGLE BROTHERS.
The theme for this affair is HIP-HOP EVERYTHING! This is a HIP-HOP block party folks. Think 80's, 90's attire, gold chains, pagers, brick phones and yes ADIDAS! Fresh gear like FILA, PUMA, ELLESSE, LE COQ SPORTIFF, TODD 1, and AIR BRUSH OVERALLS. The  inspiration for this event is for people to dress up! It creates a very unique, authentic ambience when everyone participates...and the pics look great!!!
The dress code is mandatory! There are "NO EXCEPTIONS" at the door. Please don't be that person and make sure your friend is not that person either.
**We reserve the right to refuse entry to anyone. If you are a little bit concerned that it might not be allowed, don't wear it. Please play it safe. We don't want to turn you away. No Effort, No Entry!**
******************************** 
TICKETS: https://hhhbp.eventbrite.com 
EARLY BIRD - $20 
GENERAL ADMISSION - $40 
******************************** 
SOUNDTRACK: 
KID CAPRI 
CHRISDOPE 
********************************     
HOSTED BY:
LLOYD LEWIS of PERSONAL TOUCH ENT.
 ***********************************
CURATORS:
Aj The Architect 
All Things Christopher 
********************************   
PHOTOGRAPY: SOLOTRENDZ
********************************
ALL BOTTLE SERVICE TABLES ARE OUTSIDE ON THE PATIO OF CALAVERA. THIS IS THE ONLY SECTION THAT WILL ALLOW BOTTLE SERVICE.
 BOTTLES WILL NOT BE SERVED ON THE PAVEMENT AREA
BOTTLE SERVICE RESERVATIONS 
Please submit all bottle Service reservations to the following email address: ajthearchitect@gmail.com
PLEASE FOLLOW DIRECTIONS TO RESERVE A TABLE:
A. Give us First / Last Name
B. Contact information: Both Cell Phone & Email
C. Number of people in your party including yourself. 
D. Choice of spirits (and how many bottles) 
E. We will contact you prior to the event date to confirm your table reservation. YOU MUST CONFIRM or run the rick of loosing your table.

F. Bottle service does not include admission. You still have to purchase admission tickets.
When & Where

Calavera
2337 Broadway
Oakland, CA 94612


Sunday, October 29, 2017 from 3:00 PM to 9:00 PM (PDT)
Add to my calendar