Description
Hip Hop 101, hosted by DJ Lady B and featuring the Slip & Slide DJs Chris Brickz and King Reece.
Ten of the best scouted artists in Atlanta featured in one big event. Selected by there excellence in lyricism, originality, and performance. Where most Atlanta artist events choose artists on popularity, Hip Hop 101 chooses their artists on their definition of TRUE ARTistry. This event was inspired by the artists who doesn't sacrifice Quality for a higher Quantity of followers. Hip Hop 101's concept is to put an event together that focuses on giving music consumers more Quality rather than focusing on the Quantity each artist can bring, because great music will bring fans! #WeCreateFANSnotFOLLOWERS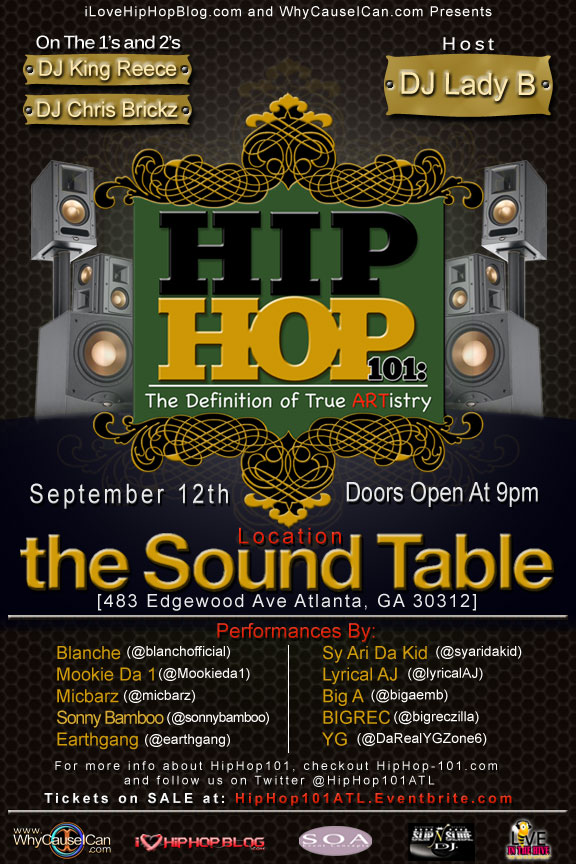 Our Featured Line Up includes:
Blanche (@blanchofficial)
Mookie Da 1 (@Mookieda1)
Micbarz (formerly GoldenChyld- @micbarz)
Sonny Bamboo (@sonnybamboo)
Earthgang (@earthgang)
Lyrical AJ (@lyricalAJ)
Big A (@bigaemb)
Sy Ari Da Kid (@syaridakid)
Big Rec (@bigreczilla)
YG (@DaRealYGZone6)
Created by WhyCauseICan.com and ILoveHipHopBlog.com. For live updates follow us @hiphop101atl
Organizer of Hip Hop 101: The Definition of True ARTistry
WhyCauseICan.com is a web based company that helps to publicize and brand artists, producers, clubs, and DJs of all genres. We specialize in Graphic Design, photography, event coverage, artist branding, development, and viral marketing. WhyCauseICan.com was created to help underground artists get the exposure they need and deserve.
ILoveHipHopBlog.com dedicated to HIP HOP.  No drama...No BS...No Romantic Stuff...just HIP HOP.