Sales Have Ended
Ticket sales have ended
For more information on HINENI registration, please contact Bill Baronas at 860.727.6131 or bbaronas@jewishhartford.org.
Sales Have Ended
Ticket sales have ended
For more information on HINENI registration, please contact Bill Baronas at 860.727.6131 or bbaronas@jewishhartford.org.
Description
Jewish Federation of Greater Hartford invites you to
HINENI: Living Joyously in Uncertain Times
An evening of voices and visions with Dr. Ruth Westheimer
And special guests State Senator Saud Anwar and Reverend gretchen N. Sausville
TUESDAY, SEPTEMBER 24, 2019
The Emanuel Synagogue | 160 Mohegan Drive, West Hartford
5 p.m. networking & cocktails · 6 p.m. dinner · 7 p.m. program
Laws of kashrut observed
CELEBRATE the power of community to create a better world
HEAR Dr. Ruth's amazing personal story from surviving Nazi Germany to thriving in Israel and America
CONNECT with others who share your commitment to the Jewish people
LEARN how Federation is building strong partnerships and a brighter future for everyone
RSVP BY TUESDAY, SEPTEMBER 10
Couvert: $85 per person*
During the event, you will be asked to make a personally meaningful commitment to the 2020 Annual Campaign.**
Advance, paid reservations required.
*Couvert does not represent a charitable contribution.
**Payable by December 31, 2020.
---
FEATURED SPEAKERS
Dr. Ruth Westheimer may best be known for having pioneered talking explicitly about sex on radio and television, but that is only a small part of her rich and diversified life. Born in Germany in 1928, Dr. Westheimer was sent to Switzerland at the age of 10 on the Kindertransport to escape the Holocaust, which wiped out her entire immediate family. At 17, she emigrated to the area then known as Mandatory Palestine. She joined the Haganah (Israeli freedom fighters) as a sniper and was seriously wounded in a bomb blast. She later moved to Paris to study at the Sorbonne and in 1956 came to America, where she obtained a master's degree in sociology from the New School of Social Research and a doctorate in education in the Interdisciplinary Study of the Family from Columbia University Teacher's College. Dr. Westheimer is the author of 44 books and the executive producer of five documentaries. A one-woman show about her life, "Becoming Dr. Ruth," has played in the Berkshires, in Hartford and off-Broadway and continues to tour. Ask Dr. Ruth, a documentary film about her life, premiered in January at the Sundance Film Festival and is now streaming on Hulu.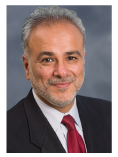 State Senator Saud Anwar was elected in February 2019 to represent the residents of the 3rd State Senate District towns of East Hartford, East Windsor, Ellington and South Windsor, Connecticut. He was first elected to public office in 2011 as a member of South Windsor's Town Council and was mayor of South Windsor from 2013 to 2015 and 2017 to 2019. Senator Anwar holds an M.D. and a master's degree in public health from Yale University and chairs the Department of Internal Medicine at Manchester Memorial and Rockville General Hospitals. He is active with interfaith, humanitarian and peace initiatives both locally and around the world.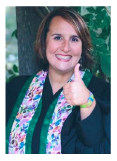 Reverend gretchen N. Sausville is Pastor/Head of Staff at Arvada Presbyterian Church in Arvada, Colorado, a suburb of Denver. She previously served for 10 years as the Associate Pastor and Acting Head of Staff at Westminster Presbyterian Church in West Hartford, where she became actively involved in interfaith work. A graduate of Princeton Theological Seminary and the University of Northern Colorado, gretchen is passionate about preaching and creative worship, helping all generations of people think about faith outside the box, and developing interfaith conversations and partnerships. In 2019, she received her Certificate in Community Organizing from Johnson C. Smith Theological Seminary. The lowercase g in gretchen's first name is not a typo; it appears that way on her birth certificate because her mother loved the artistry of the lowercase letter g.
---
HINENI CO-CHAIRS
Debbie & Richard Glassman • Monica & Matthew Hoffman Charna & John Kaufman • Patti & Howard Weiner
2020 ANNUAL CAMPAIGN LEADERSHIP
Carolyn Gitlin, Chair of the Board
Dana Keller, 2020 Annual Campaign Chair
Judy Schlossberg, 2020 Women's Philanthropy Chair
David Waren, President and CEO
Rachel Berezin, Vice President, Development
Simi Benita, Director, Business Partners
Donna Wilbur, Director, Campaign Operations
Bill Baronas, Administrative Assistant, Development
HINENI TABLE CAPTAINS*
Marci & Jonathan Alter
Emily & Todd Berman
Lisa & Evan Berman
Carolyn & Stuart Bernstein
Leah & Larry Berson
Alisha & Ron Cipriano
Naomi & Michael Cohen
Sharon & Stephen Conway
Veronica & Steve Dicke
Jill & Rob Dulitsky
Leigh & Greg Farber
Deborah & Ira Feigenbaum
Risa & Roy Filkoff
Katie & Mark Fineberg
Debra & Bruce Fischman
Jessica & Michael Fish
Kathy & Ronald Fishman
Robin & David Gelles
Nancy & Jay Gershman
Carolyn & Jeff Gitlin
Laurie & Bruce Goldsmith
Michele & Daniel Gottfried
Joan & Gary Greenberg
Diane & Larry Greenfield
Pat & Michael Kazakoff
Dana & Jonathan Keller
Sharon & Neil Kochen
Lois & Chuck Koteen
Debbi & A.J. Kritzman
Beth & Cary Lakenbach
Joyce & Richard Leibert
Juanita & Yitz Moss
Arlene & Daniel Neiditz
Leslie & Steven Neiditz
Stefanie & David Ochs
Elise & Jerry Rosenstock
Judy & David Rosenthal
Jayne & Chet Rotter
Maggie Sandberg & Robert Schatz
Judy & Ron Schlossberg
Rebecca & Scott Selig
Ronna & Mark Siegal
Tracy Taback
Gayle & Steve Temkin
Pia Rosenberg Toro & Mickey Toro
Laurie Mandell & Richard Weinstein
Leslie & Richard Weinstein
Melissa & Randy Weinstock
Sara & Ben Wexler
Jessica & Eric Zachs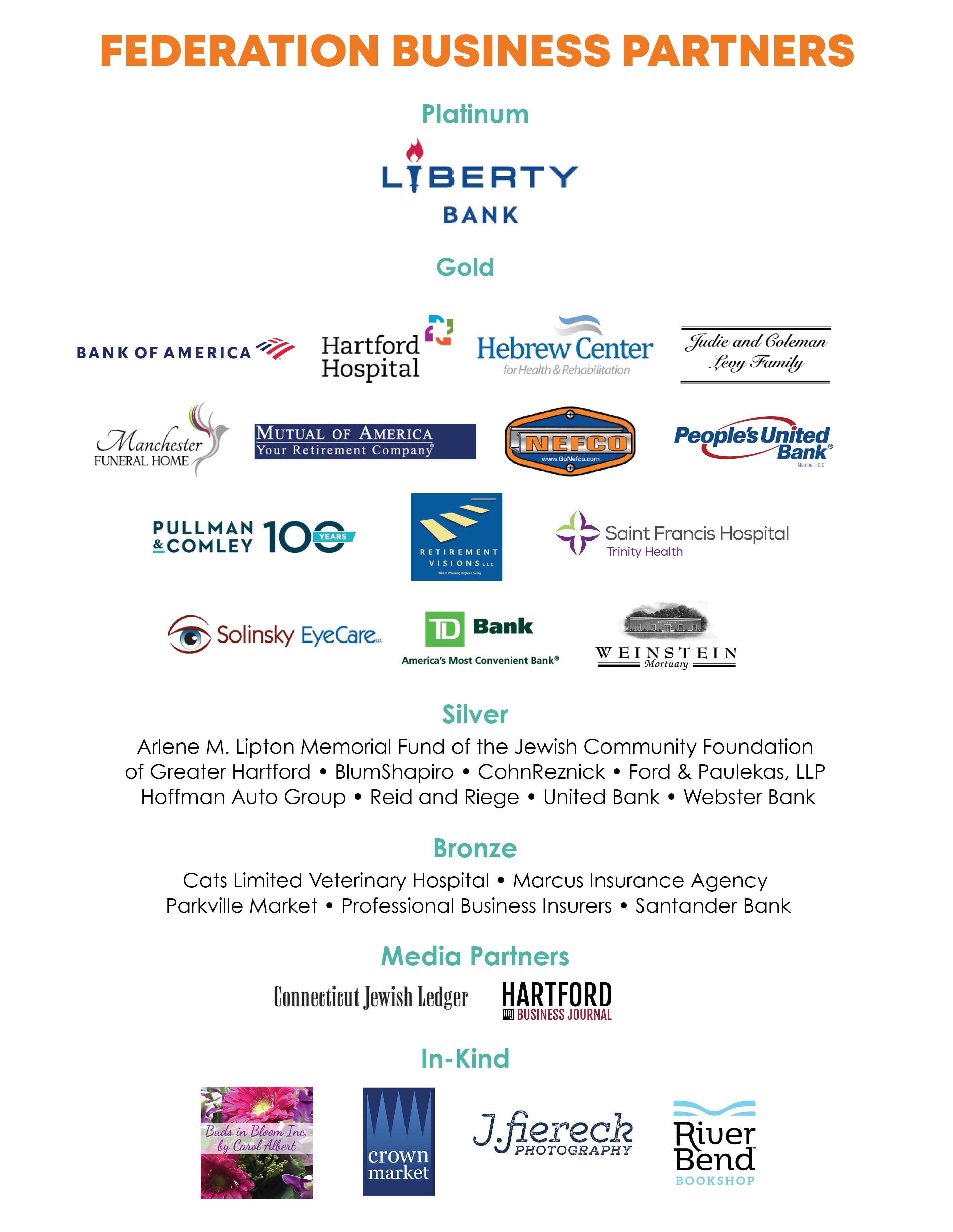 * As of September 11, 2019.
To learn more about becoming a Federation Business Partner, contact Simi Benita at sbenita@jewishhartford.org, 860.964.0729 (cell) or 860.727.6118 (office).