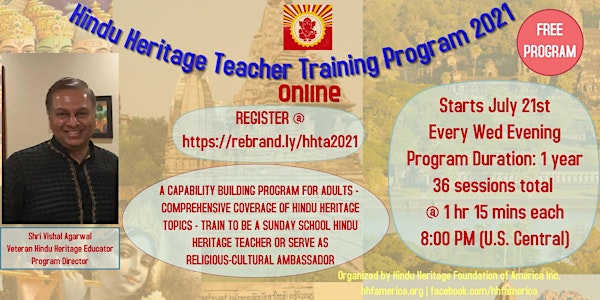 Hindu Heritage Teacher Training Program 2021-2022 (Online)
Hindu Heritage Teacher Training Program 2021-2022 (OL) prepares and trains the volunteer-teachers at weekend schools & cultural ambassadors.
About this event
GET TRAINED TO BECOME A TEACHER AND AMBASSADOR OF HINDU HERITAGE
A Comprehensive Learning and Training Curriculum for the Study of Hindu Dharma
ABOUT THE PROGRAM
This is a year long training program for parents, sunday school teachers and other adults. The participants will gain competencies in teaching Hindu heritage topics in Sunday Schools and representing Hindu culture in public spaces as cultural ambassadors.
REGISTRATION: Register online at https://rebrand.ly/hhtt2021 (redirect to eventbrite), or at Eventbrite site at this link https://hhtt2021.eventbrite.com or at facebook (re-linked to eventbrite) at link https://fb.me/e/Q4QAosLK
(All registered participants will get one single Zoom link and passcode for all sessions)
CLASS TIMINGS AND DURATION
The participants attend one hour class every Wednesday evening at 8 pm U.S. Central (6 pm Pacific, 7 pm Mountain and 9 pm Eastern). The class schedule is located here: https://rebrand.ly/hhtt2021schedule
COST / PARTICIPANT EXPECTATIONS
The program is offered free of cost.
Participants are expected to put in the required effort in learning the materials presented, and further their research and knowledge acquisition to be able to present Hindu culture in public spaces, in addition to teaching students and youth at weekend classes at Hindu temples, or any other informal setting.
WHO SHOULD ATTEND
The program is primarily designed for parent-volunteers who teach weekend / Sunday classes at Hindu temples. Also, the same competencies are required by activists and community leaders who represent and express on Hindu Dharma in public spaces including journalists, columnists, videographers, bloggers, commentators and other writers.
Anyone can attend who needs to acquire teaching and presenting capability in Hindu Dharma topics.
BACKGROUND / WHY THIS PROGRAM
There are well over 1000 Hindu temples in the U.S. and each one of them run some kind of a Weekend/Sunday school. Most often parents of children studying in these schools volunteer to teach. The volunteer-teachers lack the knowledge base and skills to teach these classes. There is a lack of structured training program for the volunteer-teachers in this space. Similarly those who represent Hindu culture in public spaces have the same knowledge deficit. This program is developed to meet the challenge of providing structured training in Hindu Heritage topics.
PROGRAM DIRECTOR
Shri Vishal Agarwal is a veteran Hindu Heritage expert, researcher, columnist, editor, author and teacher. He is the author-editor of "The New Stereotypes Of Hindus In Western Indology" (listed on Amazon), a critical review of western scholarship on Hindus and Hinduism. He has developed and implemented a comprehensive program in Study of Hindu Dharma at his local Hindu temple. The curriculum and classes developed by him are being extensively used by many Hindu temples in the U.S.
FURTHER INFO & CONTACT:
● Rajiv Varma 832-499-3420
● Sumeet Saxena (973) 687-5542
● E-mail: events@hhfamerica.org
CURRICULUM
The year long training program will cover the following topics
An Overview – The Architecture of Hindu Dharma
The Gifts of Hindus to Humanity
The Four Goals of Human Life: Purusharthas
Scriptural Foundations - I (Veda and Upanishad)
Scriptural Foundations - II (Pauranic and Agamic)
Scriptural Foundations - III (Darsanas)
Other Shastras/Texts – The Bhagavad Gita
Sanskrit and other Hindu Sacred Languages
Hindu Concept of Dharma & Karma - Duty, Ethics and Morality
The Hindu Blueprint for Individual Life – Ashramas Dharma and Samskaaras
The Hindu Family – Grihastha Āshrama
Navaratri and Dussehra Holiday
The Role of Women in Dharma
The Hindu Society - 1 (Gotra, Jāti, Varna)
The Hindu Society – 2 (Janajāti, Grāma, Janapada, Rāṣhtra)
De-personalizing Oneself: The Retiree and the Ascetic
Individual Religious and Spiritual Practices - Svādhyāya, Vratas, Dhyāna, Japa, Yajna
Hindu Spiritual Ecosystem (Festivals, Teerthas, Sacred Geography, Mathas, Ashramas, Peethas, Jyotirlingas, Dhams)
Hindu Cosmology – Space, Time and Calendaring
Hindu Theology - Hindu Concepts of the Divine
Hindu Eschatology - Who am I? Atma and Rebirth
Hindu Soteriology - Atmagatividyā and Moksha (Liberation)
The Spiritual Path of Wisdom - Jnānayoga
The Spiritual Path of Selfless Action - Karmayoga
The Spiritual Path of Meditation - Dhyānayoga
The Spiritual Path of Loving Devotion - Bhaktiyoga
Hindu History - Itihasa & Sacred History
Hindu Mathematical and Scientific Heritage
Hindu Medicine and Psychology
Hindu Arts, Sports & Architecture
Hindu Polity (Hindu State - history and concepts), Law, Economic & Martial Traditions
Hindu Symbolism
A Hindu View of other Sacred and Secular Traditions
Hindus Around the World
Special Topics: Hindu Perspectives on Euthanasia, Suicide, Vegetarianism, Animal Rights, Environmentalism
Special Topics: Feminism, LGBTQ Lifestyles, Social Justice, Racism, Human Rights
Why am I a Hindu? A Personal Testimony