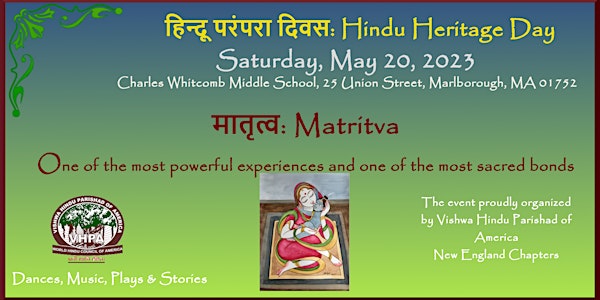 Hindu Heritage Day 2023
Celebration of our glorious heritage through dance, music, play and stories.
By Vishwa Hindu Parishad of America: New England
Date and time
Saturday, May 20 · 3 - 8pm EDT
Location
1LT Charles W. Whitcomb Middle School 25 Union Street Marlborough, MA 01752
Refund Policy
Contact the organizer to request a refund.
Eventbrite's fee is nonrefundable.
About this event
This year's theme is MATRITVA.
This can be loosely translated as "Motherhood - the essence of a mother!"  
Matritva has many forms. It is one of the most powerful experiences and one of the most sacred bonds, the earliest and deepest relationship one will have. It encompasses qualities like unconditional love, compassion, endless courage, nurturing and many more. 
Mothers can also be adopted. A shining example of that is Ma Yashoda, who so lovingly raised baby Krishna. Anyone or anything with these qualities is respected as a mother. The land of Bharat is Dharti Maa (Mother Earth), who holds us close to her bosom and sustains our life. Even animals such as Gau Mata (mother cow), who nurtures us with every part of her being, are venerated.   
Matritva may be the Divine kind, Devi Maa, the Divine Mother. She assumes many forms to help nurture and protect her children, her devotees.  
We will have some of the best performances of dance, music, and drama from area dance and music schools related to the theme of Matritva. We will also have winning entries of the Storytelling contest related to Hindu Heritage.
To submit your entry for Cultural Program, Register at: https://forms.gle/Kw7z56NjTLosYkPr6
(for further information, send an email to jasthana@hotmal.com).
To submit an entry for Storytelling Contest, Please contact: Register at: bgarg@ieee.orghttps://forms.gle/Gb5FHaQZErXUvQ799 
Detailed rules for the contest can be found at https://boston.vhp-america.org/hhd23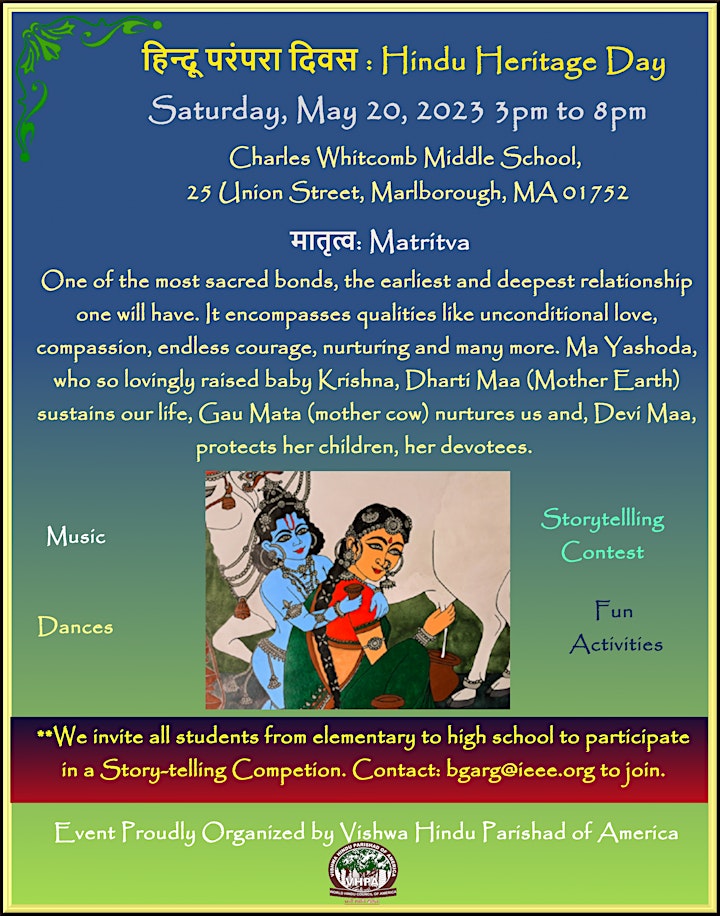 Story-telling competition
This year we will feature Story-telling Competition with our very talented youth participants. This will be an exciting feature of the event and it is our sincere hope that you will honor us with your presence. Our youth needs your encouragement and support.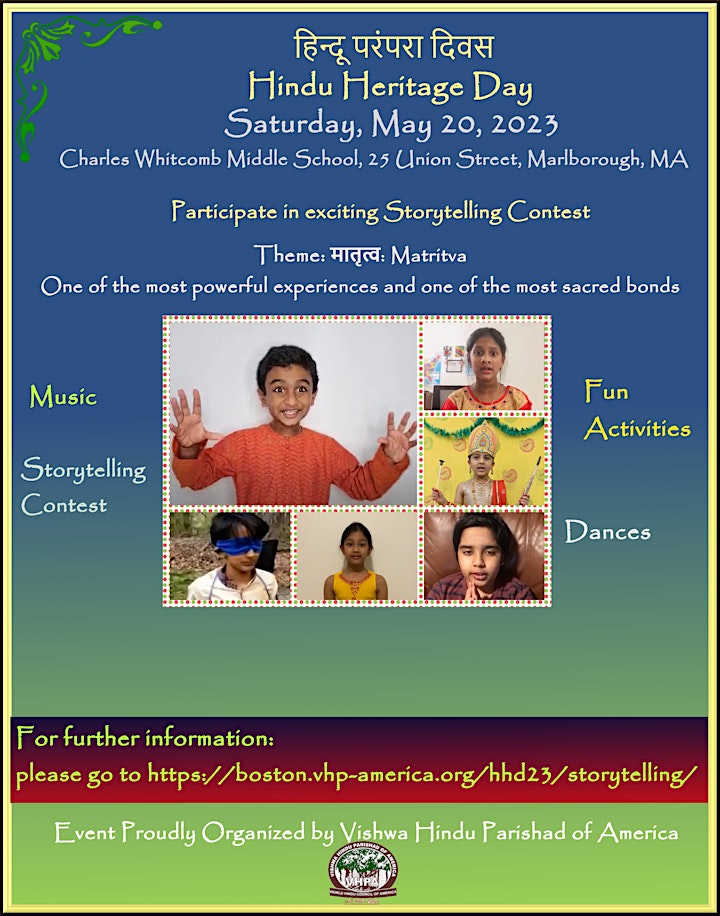 Become a Proud Sponsor of this wonderful event:
Grand sponsor: $5,000
Gold Sponsor: $2,500
Silver Sponsor: $1,000
Bronze Sponsor: $500
Please contact:
Mona Khaitan at monakhaitan@gmail.com
Kaushik Patel at ck8288@gmail.com
Abhaya Ashthana at abhayaji@gmail.com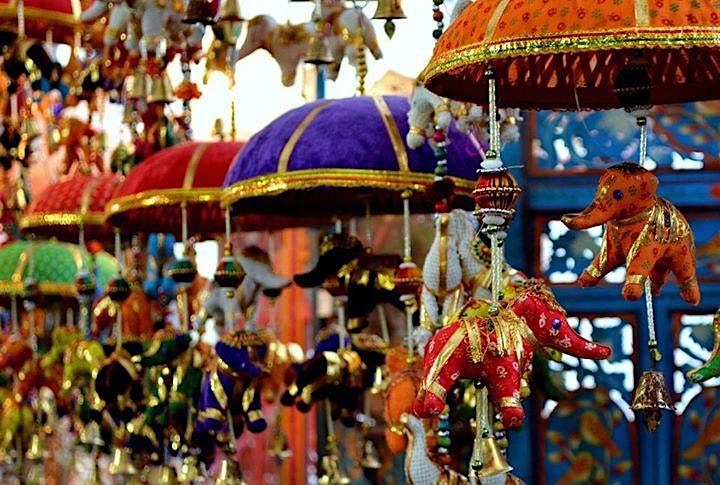 About the organizer
ABOUT VHPA
What is Vishwa Hindu Parishad of America (VHPA)?
VHPA is an independent, nonprofit, tax exempt 501(c)(3) and volunteer-based charitable organization serving the needs of Hindu community in US.
Why was VHPA founded?
VHPA was founded to address social, educational, cultural, and spiritual needs of Hindu society in the US, and to network with other Hindu organizations with humanitarian causes worldwide.
Who is a Hindu according to VHPA?
According to VHPA Hindus are those who believe in, practice, or respect the spiritual and religious principles having origins in Bharat (India), which includes Jains, Buddhists, Sikhs and people, worldwide, of various religious sects within the Hindu ethos.
What is the vision of VHPA?
VHPA was founded with a grand vision of building a dynamic Hindu society inspired by the eternal values of Dharma and the lofty ideal of Vasudhaiva Kutumbakam meaning the entire creation is one family.
Why is the name of Vishwa Hindu Parishad of America similar to Vishwa Hindu Parishad in India?
Vishwa Hindu Parishad, Bharat was founded in 1964 and it was the only Hindu organization of its kind at the time founded by prominent personalities from Vedikas, Jains, Sikhs and Buddhists, whereas VHP of America was independently founded in 1970, six years later in the US. Keeping the vision of Hindu unity in mind the organization in the US was named similarly.
Is VHPA a branch of any other organization?
No. VHPA is an independent organization in the US governed by the laws of the US with its own constitution.
Though inspired by the same values and ideals as those followed by Vishwa Hindu Parishad of Bharat, VHP of America is distinct, legally separate and operationally independent Non-Profit organization in its own right within the USA. The programs, projects, policies of VHPA are determined by its Governing Council and operationalized by its Executive board in USA.  
What is VHPA's stand in general?
VHPA's vision for the Hindu society is rooted in the sacred soil of Hindu Dharma and enveloped in the hallowed breath of the Rishis charged with the vibrations of the Mahavakayas. Dharma is the very core that holds our society. Yes, we stand for sciences, but sciences rooted in Dharma. Yes, we stand for technology, but technology soaked in Dharma. Yes, we are for all the Arts, but arts that are alive with Dharma. Yes, we are for a social order and good governance, but governance that is solidly planted in Dharma. VHP of America welcomes into its fold anyone and everyone that share its vision. Its programs and activities invite participation from all members of the communities in America without regards to race, gender, creed or spiritual orientation, provided such engagements foster and promote harmony, goodwill and peace.