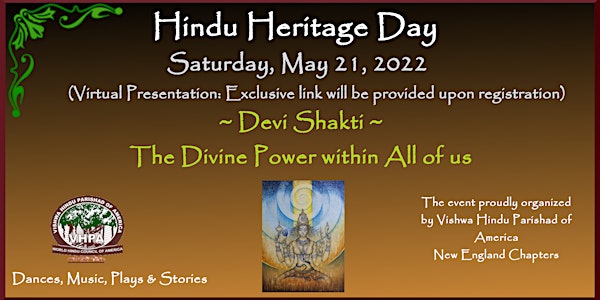 Hindu Heritage Day 2022
Celebration of our glorious heritage through dance, music, play and stories.
Refund Policy
Contact the organizer to request a refund.
Eventbrite's fee is nonrefundable.
About this event
SHAKTI: The theme for Hindu Heritage Day 2022
Shakti is the manifest energy inherent in the Universe, which gives expression to the potential energy that lies dormant – the Shiva. When we think of Shakti, we think of Strength. Shakti can be on many different levels. There is the Shakti that is within us, that gives us the strength to surmount all obstacles, personal or societal. When we stand together, that is societal Shakti. Atma shakti is reliance on ourselves, the strength to fight against all odds. We have seen an example of this in the past years, in the fight against an unseen enemy called COVID. Shakti can be Daivi, as when we rely on Ishwar – a Higher Power.
In the years prior to 2020, the Hindu Heritage Day was held at Marlborough Middle School in May and attracted 2500 people.
Until large gatherings become acceptable, we will again have an event ONLINE on May 21, 2022, starting at 4 PM. Thus we will be missing the excitement of Activities (e.g. Kite Flying, Cooking demo), Food, Mela (bazaar), Organizational Booths, and the joy of catching up with friends!!
However, we will have some of the best performances of dance, music, and drama from area dance and music schools related to the theme of Shakti. We will also have winning entries of the Storytelling contest related to Hindu Heritage via video for Youth (which was held for the first time in 2021 and brought out an amazing show of talent).
To submit your entry for Cultural Program, Register at: https://forms.gle/GfFM5DNmMi9yc3k46
(for further information, send an email to jasthana@hotmal.com).
To submit an entry for Storytelling Contest, Register at: https://forms.gle/Gb5FHaQZErXUvQ799 
Detailed rules for the contest can be found at https://boston.vhp-america.org/hhd22/contest (for further information, send an email to bgarg@ieee.org)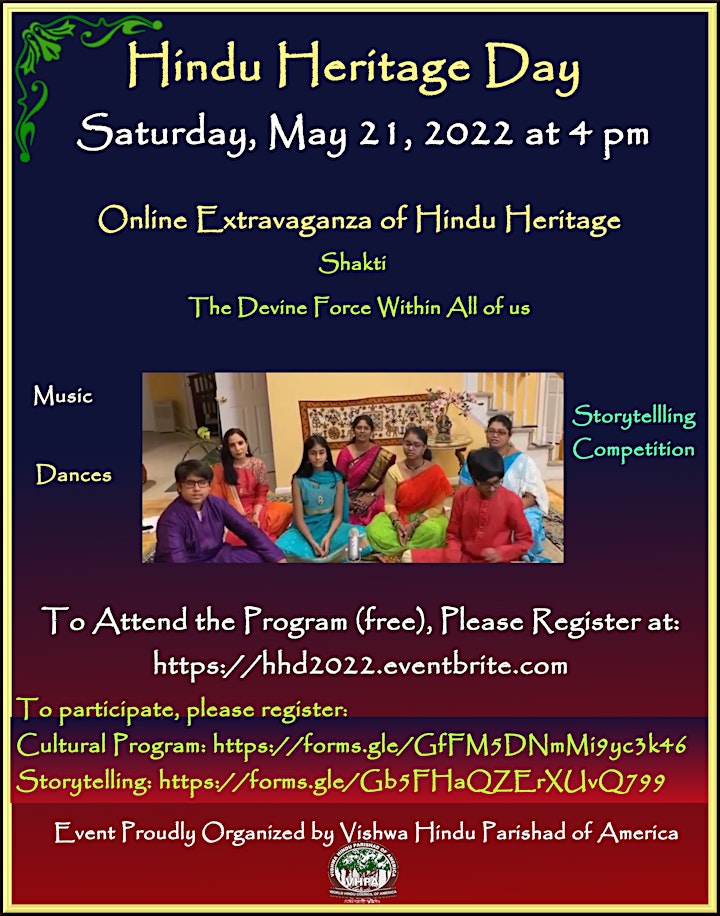 Story-telling competition
This year we will feature Story-telling Competition with our very talented youth participants. This will be an exciting feature of the event and it is our sincere hope that you will honor us with your presence. Our youth needs your encouragement and support.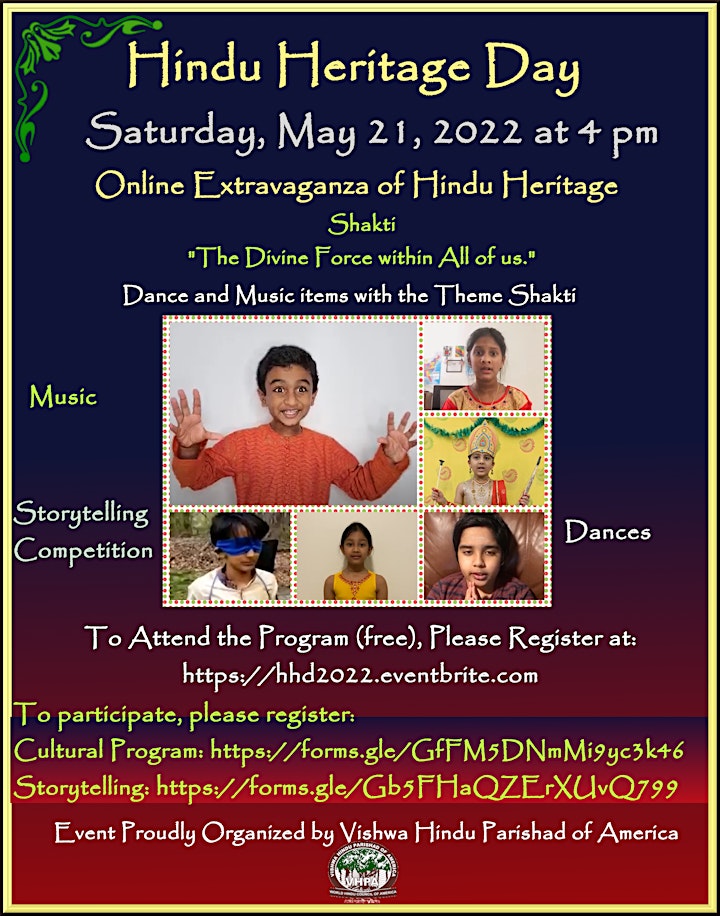 Become a Proud Sponsor of this wonderful event:
Grand sponsor: $5,000
Gold Sponsor: $2,500
Silver Sponsor: $1,000
Bronze Sponsor: $500
Please contact:
Mona Khaitan at monakhaitan@gmail.com
Kaushik Patel at ck8288@gmail.com
Abhaya Ashthana at abhayaji@gmail.com