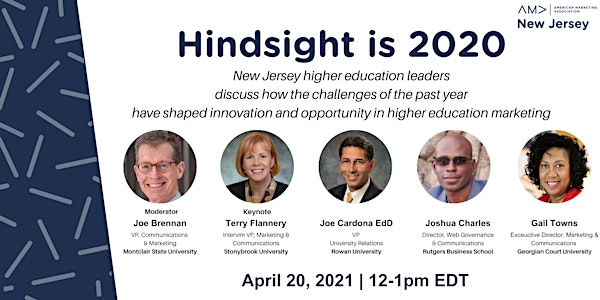 Hindsight is 2020
Hindsight is 2020: Higher Education Marketers discuss how challenges of the past year have shaped innovation and opportunity
Refund Policy
Contact the organizer to request a refund.
Eventbrite's fee is nonrefundable.
About this event
Even before the pandemic hit, higher education was already beset by many demographic, economic and technological forces that disrupted long-established ways of operating.
Today, within this vastly more complex set of conditions, the role of the marketing office has become even more important. Marketers are being called on to bring more strategy, create more opportunities, engage a more diverse array of stakeholders, and make more effective use of resources.
Join us for an invigorating exploration of the changing role of the higher education marketer.
The event will feature a 10-minute by Terry Flannery, an expert who literally wrote the book on "marketing a university", followed by a moderated discussion with respected NJ higher education marketers, and Q&A.
This webinar is for all marketers, including those inside higher education, those who service higher education clients, and those who are thinking about entering this complex, challenging and rewarding sector.
Read about this amazing panel below: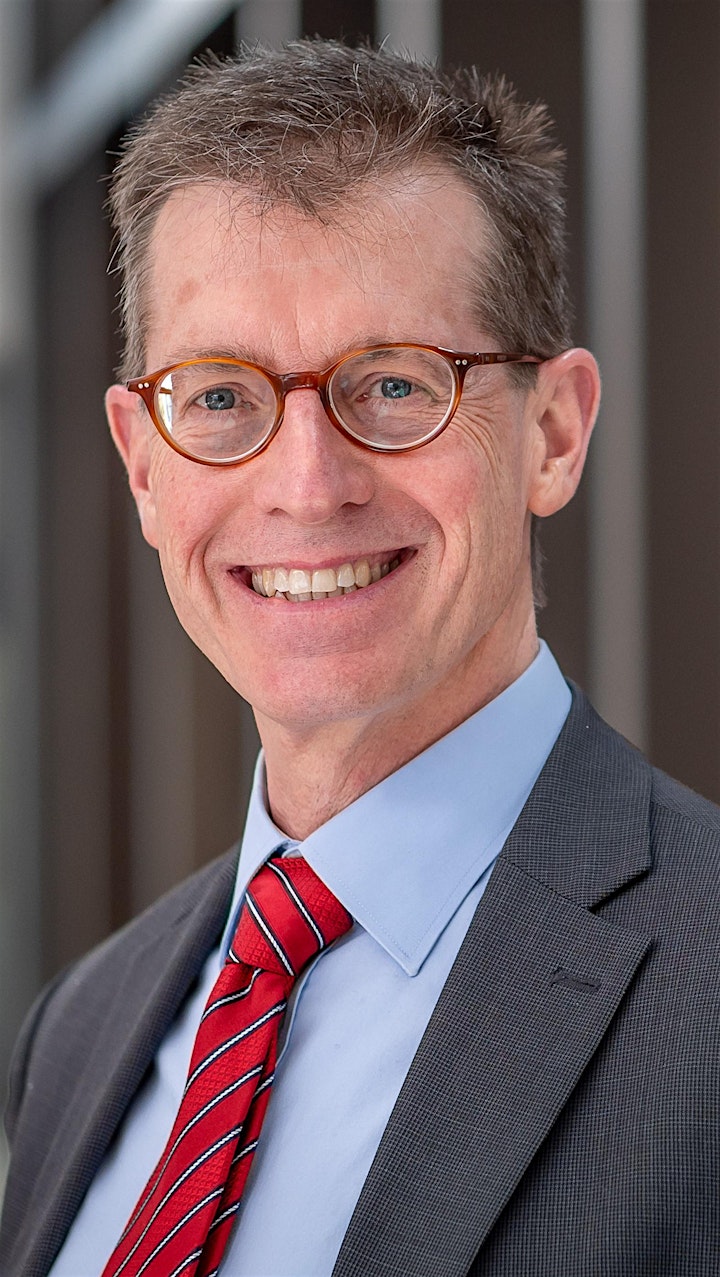 Joseph Brennan
Vice President, Communications & Marketing | Montclair State University
Dr. Brennan trained to be an English professor but went into the administration instead. Before joining Montclair State in 2019 as its first vice president for communications and marketing he held vice presidencies at the University of Iowa and at SUNY-Albany.
Joe is a Fellow of the Public Relations Society of America. He is an active researcher and is currently working on a study of how college students perceive and respond to COVID-related communications.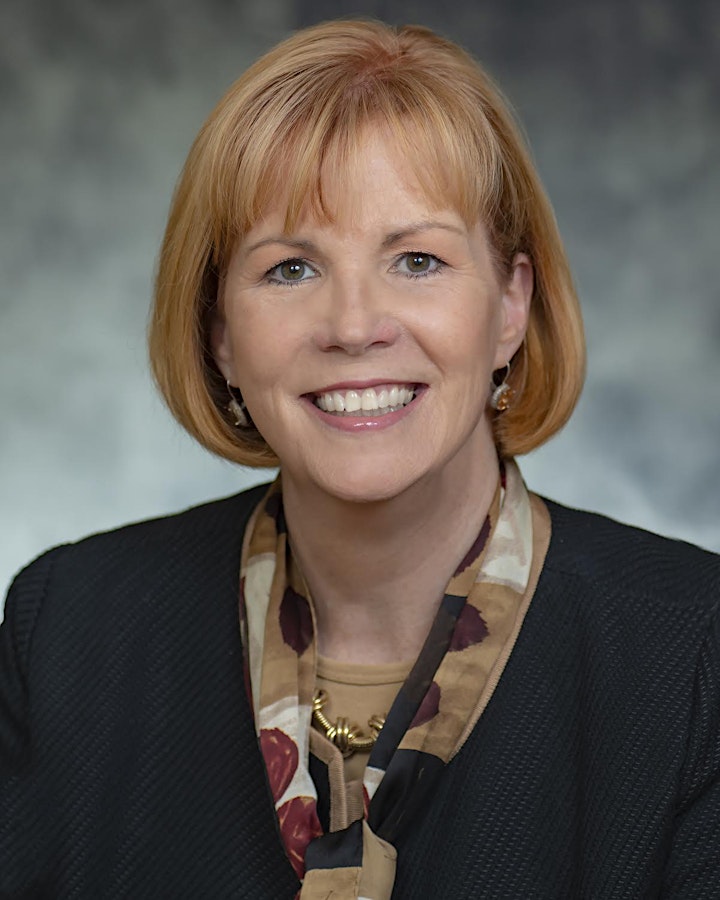 Terry Flannery
Interim Vice President for Marketing and Communications | Stony Brook University
One of the leading university marketing professionals in the world, Dr. Flannery has led some of the most successful brand campaigns in all of higher education, including WONK at American University and "Fear the Turtle" at the University of Maryland.
She was recognized in 2018 as an "International Brand Master," and is a sought-after consultant and speaker and the author of How to Market a University: Building Value in a Competitive Environment (Johns Hopkins University Press, 2021)
Joe Cardona, EdD
Vice President, University Relations | Rowan University
A three-time Rowan University alumnus, Dr. Cardona has been part of Rowan University's incredible transformation from its days as Glassboro State College to a Top 100 public research university with nationally ranked programs and two medical schools.
Joe is the university spokesperson and oversees media relations, university publications and marketing. His claim to fame in public relations: threatening bodily harm to a governor, making the hottest damn hot sauce, and being in Malcom Gladwell's very first podcast.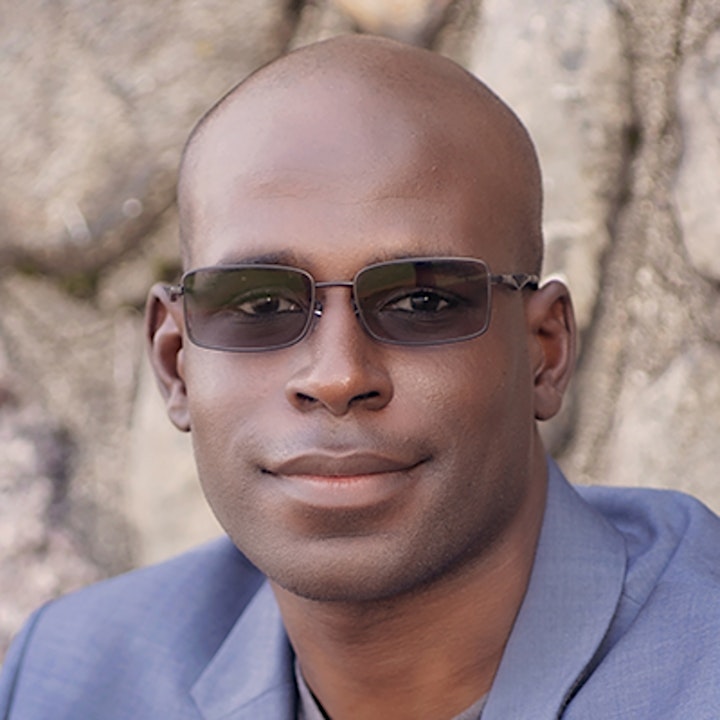 Joshua Charles
Director of Web Governance & Communications | Rutgers Business School
As a digital marketing manager and team leader, Josh Charles oversees website operations and marketing technology at Rutgers Business School.
He has contributed to the higher ed community in various capacities, including speaking on panels and presenting on topics such as management and leadership, and web governance. He is passionate about diversity, equity, and inclusion and can be found on Twitter @sirronoh.
Gail Towns
Executive Director, Marketing & Communications | Georgian Court University
For Gail Towns, it's all about powerful stories and using them to move others to act. Her curiosity for people and their passions have been a constant thread—from her early years as a reporter at the Atlanta Journal-Constitution to teaching and working at Western Michigan University and University of Cincinnati.
Today, the former parenting and community columnist puts her love for words to work at Georgian Court University in Lakewood, NJ. As GCU's executive director for marketing and communications, she leads a team of creatives who support for enrollment, fundraising, academics and government relations.