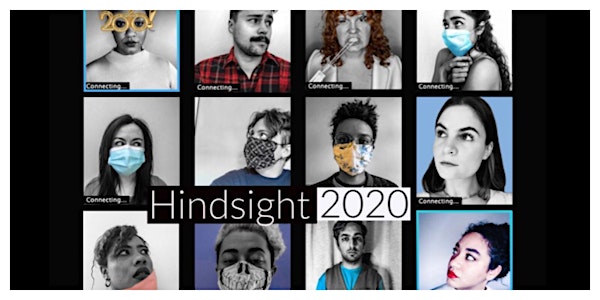 Hindsight 2020: A Theatrical Time Capsule
Hindsight 2020 is a devised multimedia time capsule answering the question: What parts of 2020 will you leave behind or bring with you?
About this event
Should auld acquaintance be forgot and never brought to mind? 2020 saw a global pandemic, over 60 countries protesting in solidarity with Black Lives Matter, widespread economic crises of historical magnitude, wildfires sweeping much of the world, and social and political unrest everywhere. There were births, deaths, Zoom weddings, virtual graduations, glorious concerts held from tiny balconies, and sporting events played out to stadiums full of cardboard cutouts.
Hindsight 2020, is a collaboration of international artists in various disciplines creating a devised virtual time capsule seeking to answer the question: What parts of 2020 will you leave behind or bring with you? Join us as we take a first foray into developing a new Zoom theatre medium. Through the archival and artistic process, they will attempt to make sense of a year that defies all categorization. 2020 was a year that changed the world. How has it changed you?
The concept of Hindsight 2020 was originated by Theatre Artist and Santa Cruz local Rebecca Haley Clark. She will be directing the piece, assisted by Cree Noble, a Chicago-based performer. Co-producer Those Women Productions envisions a world in which people of all genders and races are the protagonists of their own stories.
Showtimes (all in Pacific Standard Time)
Friday, April 16th: 7:30pm
Saturday, April 17th: 12:00pm (8pm - British Summer Time) *Just Added!
Saturday, April 17th: 7:30pm
Please help us to make this show a reality by donating here:
https://gofund.me/ff687240
Delivery: You will be sent a Zoom webinar link to access the show on the day of the performance.
Accessibility: Closed captioning available at all performances
CAST and CREW:
Directed and Conceived By: Rebecca Haley Clark
Devising Cast: Cody Holliday Haefner, Cree Noble, Gilda Mercado, Helen Hy-Yuen Swanson, Katherine Tanner Silverman, Rylan Gleave, Sanjay Lago, Simone Seales, Stephanie Mareen, and Vic Rodriguez
Assistant Director: Cree Noble
Dramaturg: Tanvi Shah
Poster: Ally Johnson
More Information:
https://www.rebeccahaleyclark.com/hindsight-2020
https://thosewomenproductions.com/our-productions/hindsight-2020/