Description
Years of prayer and Godly preparation have all come together to create this Amazing event for women. We trust that God will not only fill your hearts and minds on this day, but give you practiced tools from this event to take and share with others.
Prepare yourself for a full day of powerful worship by recording artist Jme Medina (www.jmemedina.com) as well as effective prayer and trainings, food, gifts and incredible teaching by anointed speakers and authors to include: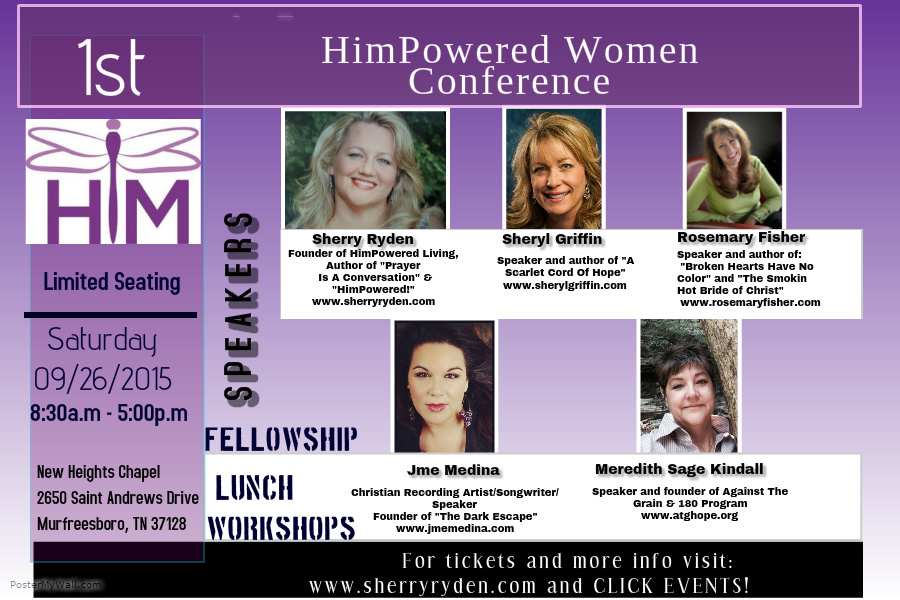 More about our Guest Speakers and Artist:
Sherry Ryden
Founder of HimPowered Living/ Author of "Prayer Is A Conversation" and "HimPowered!"
Jme Medina
Christian Artist/Songwriter/Author/Speaker and Founder of The Dark Escape Conference
Jme is a Christian Pop Singer/Songwriter and speaker that travels Internationally. She has a heart for youth, women, mission work, and training up disciples for Christ. Her aim is to stir a desire in people to passionately pursue a deeper relationship with the Lord and to think eternally minded. She uses her music to challenge hearts to move from apathy to action and from fear to faith to break the chains of bondage that so often control people's lives. She has shared the stage with artists such as Chris Tomlin, The Newsboys, The Afters, Jamie Grace, Natalie Grant, The Katinas, Mandisa, Kirk Franklin,Tammy Trent, and many more. She has played in numerous churches, festivals, conventions, youth groups and venues across the globe. Jme has 2 projects currently released - "Lay It Down" and "Dear Jesus" available world wide. She is currently working on her 3rd CD-due out in late 2016, which will be an offering of worship. Jme is from Las Vegas, NV and now resides in the Nashville, TN area. For more information on Jme, please visit her official website: www.jmemedina.com
Sheryl Griffin
Sheryl Griffin is an author and speaker who offers encouragement and hope to her audience. She speaks with passion and confidence gained from her own journey in search of HOPE. In her book, A Scarlet Cord of Hope, Sheryl shares that she suffered a severe panic attack in 2007, which led to the diagnoses of post traumatic stress disorder, along with panic and anxiety. This took her on a quest to find answers to the many questions she had regarding her past, her choices, and things that happened to her. She slowly began to recognize patterns in her life:
1. Always taking responsibility for others choices and behaviors.
2. Putting things under the rug-never confronting.
3. Ignoring red flags in relationships.
She began to journal at her doctor's request; she soon realized God had a much bigger plan than simply helping her find the answers to the questions she sought. It is a plan that she never dreamed of, but it has become a purpose and passion in her heart. The purpose is clear: to share the message of hope and all that comes with it; grace, mercy, freedom, and forgiveness.Sheryl struggled with guilt, shame, and fear for most of her life, and now God has opened the door for her to share the HOPE she has found.Hope for Today, Hope for Tomorrow, and Healing From the Past.Sheryl has been married to her husband Doug since May 1996. Sheryl and Doug have two children. They have lived in Tennessee since 1998. Although Tennessee is now home to Sheryl, she is originally from Northern California. For more information, please visit www.SherylGriffin.com
Rosemary Fisher
Speaker and author of: "Broken Hearts Have No Color" and "The Smokin Hot Bride of Christ"
Rosemary is a wife, mom, Author, Freedom Coach and non-denominational national conference speaker whose passion is to see those who profess to be Christian living a joyful, free and abundant life that draws others to Christ.Rosemary lived her life on both sides of the fence and although she was baptized at the age of twelve and believed in God, she had no evidence of her salvation until she cried out to God through brokennessat the age of 30 when evidence of salvation became real. Her first book, "Broken Hearts Have No Color" has caught national attention and was featured on the 700 Club, Christian Television Network (CTN), Bridges Show, Freedom Today and numerous television and radio programs promoting complete "freedom" and "wholeness" that can only be achieved through the transformational power of Jesus Christ.Her latest book "The Smokin' "HOT" Bride of Christ" was written for those interested in learning biblical truths on the importance of exchanging regrets now for future rewards at the Judgment Seat of Christ.For more information on Rosemary, her books and speaking ministry visit www.rosemaryfisher.com
Meredith Sage Kindall
Speaker and founder of Against The Grain & 180 Program
www.atghope.org
All of these women are praying in one accord for each of you. We trust God will speak through us as we cover important topics to all faiths and walks of life: Worship, Prayer, Forgiveness, Holy Spirit, and so much more!
Plan on bringing a friend, you won't want them to miss this!
Organizer of HimPowered Women 2015 Conference
Founder of HimPowered Living (www.sherryryden.com) Sherry is also the author and teacher of important topics on Prayer, the power of the Holy Spirit and other topics so relevant to women (and men) today. This conference has been building as an initial vision and dream in her heart, and through prayer, God has intentionally placed the other amazing conference speakers to come alongside her to present this conference to you.