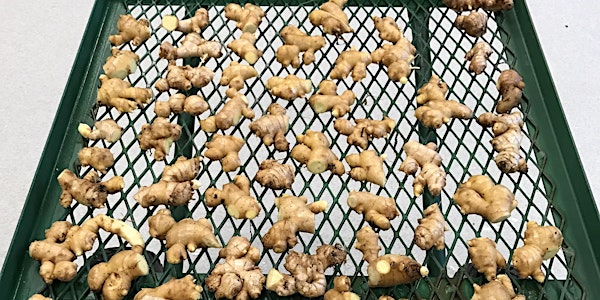 [HILO] Ginger Workshop: Part 1 of Multiplying Bacterial Wilt-Free Ginger in Pots
When and where
Location
Komohana Research & Extension Center 875 Komohana Street Hilo, HI 96720
Description
A Free Event for: Commercial Farmers & Department of Hawaiian Homeland Homesteaders.
In Hawai'i, the primary limiting factor for the commercial production of edible ginger is the disease known as bacterial wilt (caused by Ralstonia solanacearum race 4). First reports of this disease in Hawai'i were made in 1964, with subsequent crop losses reporte as high as 60% in 1993. Symptoms of bacterial wilt of ginger include leaf yellowing and curling followed by necrosis and lethal wilting of the plant. Since ginger is vegetatively propagated, it is important to plant seed pieces that are not infected with the bacterial wilt pathogen, because diseased seed pieces will develop into diseased plants and lead to crop losses.
This 2-part workshop series will instruct you on how to produce and harvest bacterial wilt-free ginger in 7-gallon plastic pots.
In the first part of this workshop series, participants will learn how to harvest ginger from pots, test ginger tissue for bacterial wilt using AgDia Immunostrips ®, and how to properly cut, cure, and store seed pieces in preparation for planting.
Part 2 of this series will cover production (planting, amendments, fertilization and cultural practices to avoid disease) and will be held on Wednesday, March 21, 2018.
Separate registration is required*
For more information on Multiplying Bacterial Wilt-Free Ginger in Pots, see our free publication online: