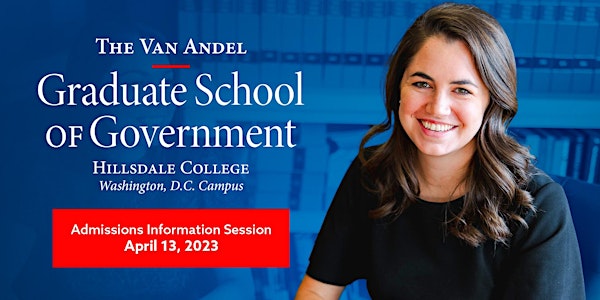 Hillsdale College DC Graduate School - Admissions Information Session
Learn about Hillsdale DC's Graduate School of Government and our part-time, professional M.A. in Government degree for young professionals.
When and where
Location
Hillsdale College Allan P. Kirby, Jr. Center 227 Massachusetts Avenue Northeast Washington, DC 20002
About this event
Learn more about Hillsdale College's Van Andel Graduate School of Government in D.C. and our part-time Master of Arts in Government degree for young adult, working professionals. Scholarships are given to all accepted students - usually up to full tuition! Apply today, and start this Fall!
Thursday, April 13, 2023 | 6:00 p.m - 8:00 p.m.  
Location: Hillsdale College | Washington, D.C. Campus, 227 Massachusetts Ave., NE, Washington, DC 20002
Food & Refreshments will be provided!
**NOTE: This is a private, invite-only event. Invitations cannot be transferred. If you do not register, you may be denied access at the door. Space is limited. If you have any questions, please email us at DCgradschool@hillsdale.edu.
EVENT DESCRIPTION
We welcome all young adult, working professionals considering a graduate degree starting in Fall 2023 and beyond.  Fall 2023-entry applications are due by May 15, 2023.
Come meet our Dean of Students, Director of Academic Programs, Executive Director of Outreach, professors and students, and members of the admissions committee at our in-person Admissions Information Session! Even if you've attended a previous session in the past, you are welcome to participate, network, and learn more about our M.A. in Government degree.
UNIQUE OFFERINGS
We're conveniently located on Capitol Hill near Union Station Metro
We offer scholarships for all accepted students - usually up to full tuition!
All classes are offered in evenings or on weekends - you don't need to leave your job!
We have small class sizes and easy access to faculty
Graduate in just 2-3 years! (Fall, Spring, and Summer classes available)
Have you thought about graduate school?  Maybe you've worked in DC for a few years and wonder what your next steps will be? Do you have a desire to learn more about America's founding principles and advance the cause of liberty and self-government?
If that sounds like you, Hillsdale College invites you to our Admissions Information Session. Come learn what Hillsdale College's M.A. in Government program has to offer.  Feel free to download our e-brochure as well!
Come prepared to learn and ask questions about our unique program. Feel free to watch this brief introductory video.
You could be one step closer to gaining a deeper understanding of American Government and becoming a statesman. To be a leader, you have to learn.  We look forward to meeting you!