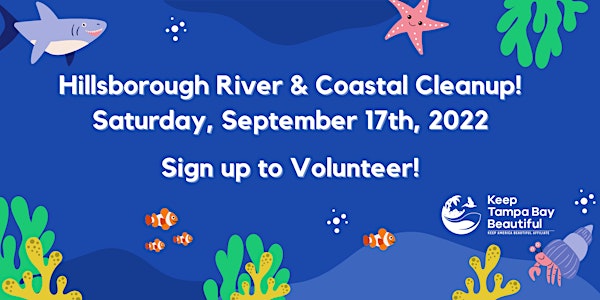 Hillsborough River & Coastal Cleanup 2022
Registration is open for the Hillsborough River & Coastal Cleanup!
About this event
Keep Tampa Bay Beautiful presents the Hillsborough River & Coastal Cleanup as part of the Ocean Conservancy's International Coastal Cleanup. Join us at various sites along the Hillsborough River, Alafia River, Little Manatee River, Lake Thonotosassa and other waterways throughout Hillsborough County.
Unlike a typical litter removal event, this annual event offers the opportunity for volunteers to engage in vital international research activities by taking on the role of "Scientific Data Collector" for a day. With a specific focus on water-based natural resource protection and activism, volunteers collect items and record the data to identify the number and types of littered items found. This information is used to determine future requirements for cleanup initiatives, and develop awareness of these needs within the local communities who share these waterways. Collected data is shared with Keep America Beautiful and the Ocean Conservancy, as well as local officials to help provide a local and global perspective.
Date: Saturday, September 17, 2022
Check-in: 8:00 a.m.
Cleanup: 8:00 a.m. - 11 a.m. (or until completion)(Times may vary by site)
Map of Locations: https://www.google.com/maps/d/edit?mid=1UF5N7qwgFsWVmqt8izlTI9X16B7X1iKz&usp=sharing
Green Sites - Open for volunteer registration
Orange Sites - Need a Site Captain (if you are interested in volunteering as a site captain for a site in need, please email projects@keeptbb.org.
Red Sites - Site has reached max capacity.
☸ Indicates location is open to BOATERS ONLY ☸
What To Bring
• Sunscreen
• Hat/Sunglasses
• Protective footwear (close-toed)
• Work or garden gloves
• Re-usable water bottle
Trash bags, water, and soft gloves are provided. We encourage you to bring a re-usable bottle if you have one. Promotional giveaways available while supplies last.