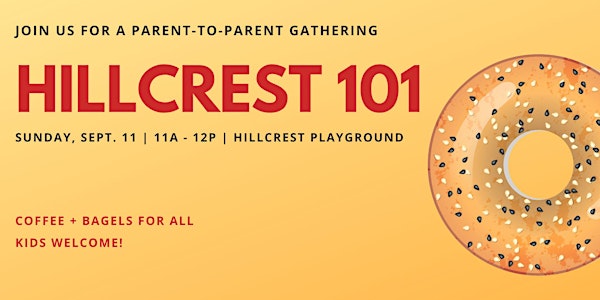 Hillcrest 101
Meet other Hillcrest parents & learn about the many community traditions and pre-pandemic routines that we're slowly bringing back to life!
When and where
Location
Hillcrest Elementary School 30 Marguerite Drive Oakland, CA 94618
About this event
Come meet other members of the Hillcrest community and learn more about school roles, traditions & procedures, including:
The Hillcrest PTA
Drop-off & pick-up best practices
The Hillcrest Benefit & Auction
School calendar of events
Any questions you might have!
PLUS: Want to volunteer for field trips this year? We'll have fingerprinting and TB screening available at the event to fast-track your OUSD volunteer clearance! (See below for full details.)
Kids are welcome! Please RSVP so we know how much food & drink is needed. See you there!
OUSD Volunteer Screening
Step 1: Register with the Oakland Ed Fund (OEF) by filling out the Volunteer Questionnaire for Parents and Guardians. If you plan to drive on field trips now or in the future, please select "Field Trip Chaperone (Driving students in my car)." There are fewer requirements for supervised (e.g., in class only) than unsupervised (e.g., field trip driver) volunteers. See Volunteer Options and Checklists for more info.
Step 2: Follow instructions in confirmation email from OEF, which will include submitting the items to osv@oaklandedfund.org, based on level of clearance required:
Liability waiver
Proof of COVID vaccination and waiver
TB clearance (see step 3)*
Livescan fingerprints (see step 4)**
Photo for ID badge
Step 3: TB clearance can be obtained by submitting:
Proof of a negative TB test, OR
TB Risk Assessment Form signed by a healthcare provider. *There will be Hillcrest parent-doctors on site at the Hillcrest Parent Orientation on Sunday, September 11th to sign completed forms
Step 4: After you register with OEF, you will receive a Request for Livescan Service form pre-filled with the proper DOJ codes, which you will need to take with you when you get fingerprinted. You can have your fingerprints done at any licensed Live Scan Location. **There will be a mobile fingerprinting service on-site at the Hillcrest Parent Orientation on Sunday, September 11th. To be fingerprinted, please bring:
Completed Livescan form;
Photo ID (Driver's License or DMV State ID); and
Livescan/DOJ fee ($42). The preferred method of payments are cash, Venmo, or check.