About this Event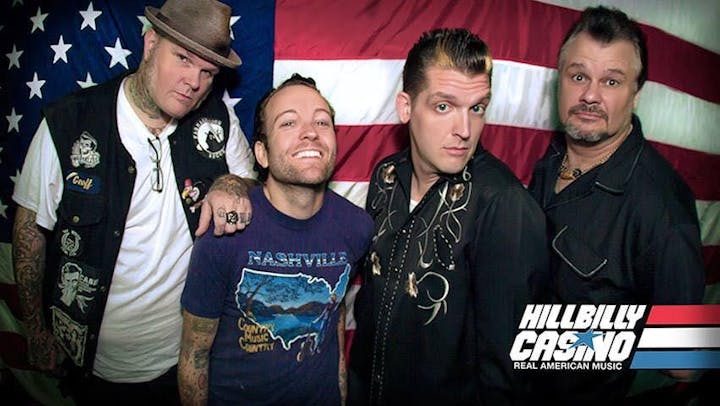 In a town known more for generating pop country 'hat acts' and contemporary Christian music, there is a storm brewing. Small independent bands with no management, booking, record labels (or even local media support) are changing the way people think about Nashville Tennessee.
Now they've got three full length CD's under their belt. 'Sucker Punched', (Dec.2006), 'Three Step Windup' (April,2008) and 'Hang Your Stockings….. Say Your Prayers' the band's Christmas CD (Nov, 2008). Each one totally DIY, produced and engineered by Firebaugh and Dickson and recorded in Andrew Dickson's garage, lovingly known as 'Studio D'. Each CD blends elements of honkytonk, rockabilly, psychobilly, and straight up rock and roll. Every member of the Hillbilly Casino brings their own special flavor to the band, from Nic's background in hip hop and rockabilly, to Geoff's love of old school punk rock and ska, and you'll find ROnnie_bios2elements of all of this in every Hillbilly Casino record and show. 2008 also saw the release of 'Buy-in' a full length Documentary by Doug Farrar at Rockstep Creative. Doug followed the band around for over a year, attending dozens of shows, and collecting performance, and interview footage, which he compiled into a revealing look at a band just trying to make a living and have fun.
While you'll see a lot of bands sitting around waiting to get 'signed', the Hillbilly Casino took a cue from bands like Black Flag, Fugazi, and Youth Brigade, booking their own tours, and producing and releasing their own CD's and T-shirts, and spending hundreds of hours in their old grey Econoline van getting the rock 'n' roll out to the people. From thirty minute opening slots, to 3 and 4 hour marathon sets, these boys are gonna bring their 'A' game, and you'll Geoff_bios2probably get tired before they do.
The Hillbilly Casino has performed along with the following national Acts…
Brian Setzer Orchestra (7 shows), Rev. Horton Heat, Rancid, Los Straightjackets, Southern Culture on the Skids, Th' Legendary Shack Shakers, The Horrorpops, The Matt_bios2Blasters, The Supersuckers, Doyle Bramhall, 7 Shot Screamers, Koffin Kats, Flatfoot 56, Lonesome Spurs, Three Blue Teardrops.
The Hillbilly Casino has performed at these festivals and venues… Gibson Amphitheater (Hollywood CA), Ryman Auditorium (Nashville, TN), House Of Blues (Chicago, IL), Headliners (Louisville, KY), Exit/In (Nashville, TN), Mercy Lounge (Nashville, TN) Bergenfest (Bergen, Norway), Kilkenny Rhythm and Roots Festival (Kilkenny, Ireland), Rockin' 50's Fest (Green Bay, WI), State Theater (Detroit, MI), Tractor Tavern (Seattle, WA), Rocketown (Nashville, TN), Rodeo Bar (New York, NY)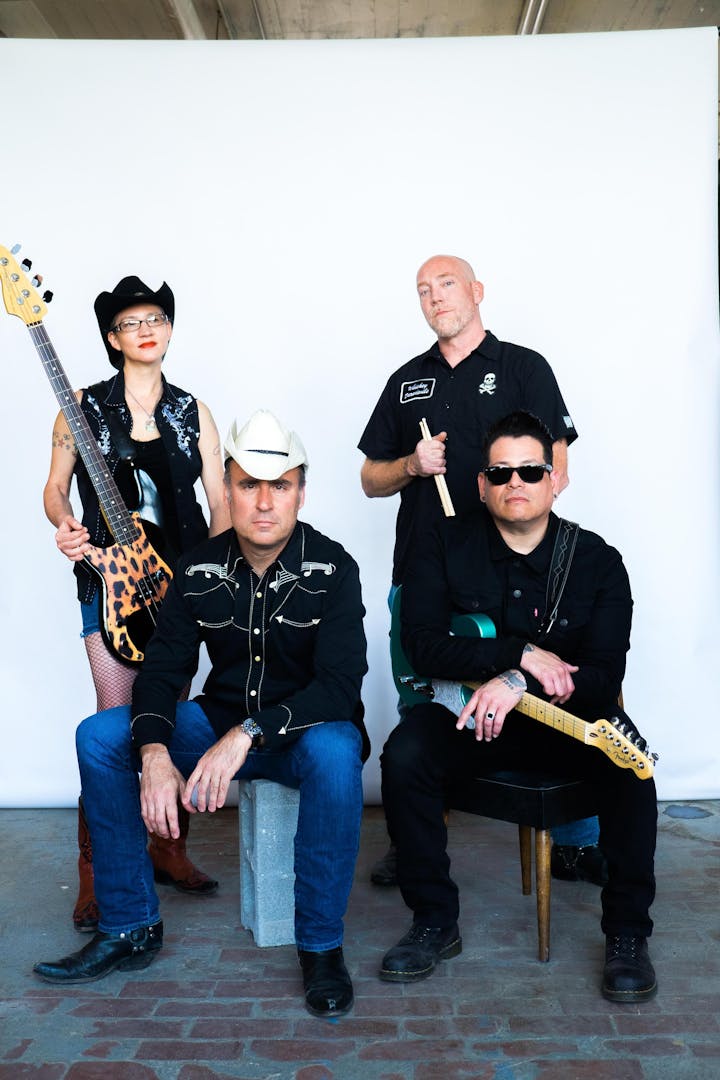 The Whiskey Daredevils might be the last honest-to-God cowpunk band standing on the American landscape.
Combining equal parts classic country, punk rock, rockabilly, surf and 60s garage, the Whiskey Daredevils continue to mine Americana music as a source of inspiration and identity. The Daredevils formed from the ashes of The Cowslingers, one of the most prominent bands in the garage/trash rock revival from the late 90s/early 2000s. Since 2004, original Cowslingers Greg Miller (vocals) and Leo P. Love (drums) have teamed up with bass player Sugar Wildman (Lords of the Highway) and now new guitarist Hex Mattos (Bomb City Royals/Hillside Gamblers) to carry the baton of their twisted vision of what American roots music is and should be in modern times as the Whiskey Daredevils.
The band has just released their 13th full length release, "American Songbook" recorded with producer John Smerek at Detroit's Rust Belt Studios in the summer of 2017. The record mines territory the band knows well, twisting standard American roots music forms to a logical conclusion of a gumbo of their influences. The songs focus on bad decisions and modern life in the underbelly of the American Midwest.
The Whiskey Daredevils are well known on the indie rock circuit, constantly out on the road. The band has showcased at SXSW, played every noteworthy indie rock club you can think of in America and Europe, and has played with a who's who of genre friendly acts like Willie Nelson, Southern Culture on the Skids, Dale Watson. Supersuckers, the Sadies, Blackberry Smoke, Legendary Shackshakers, the Trashmen, Reverend Peyton's Big Damn Band, Whitey Morgan, Hillbilly Casino, Left Lane Cruiser, Dick Dale, Brian Setzer, John Doe, Jason and the Scorchers, Nine Pound Hammer, and almost anyone else that you can think of that sounds anything close to them. The Whiskey Daredevils are a real American rock and roll band.