Event Information
Location
Brauer House
1000 N Rohlwing Road #13
Lombard, IL 60148
About this Event
HILLBILLY CASINO:
In a town known more for generating pop country 'hat acts' and contemporary Christian music, there is a storm brewing. Small independent bands with no management, booking, record labels (or even local media support) are changing the way people think about Nashville Tennessee.
One of the leaders of this movement is the Hillbilly Casino, the brain child of Nic Roulette, former singer for Indiana rockabilly powerhouse, 'The Blue Moon Boys". In 2004 Roulette moved to Nashville, where after about a year he eventually found a solid core of top notch players that were interested in really being a band. With bassist Geoff Firebaugh (BR5-49), guitarist Ronnie Crutcher (Tabasko Kat, Brian Setzer's Nashvillains) and drummer Andrew Dickson (Brian Setzer's Nashvillains) things really started to come together. What started as nothing more than a revved up rockabilly band playing for tips at Layla's Bluegrass Inn, on Nashville's famed Lower Broadway, has turned into a closet industry doing over 200 shows a year.
Though you might still find the Casino playing at Layla's when they're home, they've taken their show on the road as well. Theatres, clubs, and backwater bars From Hollywood, California to Bergen, Norway have seen the boys roll in, set up, and lay waste to any and all in attendance. Whether they're in some small club on their own, or supporting acts like the Brian Setzer Orchestra, Rancid, or The Reverend Horton Heat, these boys can play on any stage, in front of any audience, and own it. In December 2006, The Hillbilly Casino opened several dates for the Brian Setzer Orchestra, and every night this virtually unknown (at the time) band received standing ovations, and had new fans lining up to get their debut CD 'Sucker Punched'.
Now they've got three full length CD's under their belt. 'Sucker Punched', (Dec.2006), 'Three Step Windup' (April,2008) and 'Hang Your Stockings..... Say Your Prayers' the band's Christmas CD (Nov, 2008). Each one totally DIY, produced and engineered by Firebaugh and Dickson and recorded in Andrew Dickson's garage, lovingly known as 'Studio D'. Each CD blends elements of honkytonk, rockabilly, psychobilly, and straight up rock and roll. Every member of the Hillbilly Casino brings their own special flavor to the band, from Nic's background in hip hop and rockabilly, to Geoff's love of old school punk rock and ska, and you'll find elements of all of this in every Hillbilly Casino record and show. 2008 also saw the release of 'Buy-in' a full length Documentary by Doug Farrar at Rockstep Creative. Doug followed the band around for over a year, attending dozens of shows, and collecting performance, and interview footage, which he compiled into a revealing look at a band just trying to make a living and have fun.
While you'll see alot of bands sitting around waiting to get 'signed', the Hillbilly Casino took a cue from bands like Black Flag, Fugazi, and Youth Brigade, booking their own tours, and producing and releasing their own CD's and T-shirts, and spending hundreds of hours in their old grey Econoline van getting the rock 'n' roll out to the people. From thirty minute opening slots, to 3 and 4 hour marathon sets, these boys are gonna bring their 'A' game, and you'll probably get tired before they do.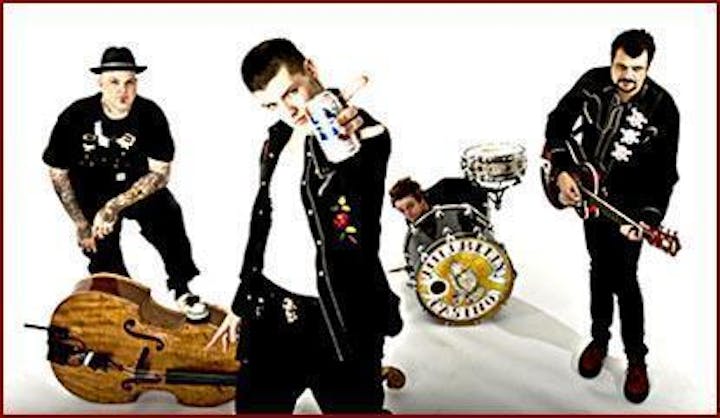 Performers
Date and Time
Location
Brauer House
1000 N Rohlwing Road #13
Lombard, IL 60148
Refund Policy