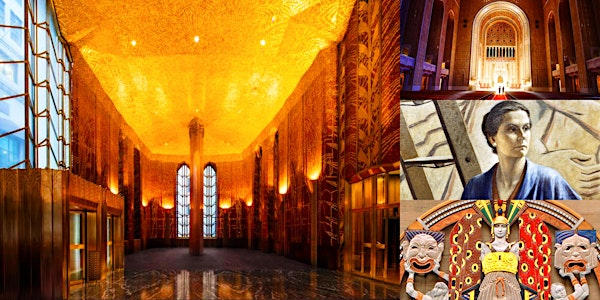 'Hildreth Meière: Designing New York City's Art Deco Aesthetic' Webinar
Can't make it live? Register and get access to the full replay for one week! New York Adventure Club | www.AdventureClub.com
About this event
Colorful glass-tiled mosaics. Eighteen-foot enameled relief sculptures. Magnificent ceiling murals. If you've walked by a beautiful art installation in New York dating back to the 1920s or '30s, chances are that it was created by native New Yorker Hildreth Meière. Who was this prolific, innovative, and talented artist who rose to be one of the most acclaimed Art Deco muralists of the early 20th century? And which sites around New York City feature her intricate designs that became integral to their overall aesthetic? From the roundels of Radio City Music Hall to the glass mosaics of the AT&T Long Distance Building, it's time to uncover the New York art of one of the city's most prominent artists like never before.
Join New York Adventure Club as we explore the life and legacy of painter, muralist, and decorative artist Hildreth Meière (1892-1961), with a focus on her most acclaimed Art Deco works throughout New York City.
Led by NYC Tour Guide Ginny Poleman, our digital showcase of Hildreth Meière New York artworks — many of which can still be visited today — will include:
A brief overview of Meière's New York City upbringing and her unique education that prepared her to eventually become a collaborator with some of New York's finest Art Deco architects of the time
How Meière broke through the male-dominated art and architectural world at a time when the industry recognized few women artists
Meière's sketches and inspiration for some of her most renowned works
Behind-the-scenes vintage images of the artisans who realized Meière designs, from concept drawings in the workshop to the final site installation
A close look at Meière's installations in some of New York's landmarked spaces, including the stunning mosaic works inside Temple Emanu-El, St. Bartholomew's Church, and One Wall Street (formerly the Irving Trust Company Bank lobby)
A mention of Meière's many awards, accolades, and achievements throughout her lifetime, such as serving as the first woman ever appointed to the New York Arts Commission
How the emergence of the clean, European-style architecture replaced the decorative Art Deco style, and ultimately pushed Meière's aesthetic out of favor
Afterward, we'll have a Q&A with Ginny — any and all questions about Hildreth Meière are welcomed and encouraged!
Can't make it live? Don't worry, you'll have access to the full replay for one week!
See you there, virtually!
*Immediately upon registering, you will receive a separate, automated email containing the link to join this webinar
**For the best possible viewing experience, please ensure you're using the latest version of your internet browser — Google Chrome is the most compatible. Exact technical requirements and a webinar user guide will be shared in the automated confirmation email upon registration.
***A full replay of the experience will be available to all registered guests for up to a week
About Ginny
Ginny Poleman is a graduate of Cornell University, a licensed NYC tour guide, docent for the Municipal Art Society, as well as an educational and costume collection guide for New York's largest art museum. Additionally, she offers private tours for her own company, NYC Encounters, covering New York City Art, Architecture, and History. You can follow her on Instagram and Facebook at @Art_Encounters and @NYC.Encounters.
Disclaimer
By attending a New York Adventure Club experience, you accept our terms of service.
Photo Credit: Main - Macklowe Properties, Bottom Right - International Hildreth Meière Association
Categories: Virtual, Art & Entertainment