An introductory lecture with documentary about the extraordinary 12th century nun and mystic, Hildegard of Bingen, followed by a discussion.
About this event
After more than 800 years in obscurity, Hildegard of Bingen has in recent years caught the modern imagination. Join us for the first of three lectures about the 12th century abbess and her remarkable creativity following a visionary experience in her early 40s. She composed music, poetry and the first known morality play; she wrote theological books and was the only medieval woman to preach openly to a mixed audience; she also explored the sciences – medicine, botany and cosmology.
Following a screening of the documentaryIn the Symphony of the World: A Portrait of Hildegard of Bingen, author Teri Degler will lead an in-depth discussion of the film, exploring Hildegard's profound mystical experience. Teri has been writing about extraordinarily creative women saints and mystics for over three decades. Hildegard has long been her favourite.
We will have complimentary tea and coffee, as well aas some treats for sale prepared by our baker Laurel Toews from Hildegard's recipes.
Tickets to the first lecture, $15 in advance on this Eventbrite page; $20 at the door. Buy the whole series for just $40 at hildegardlectures.eventbrite.com.
Learn about the art in Hildegard's manuscripts with art historian Rebecca Golding on Sunday, Sept. 29, 3:00 p.m.; and about her music with the Trio Cordium Voces performing her music on Sunday, Oct. 6, 3:00 p.m.
(The image below, left, shows man as microcosm of the universe in one of Hildegard's manuscripts. It predates Leonardo's famous drawing on the right by 300 years.)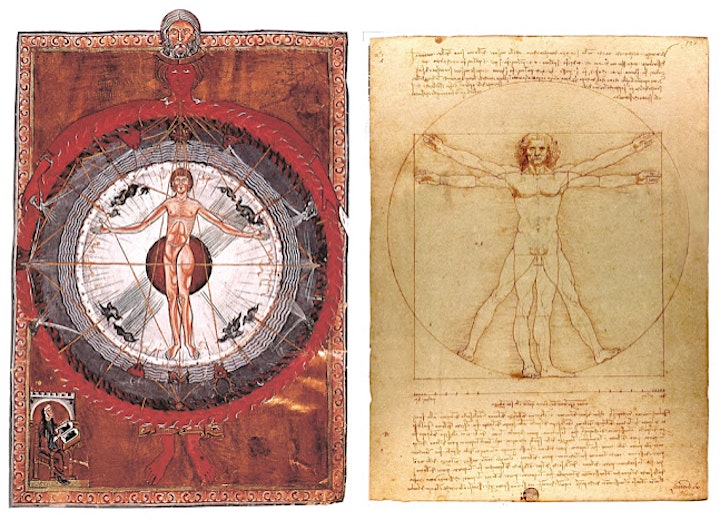 Organizer of Hildegard of Bingen Introductory Lecture: Her Life and Mysticism