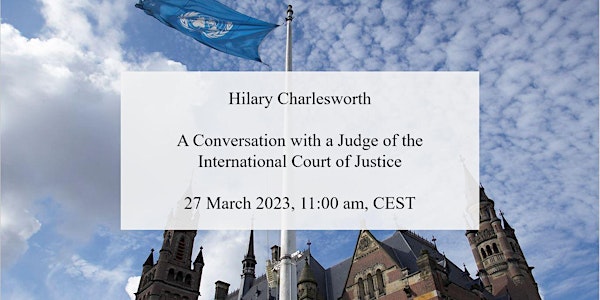 Hilary Charlesworth: A Conversation with a Judge of the ICJ
This event is organised by the Minerva LAW Network
Date and time
Mon, 27 Mar 2023 02:00 - 03:00 PDT
About this event
Judge Charlesworth is a current Judge of the International Court of Justice (ICJ) who is globally renowned for her academic work in international law. She has extensive international legal and academic experience working with a variety of legal systems, including in the Indo-Pacific region. As one of only five women elected as a permanent judge in the Court's 77-year history, she brings valuable gender diversity to Court. She currently serves as a Judge of the Court following her election in November 2021 after the passing of the late Australian Judge James Crawford.
Prior to joining the ICJ, Judge Charlesworth was a Laureate Professor at the Melbourne University Law School, a Distinguished Professor at the Australian National University, and served as Judge ad hoc for the ICJ on two occasions, in the cases of Guyana v Venezuela and Australia v Japan. She is a graduate of both the University of Melbourne and Harvard Law School, from which she holds a doctorate of juridical science.
Judge Charlesworth's award-winning research and publications span diverse areas, including the structure of the international legal system, peacebuilding, human rights and humanitarian law, as well as ground-breaking scholarship on gender and international law. She has published over 130 book chapters and articles, authored or co-authored 11 books on international law, and currently holds a number of editorial positions, including with the American Journal of International Law and the Asian Journal of International Law.
About the organiser
The Minerva LAW (Legal and Academic Women's) Network speaks to those researchers who have legal training, are undertaking legal research, and are thinking of pursuing a career in law, broadly defined. The remit of the network includes the traditional professional model: entering the legal profession and becoming a fully qualified lawyer according to standards and training of the jurisdiction. Yet, there are other pathways too, including a career in a law faculty or school in a university setting. Employers outside of higher education also seek to recruit those with legal training. Government bodies and policy-makers rely on legal research; journalism, publishing and recruitment are also high profile alternative careers. There are also career paths in the supra- or international civil service or for a variety of non-governmental organisations. Minerva LAW Network will act as a focal point to discuss pertinent issues, such as how to gain entry level positions, strategies for career advancement and barriers to progression, as well as other matters relating to gender and the law.
Events are usually held on the last Friday of each month!
You can expect an informal atmosphere for listening, learning, and talking through professional challenges and opportunities. To encourage participation and to protect your privacy, we do not record any of these meetings.
The Organisers are:
If you would like to get in contact, please contact:
minervalawnet@law.mpg.de