Sales Have Ended
Ticket sales have ended
Thank you for your interest. Registration is now closed.
Sales Have Ended
Ticket sales have ended
Thank you for your interest. Registration is now closed.
Description
Enjoy this laid-back, chillax weekend with a couple hikes, a cooling swim in the lake, and a relaxing canoe or kayak paddle. There will be social hours, bonfires, s'mores, yoga, qi gong and more! We have several options for you. We will have two hikes, two bonfires, two happy hours and three count them three afternoons of swimming and paddling at the Corman AMC Harriman Outdoor Center. You have the option of coming on Friday or Saturday and spending a night or two with us or you can come for the day on Saturday. It's up to you.
The itinerary: Subject to change at the leader's discretion.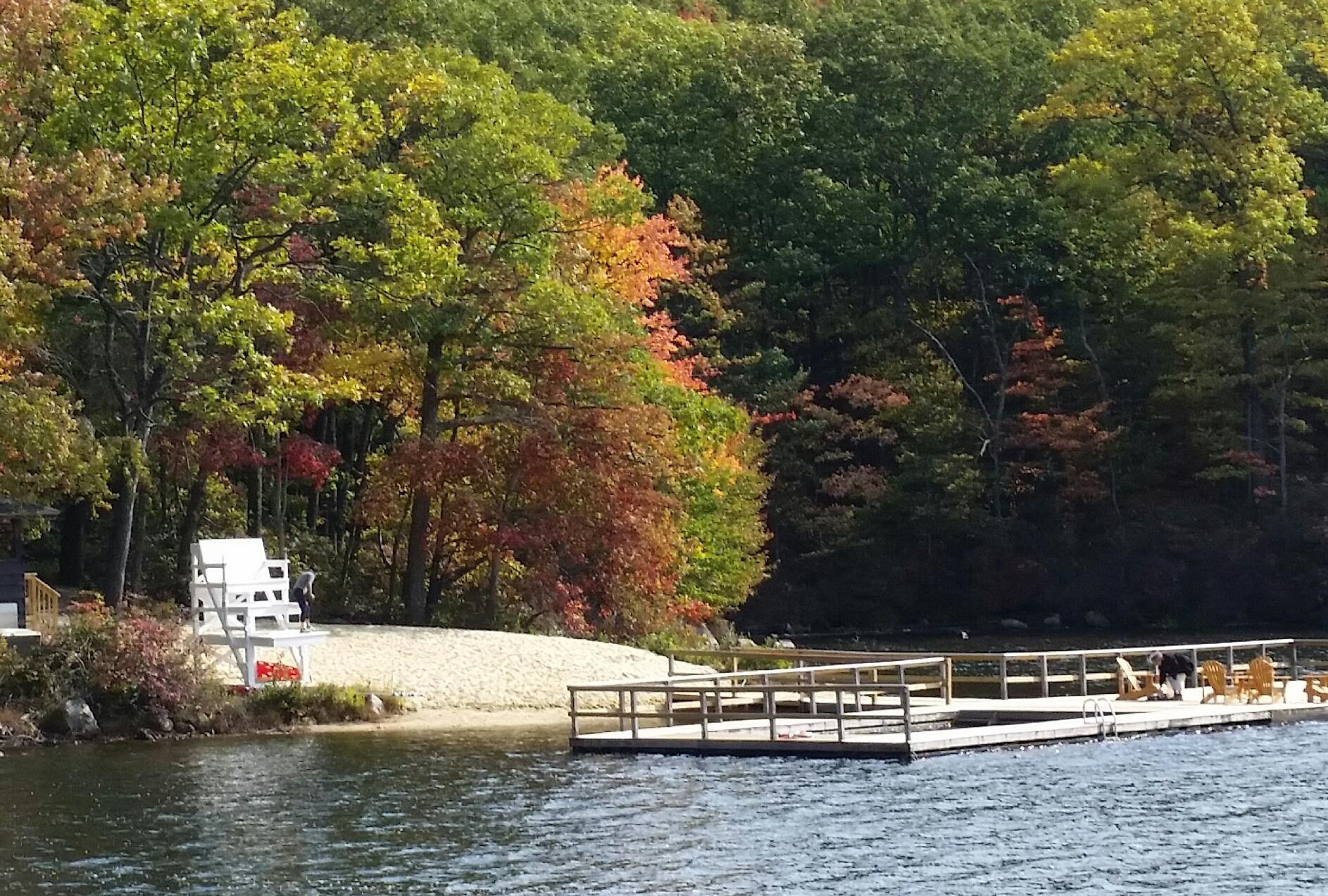 Friday Night Arrivals: Check-in is at 3pm Happy Hour starts at 5pm & dinner begins at 6 and goes until 7:30. Dinner is optional and you must purchase dinner at check-out if you are planning to dine at the camp on Friday. There will be a bonfire and S'mores after dinner. We will be enjoying breakfast in the dining hall on Saturday. If you plan to arrive on Friday you are welcome to swim, paddle and enjoy the camp after you check-in. You can purchase a trail lunch for Saturday at check-out if you need one.
Saturday Arrivals, both overnight and for the day: We will be meeting the bus in Sloatsburg at 9:15 and then shuttling to the camp. If you are coming via mass transit or driving PLEASE sign up on the carpool site as either needing a ride or being able to provide a ride (carpool information is at the end of the notice). After everyone has been shuttled to the camp and signed the waivers we will go for a scenic hike. The hike will be leader's choice. It will be a moderate pace and beginner friendly of approximately 8 miles. After the hike everyone can enjoy some swimming, paddling, socializing, napping (if you have an extra hammock......) , Happy Hour bring snacks and drinks to share if you can. I'm bringing a portable grill if you want to cook something for Happy Hour. Then we'll have dinner followed by an after-dinner bonfire and smores. This is a special note for those who are only coming for the day on Saturday. The last time I held this event everyone was having such an enjoyable time that they stayed through dinner and we shuttled people back for the last bus to the city. The food at the camp is excellent, the company is wonderful so consider having dinner and s'mores with us then taking a late bus or hitch a late ride back to the city. You can purchase Saturday dinner as an option at check-out.
Sunday Morning: Breakfast & Camp Breakdown. We need to be off the platforms by 11 am, although you are welcome to enjoy the camp until 3 pm. There will be a 3-mile hike after breakfast on Sunday. You will be able to purchase a trial lunch for Sunday at check-out.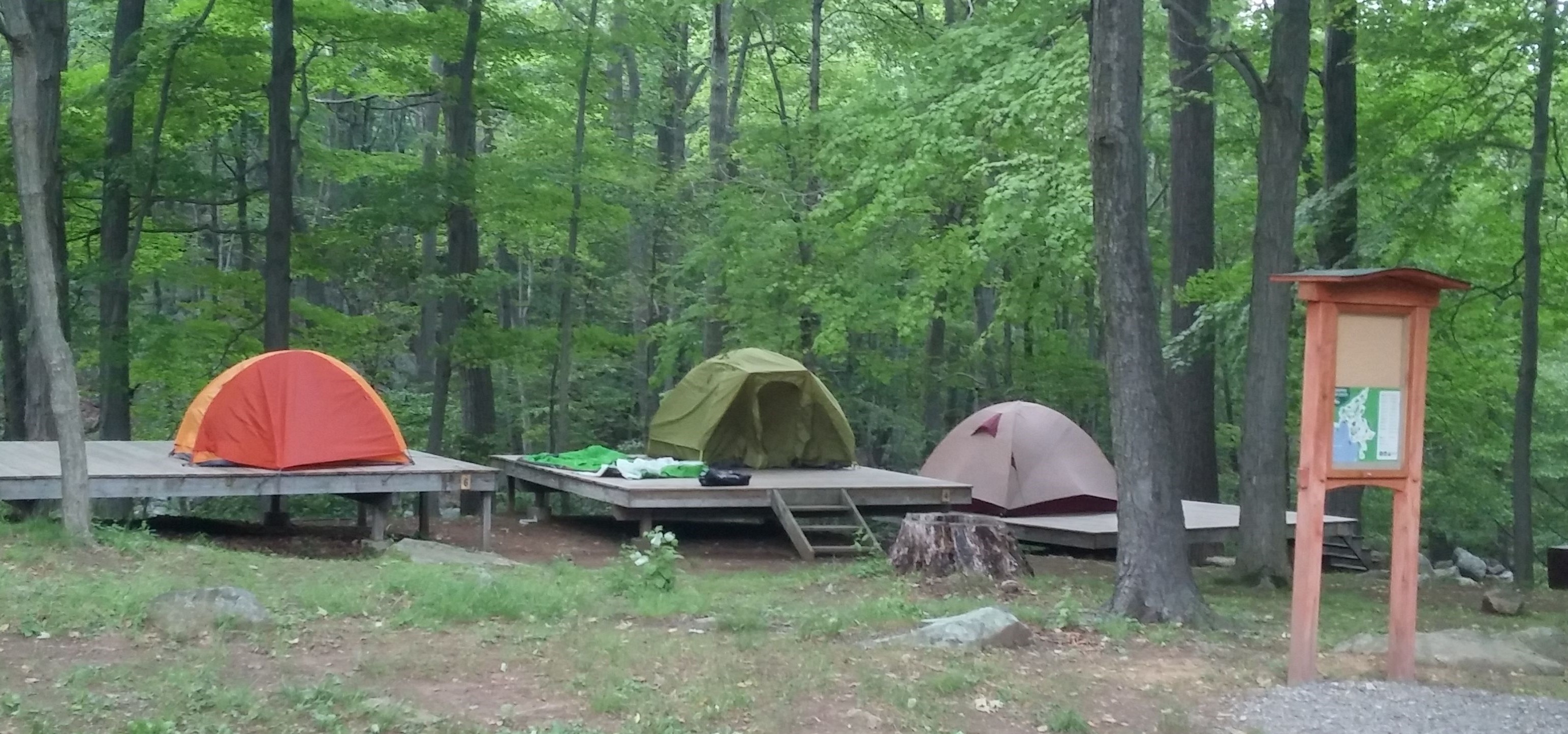 If it rains we get wet. We aren't going to cancel the event.
Accommodations: We will be camping on tent platforms. If you don't have your own tent we have one to loan you for the weekend. Our meals (other than lunches) will be in the Dining Hall. The food at the camp is excellent! BYO lunch (or purchase trail lunches separately), adult beverages and Social Hour snacks to share.
You will need to bring a tent, sleeping pad, sleeping bag, towels, yoga/hiking/swimming/paddling gear, sunscreen, bug spray, headlamp, hat, water bottle, and personal toiletries. We share space on 6 tent platforms, so please be considerate when setting up your tent (and save the Taj Mahal for another day). A detailed list will be provided a week prior to the event.
This program is led by volunteer leaders. Paddling and yoga equipment are provided free of charge courtesy of the NY-NoJ Chapter. Personal canoes & kayaks are allowed; no permit is required.
Space is limited to 24 guests.
Cost:
Saturday nights dinner is included in all overnight packages. Breakfast is also included in overnight packages
Friday Arrival: $75 members / $90 non-members -
- Rate includes 2 nights camping, 2 happy hours, 2 hikes, 2 yoga sessions, 2 bonfires, 2 breakfasts, dinner on Saturday night and lot's of time to go swimming and paddling. This means 1 spot on a tent platform for Friday and Saturday nights, Breakfast on Saturday and Sunday mornings, Dinner on Saturday night, Happy Hours & Bonfires coordinated by volunteer leadership.
Saturday Arrival with spending the night: $65 members / $80 non-members
- Rate includes Camping on Saturday night, Dinner on Saturday night, Happy Hour, twilight qi gong a bonfire, 2 hikes, Sunday Breakfast & yoga plus lots of time to enjoy the swimming and paddling. So: 1 spot on a tent platform for Saturday night, Breakfast on Sunday morning, Dinner on Saturday night, Happy Hours & Bonfires coordinated by volunteer leadership.
Saturday, Day Trip, no overnight stay: $16 members / $21 non-members
- Rate includes a wonderful hike followed by some playtime in the camp. Swimming, paddling, napping, etc. We will have a nice happy hour for you (BYOB). If you want to say for dinner on Saturday it is an additional $23. After dinner there is a bonfire with s'mores and story telling.
Additional Meals to purchase. Please keep adding meals until you think you will be full.
-Dinners are $23 and the food is excellent! Friday dinner is not included with any package. If you are spending the night Saturday dinner is included. If you are coming for the day on Saturday you should stay for dinner and the bonfire it's a lot of fun.
-Trail Lunches ($13) It has a sandwich usually some chips and a candy bar of some sort. For some reason, they put a piece of fruit in there, I find that just adds weight to my pack so I will barter for your candy bar.
Rates exclude EventBrite processing fees for Non-Members.
You can join AMC for only $40! To receive the members discount on this trip and enjoy all the other AMC membership benefits just click HERE. Your membership dues are partially tax deductible.
Group CarPool information: We will be shuttling from the Sloatsburg to the camp. If you are driving and would like to provide a ride from your home location please enter that in the CITY field and the time you are departing. If you will be driving and meeting with us at the bus stop please enter Sloatsburg, NY as the city with a 9:15 am departure time. If you are coming on Friday and can provide a ride please enter your car information. In the notes field please say Friday so people don't get confused.
http://www.groupcarpool.com/t/e80csm
Camp is accessible by public transportation. The camp provides a shuttle to/from Tuxedo for $5.00. If you are coming via mass transit on Friday and for your return trips on Sunday you might need to schedule a ride.
Cancellation Policy: Reservations cancelled more than 14 days in advance receive a full refund minus a $25 processing fee. Reservations cancelled 14 days or less in advance are not refundable. If the AMC must cancel a program, registrants will be notified and all fees will be refunded. Normal weather conditions will not cancel this program.
For more information about Corman AMC Harriman Outdoor Center .. http://www.outdoors.org/lodging-camping/Lodges/harriman/index.cfm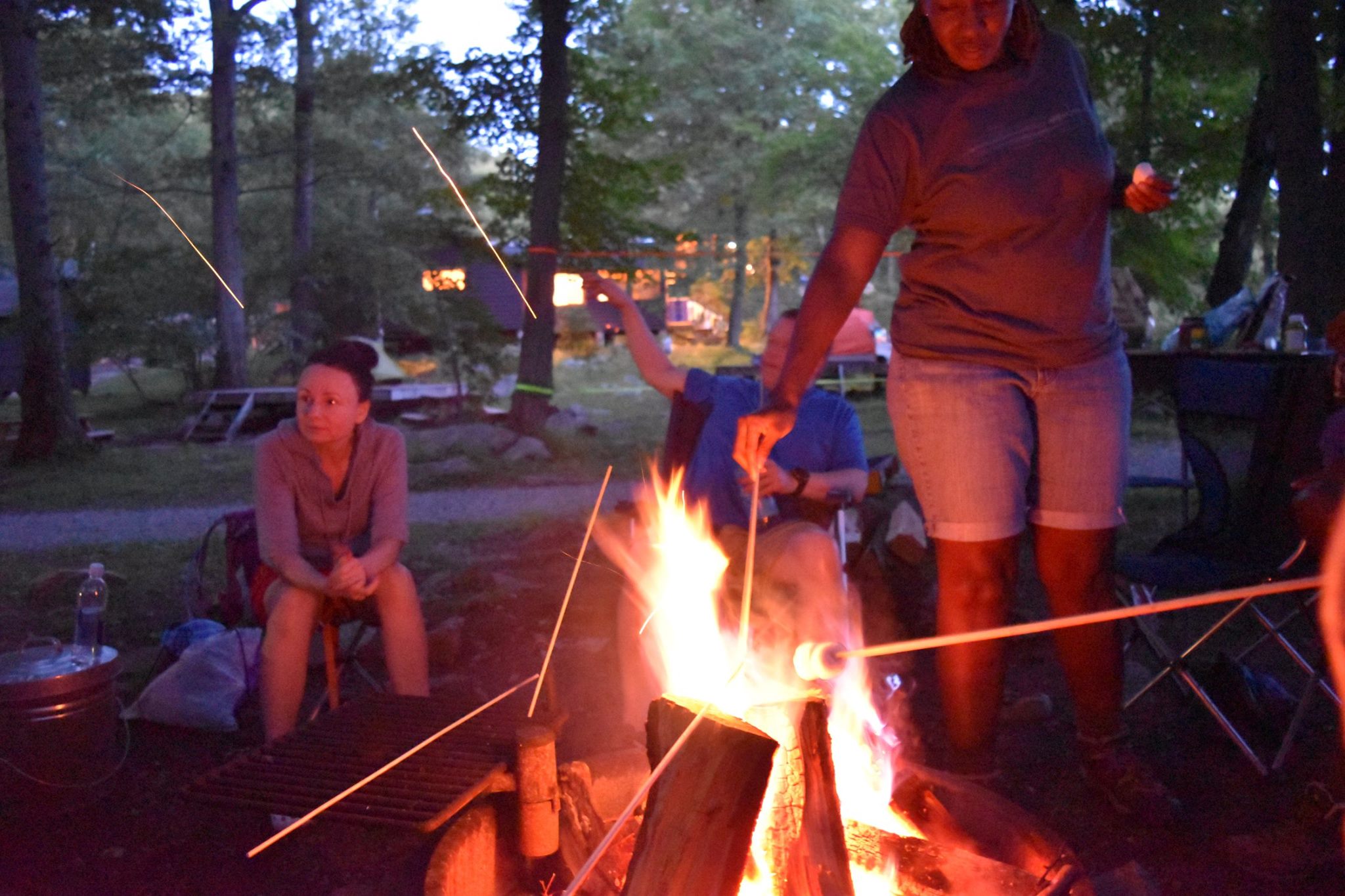 Images from one of our previous stellar weekends