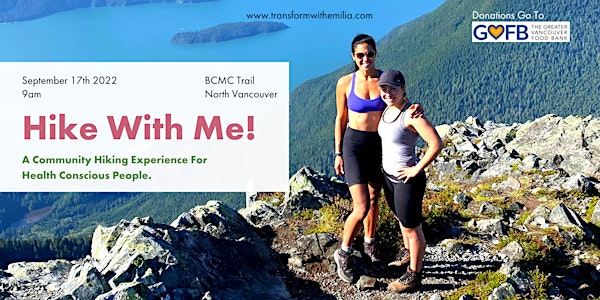 Hike With Me! A Community Hiking Experience For Health Conscious People.
A hiking experience with likeminded people who want to add hiking to their healthy living goals as a fun, new way to stay fit.
When and where
Location
BCMC Trail BCMC Trail North Vancouver, BC V7R Canada
About this event
Experience a morning hike with likeminded people who long to discover hiking as a fun, new way to add to their healthy living goals while also exploring the local Vancouver outdoors.
Come along and join hiking enthusiast, Personal Trainer, and Mental Fitness Life Coach Emilia D'Aversa.
Donations will go the Greater Vancouver Foodbank.
Do you want to start hiking as a new way to be active while also discovering the beauty of what Metro Vancouver has to offer?
Have you held back so far because you don't know where to hike, how to get started, or how to make it work?
Would you feel more safe and think you'd enjoy the experience more if you didn't hike by yourself?
If you answered 'yes' to any of these questions, then please come along. This community hike to the Grouse Mountain Lodge in North Vancouver (along the BCMC Trail), together with like-minded people, is the place for you.
Facilitated by local hiking enthusiast, Personal Trainer, and Mental Fitness Life Coach Emilia D'Aversa, you'll be in trusted hands for a fun way to get moving while taking in what our local nature has to offer.
Imagine…
You know what to wear, bring, and expect from a challenging yet rewarding hike up Grouse Mountain towards the Grouse Mountain Lodge.
You, and other like minded people, will meet at the base of the mountain, get to know each other a bit, before Emilia expertly leads you through some simple and effective stretching exercises before you start your hike.
The giant trees along the path provide shade from the morning summer sun as you happily connect with others in the group who also value positive and supportive company.
You take in the beautiful scenery, are exhilarated by the energetic experience once you're at your destination.
There's time to linger and explore Grouse Mountain Lodge and take in the breathtaking scenery around you.
After 2-3 hours maximum, you take the gondola to the base of the mountain together, you reflect on a fun, challenging morning hiking, connecting, and discovering new scenery.
Why join the Community Hike Experience?
Have fun getting active outdoors and incorporate hiking into your healthy living goals.
Enjoy the beautiful B.C. (i.e. Grouse Mountain and surrounding areas) by hiking one of the most popular, local hiking trails.
Experience community and get connecting with like-minded people face to face while hiking a 3.1km challenging trail.
What's included?
Co-ordinated 2-3 hour hike in community
Stretching exercises before the hike
Facilitated connecting with likeminded people
3 Important Notes
To return to the base of the mountain, we'll use the Grouse Gondola at approx. $ 20 per person which is to be paid for by each participant directly to the Gondola operator on the day as this is not included in the ticket price. A hike downhill is not recommended as the steep, rocky slopes can be dangerous to descend.
You'll need to bring the signed Waiver form with you on the day of the hike. A copy of the Waiver will be sent to you beforehand.
The 3.1 km trail route is considered difficult or challenging. If you have any questions if this is the right hike for you, please check out these reviews/comments and/ or contact Emilia D'Aversa at hello@trainwithemilia.com.
Logistics
Registration and signed waiver required.
When: September 17th 2022, 9am
Where: BCMC Trail, Grouse Mountain, North Vancouver (exact meet up place to be communicated closer to the date)
Duration: 2-3 hours (This timeline is based on the group returning with the gondola, hiking at a slow pace, and taking our time at the Lodge destination.)
Bonus
The Community Hiking Experience is FREE.
However, a donation is encouraged if you can. All donations will go to the Greater Vancouver Foodbank.
FAQs
Where exactly are we going? Is this the Grouse Grind that I've heard so much about? We'll be hiking the BCMC which is a 3.1 km point to point trail from the base of Grouse Mountain to the Grouse Mountain Lodge, then take the gondola back down (see also next question.) While the trail is classified as difficult or challenging with a 853 meter elevation gain, it is not as challenging as the Grouse Grind hike.
Why do we take the Gondola back down? We'll be following what the majority of hikers are doing and take the Gondola back down. Here's what Vancouver Trails has to say about it: "... most people take the Grouse Gondola back downhill as the steep, rocky slopes can be dangerous to descend…. The distance and time for this trail are a one-way trip… as it's assumed hikers will take the gondola back down." Tickets can be purchased in the Grouse Mountain Lodge at around $20 and are to be paid for by each participant on their own.
What if the weather is really bad? This is an all-weather event. Unless the trail will be closed due to dangerous weather conditions, the hike will go ahead. See FAQ below on what to bring.
Is the trail suitable for me? The 3.1 km trail route is considered difficult or challenging. If you have any questions if this is the right hike for you, please check out these reviews/comments and/ or contact Emilia D'Aversa at hello@trainwithemilia.com.
What do I need to bring? Check out the weather forecast for the day. Please be prepared for inclement weather so layer up with a wind/ water resistant jacket, durable pants, sturdy shoes/ boots, and head gear. This also applies to when temperatures are set to be high on the day. Bring sunscreen, sun glasses, water, snacks.
Are there washroom facilities? There are bathroom facilities at the bottom near the Grouse Mountain Gondola and at the top in the Chalet. There are no toilets on the trail.
Can I bring my dog? Dogs are not allowed on this particular trail.
I don't have a car. How will I get to Grouse Mountain? From downtown Vancouver, take the Seabus across to North Vancouver and transfer at Lonsdale Quay onto bus #236 to Grouse Mountain. This bus will take you directly to the base of Grouse Mountain where the trail starts. People who travel from East Vancouver or Burnaby may find it easier to take a bus to the Phibbs Exchange bus loop in North Vancouver and then take bus #232 to Grouse Mountain. (Source)