Hike Blue Hills with NetSAP Boston

Saturday, June 20, 2015 from 9:00 AM to 11:00 AM (EDT)
Event Details
Join NetSAP Boston in hiking Blue Hills in pleasant weather of Boston. We will meet at Blue hills ski area parking lot at 9AM and start the hike at 9:15AM using red dot trail and join blue, skyline trail. We will revert from Reservation Headquarters in loop of blue dot trail and visit Eliot Tower. Total trip distance is around 2.5 – 3 miles and should take around less than 2 hours. Distance can be increased if majority of group is interested. This hike is rated as easy/beginners. Eventbrite registration is mandatory. Children and pets are not allowed. Waiver form will need to be completed.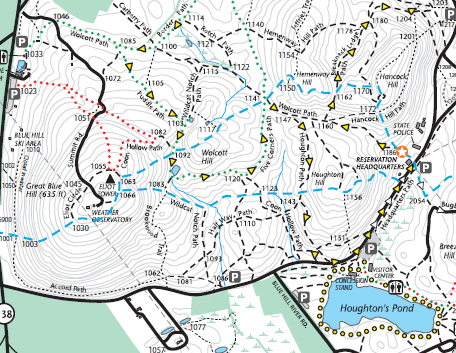 Safety Instructions and Disclaimer: Please go through hike responsibility safe code (follow the link in blue below) for all essential gears, clothing requirement, first aid and emergency items for any summer hike. This time of the summer temps will be in high 80s, so bring water and food for you. As a condition of your voluntary participation in this activity you acknowledge and agree to the following: this activity involves inherent risks that can cause property damage, injury, illness, disability, and/or death to participants and/or others; you assume all risk associated with this activity; you are responsible for having the necessary knowledge, skills, abilities, clothing, and equipment to safely participate in this activity; you know and will follow the Hike Safe Responsibility Code; the organizer(s) of this activity are volunteers; and you release, hold harmless, and indemnify the organizer(s) and all members of NetSAP Boston from any and all claims for property damage, injury, illness, disability, and/or death - including those caused by negligence and/or other reasons
Venue, Parking, Directions:
Blue Hills Ski Area, 4001 Washington St Canton, MA 02021 The parking lot for this hike is Blue Hills Ski Area parking lot. Parking is free. There is no direct T access; Bus 716 which has a stop at blue hills can be boarded from Mattapan.
Ticket information: Eventbrite Registration is mandatory
Sponsored by: NetSAP Boston
Contact information: Sujit Jain
Event host email ID: sujit@netsapboston.org
When & Where

Blue Hills Ski Area
4001 Washington Street
Canton, MA 02021


Saturday, June 20, 2015 from 9:00 AM to 11:00 AM (EDT)
Add to my calendar
Organizer
NetSAP Boston
Our Mission
NetSAP Boston's mission is to serve as the unequivocal voice for the South Asian Diaspora by developing and engaging a cohesive network of professionals to benefit the community.
Our mission is to be more than just a networking forum. We also aspire to be the facilitating vehicle used by South Asian professionals to improve and enhance the communities in which we work and live. NetSAP Boston lays the foundation for the best and brightest to forge cohesive relationships to work together for a lifetime. We are not just today's professionals who are the backbone of NetSAP Boston, but we are also simultaneously emerging to be tomorrow's leaders in business, politics and civic life. We will continue to interact closely with many of the acquaintances we make through our experiences within the NetSAP Boston organization.
NetSAP Boston believes that creating a strong personal bond between our members will strengthen our community across North America, as well as our ties to each other. To that end, our focus continues into the areas of economic growth and security, cultural awareness and preservation, family needs, and promoting education and learning. As an organization, we continuously persevere to help and give back to our local communities by recruiting experts in areas such as health care, banking, education, finance and technology.
NetSAP Boston believes that our members are undeniably our greatest resource. We strive ardently to work with everyone in our local communities to provide a single platform for progressive professionals to target the many opportunities and challenges that come our way.
The Spirit
It is the passion, energy and drive of our members that encompasses the spirit of NetSAP Boston! NetSAP Boston significantly impacts the lives of many South Asians and provides a lifetime of memories that they will forever remember and cherish. Our members come to us for one important reason: the Human Connection. People join NetSAP Boston to forge lasting relationships with others and their community. While, the human connection is the single most fundamental drive we all have, NetSAP Boston delivers much more for the overall development needs of South Asian Professionals
Hike Blue Hills with NetSAP Boston