About this Event
About WEAVE:
WEAVE works to build a community that does not tolerate sexual assault, domestic violence and sex trafficking and provides survivors with the support they need to be safe and thrive.
For more info, visit weaveinc.org
Our eighth edition of Hike and Hit will be a very unique experience - a sunrise hike. Sunrise hikes hold a special place in our hearts and is an experience like none other. Just like most unique and rewarding experiences, hardwork and sacrifices will have to be made. We will be meeting at the Bayview Trailhead at 4:00am. Sunrise is estimated to be at 6:47am. Please park on the side of HWY 89 prior to entering the Bayview Campground. Also, be mindful of keeping the noise down as there will be people sleeping in marked campgrounds.
The hike will be lead by Nate Sengmany and is very unique since we start in the dark. Please be prepared to not only sweat, but push yourselves physcially and mentally. There will not be a workout session due to the 1.8 mile uphill hike that gains at least 1,700 feet.
What To Bring: An upbeat, positive attitude with an open mind. Water - a minimum of 2-3 liters per person, headlamp or flashlight (very necessary), sleeping bag or blanket to stay warm while watching the sunrise (optional), coffee mug for fresh brewed french press (coffee provided). This trail is clearly marked, however, there are other trials that fork off of this trail. Although we will provide Trail Snacks, it is recommended you bring the appropriate nutrients for yourself for this activity.
Everyone participating must sign & turn in our liability waiver - which can be e-signed here:
https://app.waiverforever.com/pending/UggCGObxGH1546728077
*Disclaimer: Outdoor activities can be dangerous. By attending the event you agree to all the risks associated with being outdoors. Always do your research and come prepared.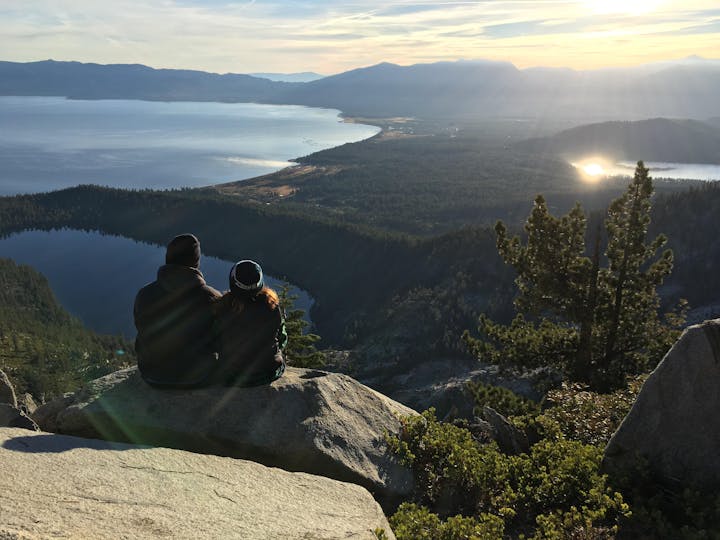 Hike Info:
This Hike and Hit Event is hosted on a Saturday due to the location and early start. We wanted to keep the options open for particpants if they wanted to make a weekend out of it and find a local place to stay the night, either before or after the hike.
Location: Maggie's Peak at Bayview Trailhead - Emerald Bay Rd, South Lake Tahoe, CA 96150
Distance: Approx. 3.6 miles RT, Out & Back
Difficulty: Moderate/Hard - Rated 5 out of 5 Stars
Hike Leader: Nate Sengmany // @nateintheclouds
Lead Trainer: Jose Romo // @joseromo1000
Photographer: Brett Macadam // @macadamphotography
*Parking is free but fills up quickly. Carpooling is recommended and options can be made available. Please email hikeandhit@gmail.com for more details. Donations go towards the growth of Hike & Hit.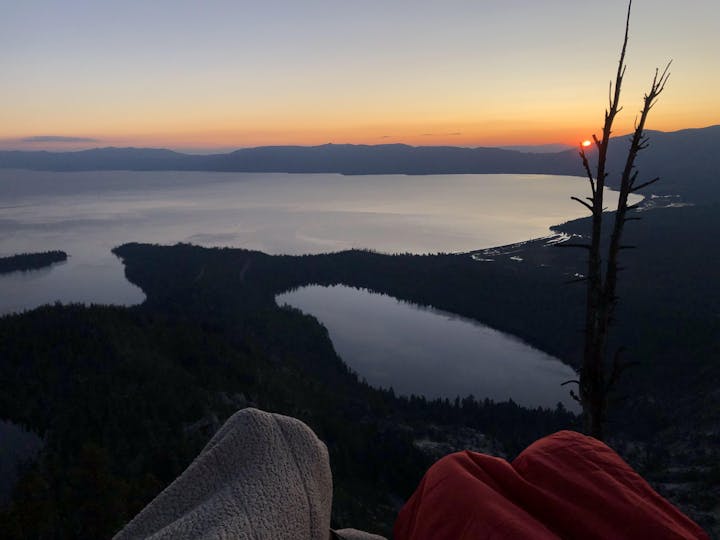 About Hike and Hit
Established in 2019 by 3 indivdiuals (Brett, Jose, Nate) to share their love for the outdoors and fitness with others by offering guided hikes in serene locations with a tailored workout that includes martial arts/functional training. It is a donation based service with proceeds goring to various charities and causes.
They do it all out of Love.
For more information, please visit the sites below: