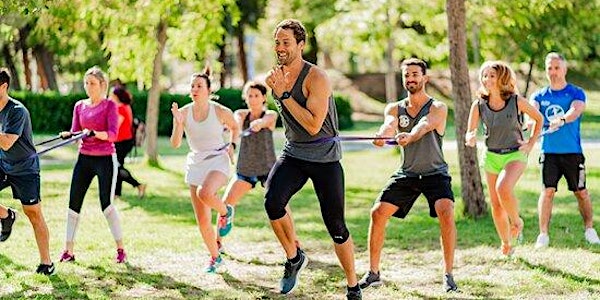 HIIT WORKOUT CALORIE BURNING FOR INTERNATIONALS & LOCALS
WORKOUT CALORIE BURNING & SPORTS
When and where
Location
Parque de la Ciudadela 21 Passeig de Picasso 08003 Barcelona Spain
About this event
If you want to to start making your summer body, this meetup is for you!!! 😃🎉😃
This Sunday 13th Let's have fun and do a bit of workout together and burn some calories with a lot of Music and games and get ready for the Sunday party.
Do not miss this Healthy super fun opportunity and start making the best version of yourself for the next summer, while getting to know new international people in the town.
Where do we do this?
We're gonna do this energetic activity in Parc de Ciutadella which you can find the exact point in the map.
If you have any question you can send a Dm to @mbvfit on Instagram or ask the meetup organizer.
The first session of each person is free for you to be able to try the class😍
The cost of the event is 6,00e which you can bring cash and pay to the organizer and all you have to bring is a mat / towel to put under yourself and a bottle of water to stay hydrated.
We're gonna meet at the park at 11:30am and go to the meetup point together.
You can find the exact point on the map in the photo or if you can't find it call 686701420 and ask them about the exact point.
See you soon😍
______________________________________________
Si quieres empezar a tener un cuerpo top, este evento es para ti!!! 😃🎉😃
Este domingo 13 Vamos a divertirnos, hacer un poco de ejercicio juntos y quemar algunas calorías con mucha música y juegos
prepararnos para la fiesta del domingo.
No dejes pasar esta sana oportunidad súper divertida y empieza a sacar la mejor versión de ti mismo para el próximo verano, mientras conoces gente nueva internacional y local.
¿Dónde hacemos esto?
Vamos a hacer esta actividad en el Parc de la Ciutadella, podéis encontrar el punto exacto en el mapa.
Si tienes alguna pregunta, puedes enviar un Dm a @mbvfit en Instagram o preguntar al organizador del evento
La primera sesión es gratis para que puedas probar la clase😍, así que no hay excusa para probar nuestro entrenamiento del Domingo
El evento cuesta 6,00e en efectivo y lo único que tienes que traer es una colchoneta/toalla y una botella de agua para mantenerte hidratado.
Nos encontraremos en el parque a las 11:30h e iremos juntos al punto de encuentro.
Puedes encontrar el punto exacto en el mapa de la foto o si no lo encuentras llama al 686701420.
Hasta pronto 😍