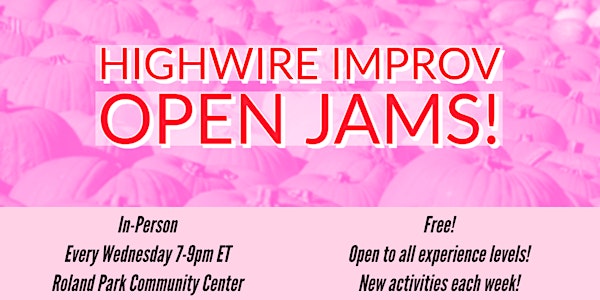 Highwire Improv Open Jam (In-Person)
An open improv jam for all levels of experience! Highwire Improv creates a fun environment to try out improv or hone your skills!
Date and time
Wednesday, June 14 · 7 - 9pm EDT
Location
Roland Park Community Center 5802 Roland Avenue Baltimore, MD 21210
About this event
Join Highwire Improv for an amazing in-person jam!
This will be a low-stress jam experience for improvisers of all levels! We'll do introductions, a boundaries check-in, some fun improv warmups to get the mind and body ready, and then we'll do a range of improv exercises, games, and some long-form sets! The jam will run from 7pm-9pm.
All participants are required to follow the Highwire Improv Code of Conduct and arrive on-time to make sure that we can align on how we'll hold space for one another.
The jam is free, but registration is requested so that we know how many people are planning to attend and can ensure we stay within the room capacity. If needed, we'll split up into two groups and two rooms!
As detailed previously, in-person events at Highwire Improv are only recommended for those individuals who have been vaccinated against COVID-19.
Parking is available for free onsite. When you arrive, make your way around to the left side of the building and enter through the door closest to the back of the building.
The Roland Park Community Center is an accessible space - for any detailed questions, please reach out to highwireimprov@gmail.com
Frequently asked questions
How much experience do I need to participate?
About the organizer
Highwire Improv's mission is to build and foster a community that brings all of Baltimore to the world through improvisational theater, and an organization that brings the best of the world to Baltimore. We envision a world where everyone feels included, heard, and represented without regard to race, gender, or orientation.
What sort of events do we host? Amazing live improv theater shows (comedic and dramatic) and classes and workshops that teach you the joy, craft, and magic of improv!
All classes and workshops are for participants ages 18 and older unless otherwise specified.